What is the Seine River?
The question is rather, Where is the Seine River? The Seine is a majestic river that flows through the heart of Paris, France.
Renowned for its beauty and historical significance, the Seine is a prominent symbol of the city's allure.
It stretches approximately 777 kilometers (483 miles), starting in the Burgundy region and eventually emptying into the English Channel.
The River Seine has played a crucial role in the development of Paris over the centuries.
It divides the city into the Left Bank (Rive Gauche) and the Right Bank (Rive Droite), serving as a natural and cultural focal point.
Along the Seine River's banks, you'll find some of the most iconic landmarks of Paris, including the Eiffel Tower, Notre Dame Cathedral, the Louvre Museum, and countless elegant bridges that gracefully span its waters.
This Parisian river's allure extends beyond its scenic beauty. The Seine has inspired artists, poets, and writers throughout history, becoming a muse for creativity and romance.
A leisurely cruise along the Seine offers an enchanting perspective of Paris, showcasing its architectural splendors and allowing visitors to appreciate the city from a unique vantage point.
The Seine River also plays a vital role in the social fabric of Paris. Locals and visitors gather along its banks for picnics, strolls, and cultural events.
Its tree-lined quays provide a serene escape from the bustling city, inviting leisurely walks and moments of relaxation.
Whether you explore its banks on foot, take a scenic river cruise, or simply bask in its beauty from one of the elegant bridges, the Seine River is integral to the Parisian experience.
Its timeless charm and historical significance continue to captivate all encountering its tranquil waters.
Insider Tips and Facts for an Unforgettable River Journey along the Seine
This legendary waterway has played a significant role in shaping Paris's history and charm.
It offers a picturesque journey through the city's heart.
Familiarize yourself with these fascinating insights to enhance your experience and maximize your time on the Seine.
So, don your carefully selected attire, and explore the wonders that await you along the riverbanks.
As you prepare to embark on your Seine River Cruise, delve into some essential tips and intriguing facts about the Seine River to enhance your experience in Paris:
Seine River: A Historical Icon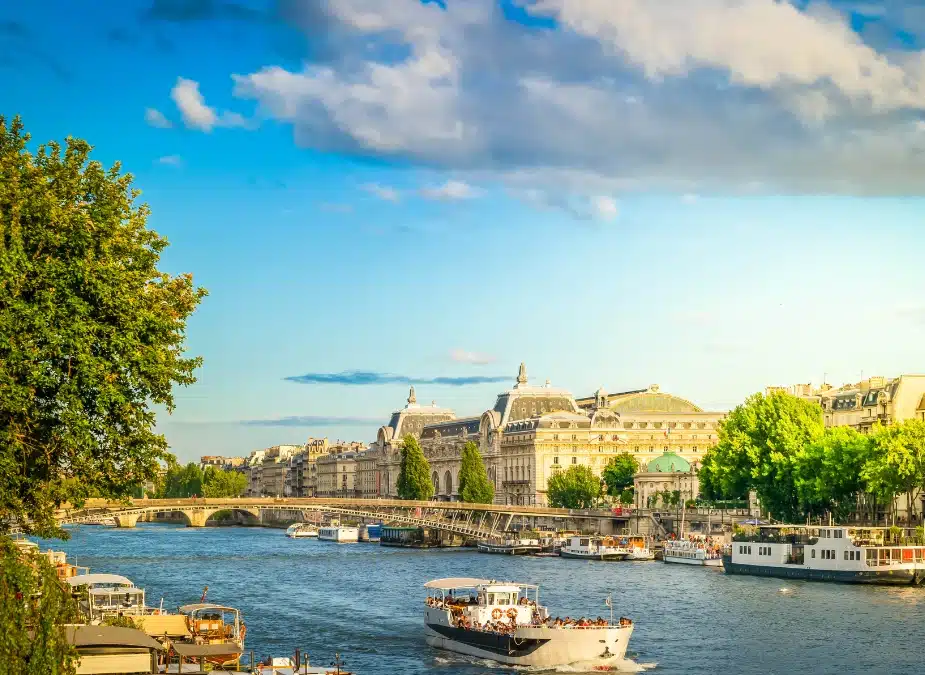 The Seine River serves as a lifeline to Paris and witnesses the city's evolution.
To explore the iconic landmarks on the Seine bank, the skip-the-line Eiffel Tower and Seine River Cruise combo is among the most popular.
The Seine River transforms into a mesmerizing spectacle of lights as night falls, and attractions like the Eiffel Tower, Notre Dame Cathedral, the Louvre Museum, and many more look even more dreamy.
The bridges, monuments, and riverside buildings illuminate gracefully, casting a magical ambiance that enhances Paris' romantic allure.
Here, we offer you an array of must-not-miss Seine River Paris tickets and Seine River Cruise ticket prices to help you decide easily.
So, book your Seine River Cruise tickets now.
Note: If you want more iconic options of the Seine River Cruises, here's an expert guide to help you find the best Seine River Cruises.
Seine River Cruise Length and Route: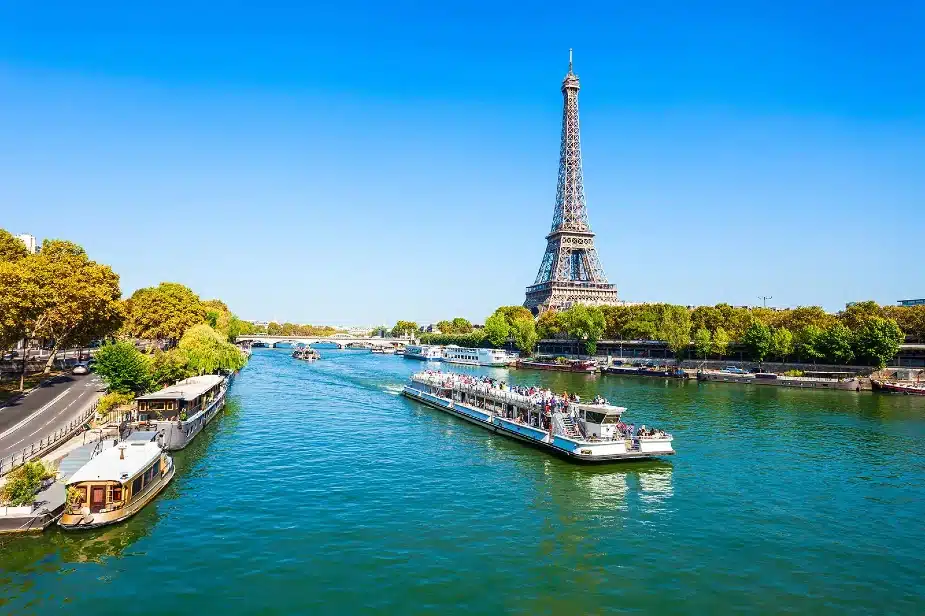 The Seine River stretches approximately 777 kilometers (483 miles), making it the second-longest river in France. Its length is a crucial Seine River fact.
It meanders through several regions, including Burgundy, Île-de-France, and Normandy, before flowing into the English Channel.
The Seine River Cruise night tickets offer an exquisite and different perspective from the regular boat tour Seine River tickets.
This is why Night Time Seine River Cruises are some of the most romantic tours in Paris. A great example of this is the Paris 1-hour Illuminations River Cruise.
Due to various routes and cruise durations, you will find plenty of elegant Private Seine River Dinner Cruises.
Visitors can opt for a Seine River hop-on hop-off sightseeing Cruise in Paris to catch a glimpse of all the amazing near-shore attractions.
Here's the route that each operator of the Seine River Cruise generally follows:
Note: The route may vary depending on the Seine River Cruise ticket you select.

Upon reaching the chosen Seine Cruise ticket page, we highly recommend exploring the captivating "itinerary" section.

In the Itinerary, you will get a preview of the enchanting sights and a route map along the ever-shifting path of the Seine.

Embrace the wonders of this dynamic adventure, and let the Seine River be your guide to an unforgettable experience.
Bridges Galore at the Seine River: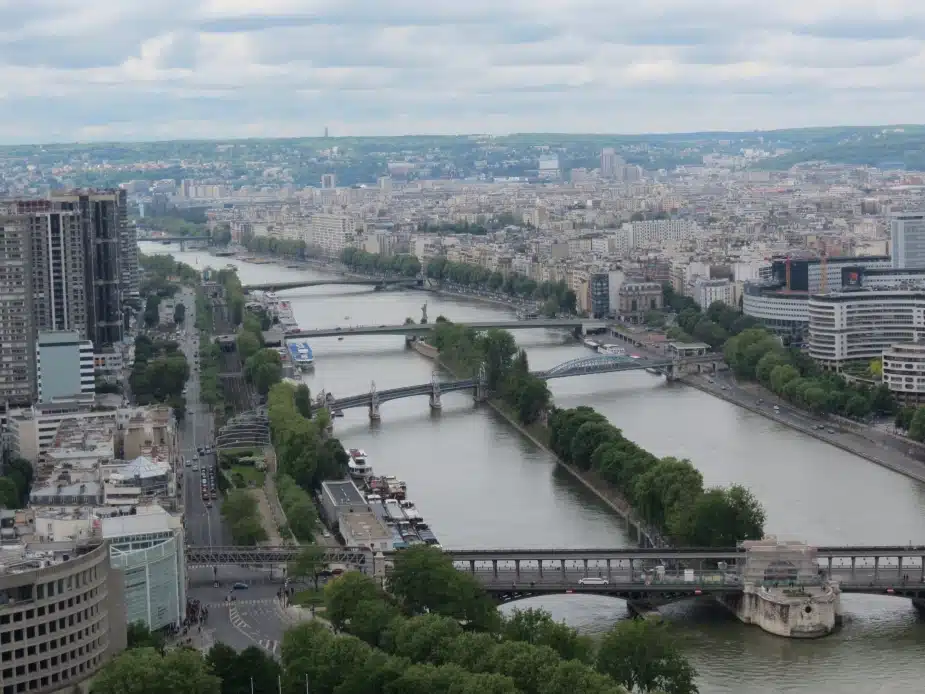 The Seine River boasts an impressive collection of over 37 bridges within Paris alone.
Each bridge has a unique charm and architectural style, offering breathtaking views of the river and the surrounding landmarks.
Explore Paris's Top 5 most exquisite bridges.
Paris Bridges
Nearby Attractions
Tickets
#5 Pont d'lena
– Eiffel Tower
– Champ de Mars
– Ecole Militaire
– Hotel des Invalides
Buy Tickets
#4 Pont des Arts
– Louvre Museum
– Sainte-Chapelle
– Notre-Dame Cathedral
– Musee d'Orsay
Buy tickets
#3 Pont Neuf
– Saint Germain des Prés
– Louvre Museum
– Sainte-Chapelle
– Notre-Dame Cathedral
– Musee d'Orsay
Buy tickets
#2 Pont de Bir-hakeim
– Eiffel Tower
– Champ de Mars
– Trocadero Square
– Homme Museum
– Statue of Liberty Paris
Buy Tickets
#1 Pont Alenxandre III
– Petit Palais
– Place de la Concorde
– Musee d'Orsay
– Tuileries Garden
– Esplanade des Invalides
Buy Tickets
Optimal Viewing Points for Seine River Cruise: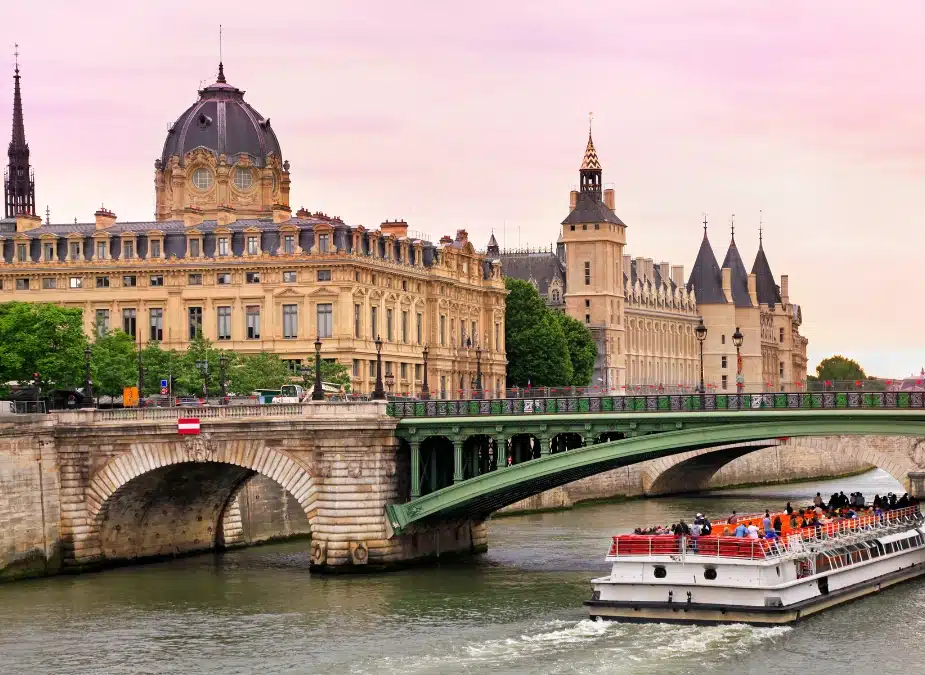 To make the most of your Seine River Cruise, choose a point on the boat that allows for uninterrupted views of the city's landmarks.
The open-air deck or a window-side seat will provide fantastic photo opportunities and ensure you don't miss any iconic sights.
Remember to bring a camera or smartphone to capture the scenery along the Seine.
Whether it's a stunning sunset, a beautifully lit bridge, or the iconic silhouette of the Eiffel Tower, you'll want to immortalize these magical moments.
So, here we are, unveiling Paris's Hidden Gems and crafting an exquisite Itinerary showcasing iconic attractions with their popular tickets for convenience.
For easy comparison, you can find the Seine River Cruise tickets cost written in front of the Seine Cruise Paris tickets.
Note: Prepare to elevate your Parisian adventure to celestial heights as you discover a truly extraordinary experience that transcends the usual allure of the City of Lights.

Imagine immersing yourself in the vibrant tapestry of Paris during the exuberant Bastille Day celebration, where the very sky becomes a breathtaking canvas of mesmerizing fireworks, making your visit an otherworldly affair.
Dress Appropriately for the Seine River Cruise:
As you prepare for your unforgettable Seine River Cruise, striking the perfect balance between elegance and comfort is crucial.
While embracing style and fashion, prioritize your utmost comfort by selecting attire made from breathable fabrics.
Additionally, ensure your footwear is suitable for strolls around the boat, allowing you to explore every corner easily.
Remember, a well-prepared wardrobe will enhance your cruising experience along the Seine River.
To be well-prepared, watch the weather forecast and dress accordingly.
In cooler months, a light jacket or coat may be necessary, while during the summer, a light sweater or shawl can provide comfort during the evening breeze.
Savory Delights on the Seine: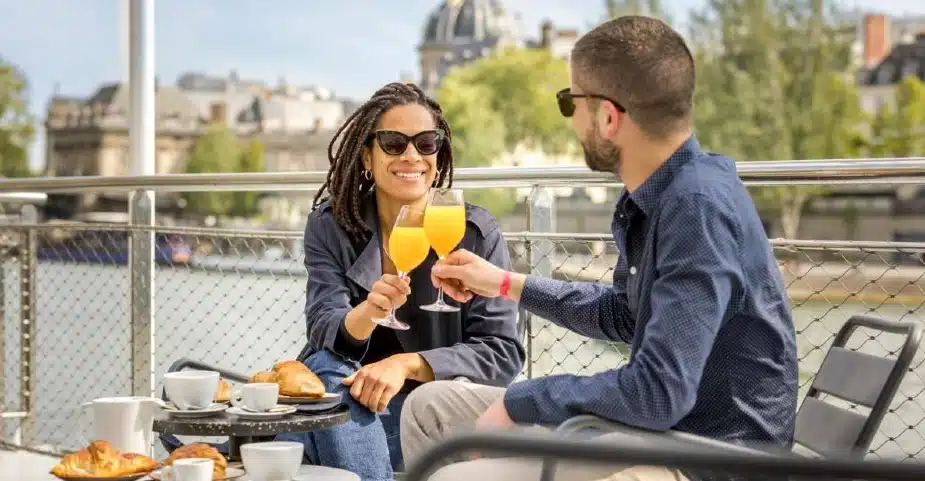 Many Seine River Cruises offer dining options, allowing you to savor delicious cuisine as you glide along the river.
Consider choosing a cruise that includes a dinner/ lunch service to enjoy a delightful culinary experience amidst the enchanting backdrop of Paris.
To makes things even more delightful, you can always pick a Seine River Cruise Wine Tasting too.
Several Seine River Cruises host crepe/waffle tasting or Wine and champagne tastings.
For your convenience, the Seine River Cruise costs are mentioned right before them. Do try these for an extraordinary experience!
Seine River Dinner Cruises
Highlights
Adult Prices
Seine River Dinner Cruise
– A one-and-a-half-hour-long luxury Seine River dinner cruise.
– A host/greeter who can speak French & English.
– Temperature-controlled salon, Panoramic terrace.
€59 (US $65)
2-hour Seine River Sightseeing Lunch Cruise
– 2-hour Seine River Lunch Cruise to explore beautiful sights.
– Savor an exquisite 3-course Lunch to try various French delicacies.
€69 (US $76)
Seine River breakfast cruise
– Private Maxim's "Le Bateau Ivre" Boat cruise for the group.
– Bilingual waiters.
– Tasting of Mimosas cocktail.
– A French croissant, tea, and coffee.
€75 (US $81)
Seine River Cruise with optional drinks & snacks
– 1-hour Seine River guide cruise.
– French and English commentary by a local guide.
– Access to audio guide in 6 languages.
– Drinks & snacks.
€20 (US $22)
Bistro Dinner Seine River Cruise
– 2-hour Seine River Sightseeing cruise.
– 3-course dinner at the Bistro Parisien.
– A host/greeter who can speak French & English.
€54 (US $60)
Dinner Seine River Cruise tour at night
– 2.5-hour long cruise with panoramic views.
– All-glass boat
– Live entertainment options.
– A host/greeter fluent in multiple languages.
€109 (US $120)
Seine & Moulin Rouge Combo
– Entry ticket to Moulin Rouge.
– Transportation in an air-conditioned bus.
– River Seine Cruise with audio commentary in 12 languages
– Multilingual hostess.
– Optional Champagne.
– Illuminated tour of Paris
– Drop-off in the center of Paris
€175 (US $193)
Evening Seine River Cruise
– More than an hour-long Seine River sightseeing cruise.
– A host/greeter who can speak English.
– Coffee or tea.
€85 (US $94)
Gourmet Seine River Dinner Cruise
– A 2.5-hour-long luxury Seine River dinner cruise.
– Complimentary welcome drink.
– Option for four overseas menus, including a vegetarian option.
€109 (US $120)
Dinner Seine Sightseeing River Cruise
– A 1-hour Seine River Sightseeing cruise.
– Dinner at Le Bistro Parisien
– Audio guide in 12 languages.
€50 (US $55)
Seine Dinner Cruise and Eiffel Tower Summit Private Tour
– A dinner sightseeing Seine River cruise with a window table.
– Eiffel Tower skip-the-line tickets.
– 3-course delicious dinner.
– Private round-trip transfer from the hotel.
– A private local expert guide.
€534 (US $594)
Eiffel Tower Access with Seine River Dinner Cruise and Moulin Rouge Show
– Evening Seine River Cruise
– Moulin Rouge show with breathtaking numbers.
– Priority access to the 2nd floor of the Eiffel Tower.
– Delicious Dinner on the cruise or at the Eiffel Tower.
€324 (US $361)
Seine River Cruise times
If you are wondering which Seine River Cruise is the best, then being aware of the Seine River Cruise times will help you identify the best Seine River tours.
It will also help you determine the best time for a Seine River Cruise as per your itinerary, preferences, and traveling style.
For instance, the nighttime Seine River Cruise begins after the Sunset Seine River Cruises end at 7 pm.
On the other hand, a hop on hop off boat tour in Paris operates within a longer window, usually from 11 am to 7.30 pm.
A Seine River Wine Cruise can be booked for any hour of the day, whether you want a lunch, sunset, early evening dinner, or dinner wine-tasting cruise on the Seine.
Based on all these things, you can find the best Seine River Cruise in Paris. Read a detailed guide to the best Seine River Cruise Paris for more information.
Relax and Enjoy:
Above all, take the opportunity to cruise the Seine River for relaxation and to immerse yourself in the Seine River's beauty completely.
Let the serene ambiance, the gentle sway of the boat, and the picturesque scenery weave a tapestry of unforgettable memories.
With these facts and tips, you can embark on a remarkable Seine River cruise. Bon voyage!
Note: For more Seine River Cruise tour-related information, check out what to expect on a Seine River Cruise.
More articles on Seine River Cruise
Featured Image: Pawel.gaul from Getty Image Signature (Canva)