Everybody knows the importance of looking your best in the fashion capital of the World, Paris, especially while embarking on a Seine River cruise.
On a Seine River Cruise, being and feeling your best is an unspoken art.
Hence, this in-depth guide will tell you the fashion dos and don'ts for a memorable sail.
So, embrace elegance and sophistication with every fashion choice for your Cruise on the Seine, as this delightful occasion calls for nothing short of sheer magnificence.
Consider the Weather
Before diving into what to wear on a Seine River Cruise, let's consider the weather in Paris.
Visitors should also look at the facts about the Seine to know basic things like "What is the Seine" among some intriguing trivia!
Paris experiences a mild climate, but let's check out its annual weather and what you can expect throughout the year:
| Season | Months | Average Temperature (°C) | Weather |
| --- | --- | --- | --- |
| Winter | December – February | 3°C – 7°C | Cold, occasionally snowy, with occasional rainfall |
| Spring | March-May | 8°C – 16°C | Mild, occasional rain showers |
| Summer | June – August | 17°C – 25°C | Warm to hot, occasional heatwaves, some rain |
| Autumn | September – November | 11°C – 19°C | Mild, occasional rain showers, changing foliage colors |
Please note that these are average temperatures and weather conditions, and actual weather can vary annually.
It's always good to check Paris' weather forecast for more accurate information.
We'd suggest layering in Paris' atmospheric conditions, as temperatures vary throughout the day.
The dressing sense and clothing are dictated by the Seine River Cruise times.
Seine River cruise timings will dictate your dressing sense and clothing.
Moreover, dressing appropriately, especially on the breezy Seine River, will ensure comfort and style.
Daytime Seine Cruise Attire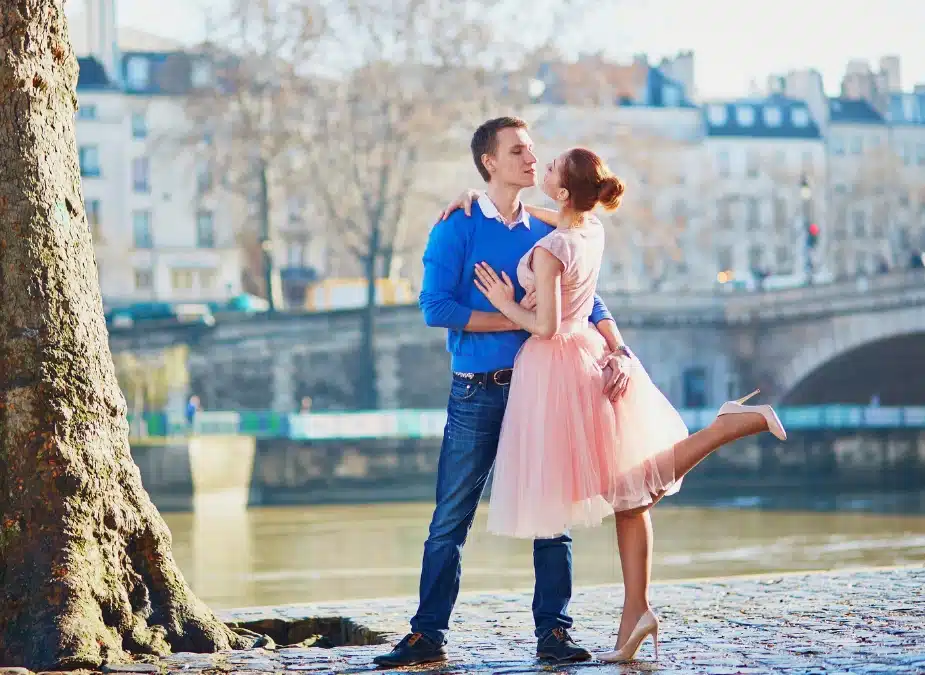 For a daytime Seine River cruise, opt for casual yet chic attire.
A classic, lightweight outfit is ideal, such as a comfortable sundress or tailored pants paired with a flowy blouse.
Remember to bring a light jacket or cardigan for any unexpected breezes.
Complete your look with comfortable shoes or sandals as you'll explore the boat and walk along the riverbanks during stops.
The Seine River Lunch Cruises are perfect for a romantic date on the Seine. So dress accordingly.
No clothing-related restrictions exist, but you can upgrade your style quotient by avoiding casuals and shifting to smart casuals.
Here are some popular daytime Seine River Cruise Paris tickets where these outfits will be goals for you.
For Convenience and easy comparison, we have also listed the Seine River Cruise ticket prices:
Seine River Cruise Paris Tickets
Highlight
Adult Prices
Paris 1-hour Seine River Cruise
– Panoramic views of iconic sights on the Seine River.
– Exciting audio guide.
€16 (US $18)
Sightseeing Seine River cruise
– 1-hour Seine River Cruise
– Engaging audio commentary is available in 14 languages.
– An attendant/guide to satisfy your curiosity about these sights!
€16 (US $18)
3-Course Lunch Seine River Cruise
– A 1.5-hour lunch cruise.
– Coffee or tea.
– A bilingual host/greeter; French & English.
€58 (US $63)
2-hour Seine River Lunch Cruise
– 2-hour Seine River Lunch Cruise to explore beautiful sights.
– Savor an exquisite 3-course Lunch to try various French delicacies.
€69 (US $76)
Lunch at Eiffel Tower Summit Access and Seine River Cruise
– A 1-hour Seine River Cruise.
– 3-course meal depending on the selected option (starter, main course, and dessert).
– Access to the Eiffel Tower Summit (if option selected)
€157 (US $171)
Read about the best Seine River Cruise Paris and book your Seine River Cruise tickets now!
Evening Cruise Attire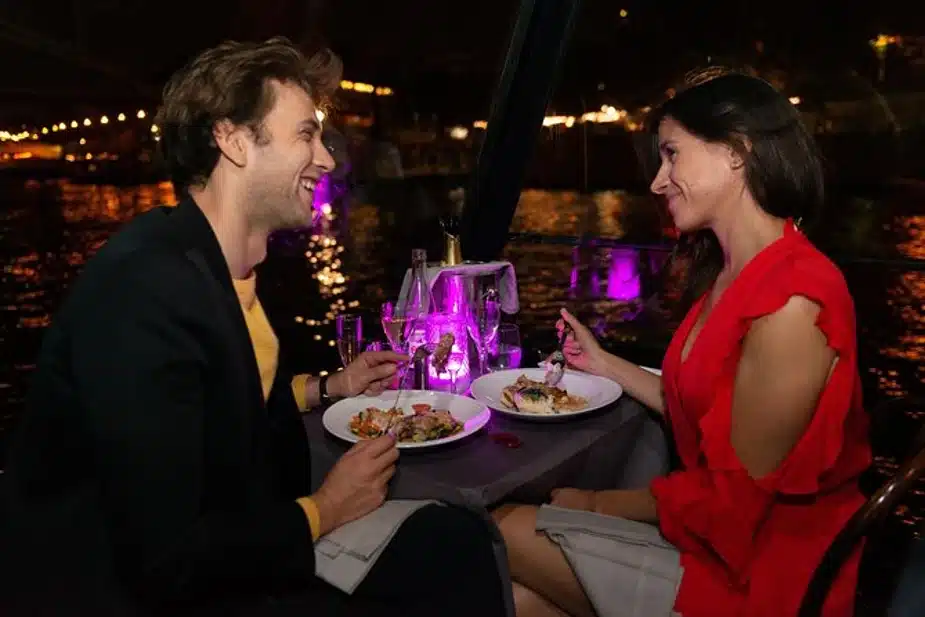 If you have figured out the best Seine River Dinner Cruise in Paris, let's get on with what you should wear.
Paris is known for its fashion-forward atmosphere, so embrace it! It's time to elevate and gloss over your style when the fashion capital begins showing its glamor.
So, step into the enchanting world of Parisian glamor as you embark on an unforgettable evening Seine River Cruise.
The Evening and Night time Seine River Cruises have limitations to what you can wear onboard. The Night time Seine River Cruise requires a different level of attention.
You should look sophisticated yet comfortable.
Unveil your sartorial prowess and choose an elegant yet sophisticated outfit for this delightful occasion.
Curate a captivating ensemble for the enchanting journey of gliding through the luminescent wonders of Paris and the glistening Seine River during the evening.
All the Madames and Mademoiselles can opt for a stylish cocktail dress or a tailored jumpsuit paired with heels.
Monsieurs, a tailored suit or a blazer with dress pants will make a dashing impression.
Add some statement accessories to complete your ensemble and exude Parisian chic.
These recommendations are also valid for the Seine River cruise with wine tasting.
To learn more about the best champagne river cruise in Paris, check out the Seine River Cruise with Wine Tasting Experience!
Now that you have become a Diva, why wait in line for a Seine River Cruise Paris ticket?
Book Seine River Cruise tickets online and walk in like a celebrity. Check out the table below for the best Seine River Dinner Cruise tickets.
You can compare the Seine River Cruise ticket Prices to make your decision.
Seine River Cruise Paris Tickets
Highlight
Adult Price
Aperitif Seine River Cruise
– Romantic Seine Sightseeing Cruise in Paris
– A glass of complimentary champagne!
€29 (US $32)
Bistro Dinner Seine River Cruise
– 2-hour Seine River Sightseeing cruise.
– 3-course dinner at the Bistro Parisien.
– A host/greeter who can speak French & English.
€55 (US $60)
Day/ Sunset Paris Cruise with Indulgent Delights
– One of the best Seine River tours to watch the Eiffel Tower illuminated.
– Enjoy a waffle, ice cream, or soft drink!
– Audio Guide in 14 languages.
€20 (US $22)
Evening Seine River Cruise

– More than an hour-long Seine River sightseeing cruise.
– A host/greeter who can speak English.
– Coffee or tea.
€85 (US $94)
Dinner Seine Sightseeing River Cruise
-A 1-hour long Seine River Sightseeing cruise.
– Dinner at Le Bistro Parisien
– Audio guide in 12 languages.
€50 (US $55)
If you are still wondering which Seine River Cruise is the best, Read More!
Outfit Suggestions for the Perfect Seine River Cruise in Paris
Here are some creative ideas to help you shine like a star in the fashion capital:
Haute Couture Extravaganza:
Channel your inner fashionista by donning a stunning haute couture gown or a tailored suit from Paris.
Become a Parisian by choosing a design from one of Paris's renowned fashion houses like Chanel, Dior, or Balmain.
Let the intricate details, luxurious fabrics, and impeccable craftsmanship speak volumes about your style and sophistication on the Seine River Cruise.
These will be perfect for the Paris 1-hour Illuminations River Cruise.
Chic Monochrome:
Opt for a sleek monochrome ensemble that exudes timeless elegance.
Pair a classic black tuxedo with a crisp white shirt or a little black dress with statement accessories and feel like an actor/ actress feeling the breeze on the Cruise blowing through your hair.
Let the simplicity of your outfit speak for itself as you embrace the city's minimalist aesthetic.
This type of clothing can be apt for a Skip the Line Eiffel Tower and Seine River Cruise combo to make your date unforgettable.
Parisian Chic:
Embrace the effortless Parisian chic style by combining classic and contemporary elements.
Wear a Breton striped top with tailored trousers or a flirty A-line skirt.
Add a touch of French flair with a beret, a silk scarf, or a pair of stylish ballet flats.
Vintage Glamour:
Transport yourself back to the golden age of fashion by choosing a vintage-inspired ensemble.
Opt for a glamorous 1950s-inspired cocktail dress or a dapper suit with a bow tie.
Complete the look with retro accessories such as a vintage handbag, cat-eye sunglasses, or a pocket watch.
Statement Pieces:
Make a bold fashion statement with eye-catching pieces reflecting your style.
Consider a statement coat in a vibrant color or a unique pattern, a statement hat, or a standout piece of jewelry.
Let your outfit be the conversation starter as you cruise along the Seine.
Parisian Romance:
Embrace the romantic atmosphere of the evening cruise on the Seine with soft, feminine silhouettes and delicate fabrics.
Choose a flowing maxi dress in pastel hues, a lace blouse paired with a tulle skirt, or a tailored suit in a blush tone.
Accentuate the romantic vibe with subtle floral accents or a touch of shimmer.
Remember, confidence is the key to pulling off any look with panache.
So, embrace your style, revel in Paris' glamor, and let your fashion choices shine as brightly as the city's lights reflecting on the Seine River.
Essential Accessories for Being a Diva on a Seine River Cruise:
In a city where style reigns supreme, no outfit is complete without the perfect selection of accessories.
Behold the Parisians as they effortlessly transform their ensembles into masterpieces, following this sacred mantra of "No outfit is complete without the right accessories" with utmost reverence.
So, immerse yourself in the allure of Parisian fashion as you witness the locals embrace the art of accessorizing with unwavering devotion.
Consider bringing a wide-brimmed hat or a fashionable sun hat for daytime cruises on the Seine River to protect yourself from the sun and add a touch of glamor.
Sunglasses are a must, as they protect your eyes while adding a hint of sophistication.
Remember, you can drape a lightweight scarf over your shoulders during cooler moments or use it as a stylish accessory to complement your outfit.
Practical Considerations for Outfit Choices on Seine River Cruise
While style is essential, you should also ensure comfort and practicality on the Seine River Cruise.
Being practical is the smart choice for many tours, such as the Seine River hop-on hop-off sightseeing cruise in Paris.
Remember to bring a small bag or clutch to hold your essentials, such as your phone, camera, wallet, and sunscreen.
Opt for a crossbody or shoulder bag for easy movement and security on the Cruise.
It's also advisable to bring a light jacket or shawl, as evenings can get cooler and windy.
Note:
Having discovered the perfect ensemble for your Seine River Cruise, it's time to delve into a treasure trove of facts and invaluable tips about this illustrious waterway.
Final Tips for Seine River Cruise:
To truly capture the spirit of a Seine River cruise, consider embracing the timeless Parisian style.
Stick to classic colors like black, white, navy, and neutral tones, as they exude elegance and versatility.
And most importantly, wear your outfit with confidence, as it's the best accessory you can have.
We highly recommend you get the Paris City Card to explore the various attractions in style.
Now, we recommend you book your Seine River Cruise in advance. Here are your options:
Conclusion
Now that you have an in-depth guide on what to wear on a Seine River cruise, you can confidently dress for the occasion.
Adapt your attire to the weather, choose appropriate daytime or evening outfits, and accessorize with style.
By following these tips, you'll be ready to embark on a memorable journey along the Seine, looking effortlessly chic and capturing the essence of Parisian fashion. Bon voyage!
Note: Now that you have sorted the outfits check out the best Seine River Cruise ticket!
Featured Image: Kzenon (Canva)