Inexpensive travel and adventure opportunities
People love to travel to places that provide not only breathtaking scenery but also a wide range of affordable experiences. Here are the top 10 budget friendly travel destinations in the globe that are also enticing and worth visiting.
Thailand
Thailand, a beautiful coastal paradise, is a nation that has preserved its cultural identity while being a popular travel destination. Everything can be found here, including crystal-clear beaches, lush woods, old monasteries, coral reefs, Buddhist monks, floating marketplaces, and delicious food to satisfy your palate.
Bangkok, Thailand's capital and largest city, is recognized as a contemporary crossroads of many cultures, beliefs, and experiences. The northern Thai cities of Chiang Mai and Chiang Rai cater to those seeking solitude and leisure in nature. Some of the greatest tropical adventures by the water may be had in the south at beach resorts like Phuket, Krabi, and Koh Samui.
The Hua Hin area, on the western side, is well known for its opulent resorts. Lastly, Ubon Ratchathani is a historical and spiritual retreat in the east where one may fully immerse themselves in Thai and Buddhist culture. This entire location is said to be the most budget friendly destination ever that costs less than $608 for a 6-day tour.
Recommended Reading
#The Best Places to Visit in Asia
#The Top 5 Cities to Visit in Asia
Sri Lanka
An island country in the Indian Ocean called Sri Lanka is renowned for its breathtaking beaches, ages-old Buddhist monasteries, the abundance of animals, and rich archaeological past. You will become infatuated with this stunning location thanks to the abundance of water activities, stunning sunsets, vast tea gardens, and, of course, delectable Sri Lankan cuisine.
Sri Lanka is a fascinating fusion of well-preserved regional customs and rapid urbanization, rich in culture. It is not surprising that this little nation, which is home to eight World Heritage Sites designated by UNESCO, was recognized by Lonely Planet as the best place to travel on a budget in the world. Sri Lanka, which draws inspiration from its South-East Asian and Indian subcontinental neighbors, is a must-visit destination for those seeking the top of everything. Tourism in Sri Lanka is even more affordable than in Thailand, which would cost about $486 for 7 days.
Nepal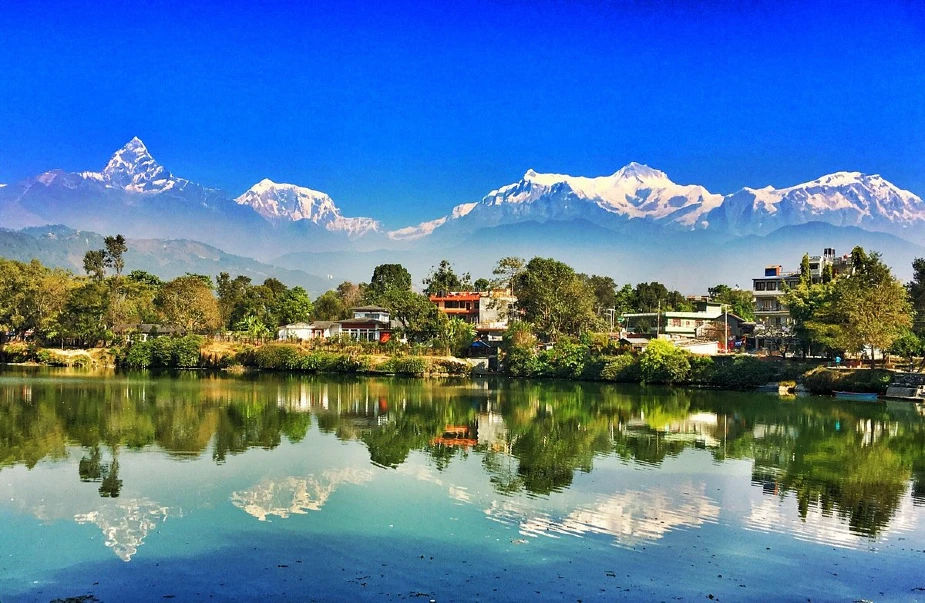 Nepal, a Himalayan nation located between India and China, is a mecca for adventurers and the site of Mt. Everest, the highest mountain in the world. Some of the greatest hiking paths in the world are found in this region's huge snow-capped mountains, including Annapurna, Mount Everest, Thamserku, and Kanchenjunga. With its numerous Buddhist and Hindu pilgrimage sites, including the Pashupatinath Temple and the Boudhanath Stupa, Nepal is also a significant religious center. Lord Buddha was born in Lumbini, a minor Buddhist center in Nepal. Even better, it's a highly safe place and budget travel destinations because of the extremely low crime rates and relatively low prices. Also, as low as $243 is enough to complete the tour in 6 days.
Vietnam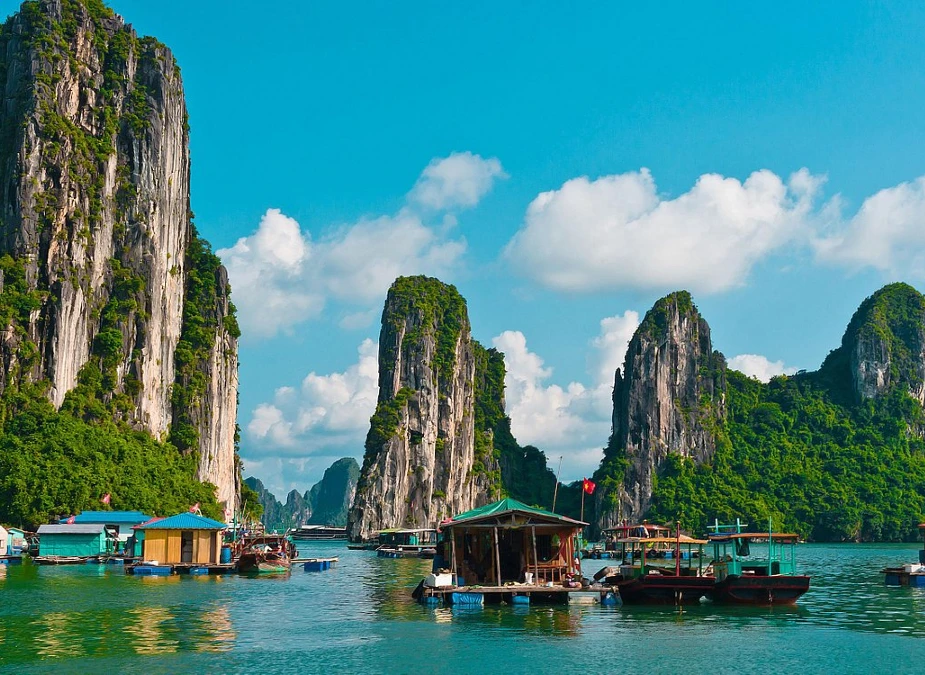 With as much as $730 of budget, one can travel for 12 days around the aesthetically beautiful nation on the continent undoubtedly Vietnam, which is located in southeast Asia. The nation offers a very unique experience because of its famed natural beauty and quantity of natural attractions like the huge rice paddies, limestone islands in Halong Bay, and the enormous tunnel system in Phong Nha Ke Bang Nature Reserve which are great places to travel on a budget. Vietnam, on the other hand, is a distant echo of its chaotic and war-torn past with its cities and towns teeming with tall and rising buildings, charming floating marketplaces, and mopeds zipping down the roadways. You may complete the experience with the consistently delicious traditional Vietnamese food, which is quickly gaining appeal throughout the globe.
Laos
Laos is sitting cozily in Southeast Asia, the Republic of Laos is a landlocked country with a sparse population. It is a heavily wooded, mountainous nation full of undulating hills, pine trees, innumerable waterfalls, still-existing hill tribes, colonial buildings, and lakes with skyline-silver reflections. You will come across a lot of kind and friendly people as well as lovely settings, most of which are hidden away on the country's periphery. You may keep yourself incredibly occupied without spending a dime by hiking on mountains covered in an abundance of greenery, walking through communities surrounded by verdant woods, and discovering the mysterious caverns. Visitors may pedal all around hills or the surrounding roads as much as visitors like without worrying about traffic if they rent a bicycle for the full day for about $1.4. You may also enjoy yourself by eating by the waterways and swimming close to the waterfalls in Laos.
Philippines
The Philippines is an archipelago in southeast Asia that is home to several islands. It is a place of green rice fields, gypsies, graffiti walls, smoldering volcanoes, massive tarsiers, frizzy irrigation buffaloes, and, most importantly, happy smiles. The Philippines' 7000 tropical islands will enchant you if you're a beach bum. Divers, sunbathers, and daring visitors pitch tents and spend the night on the Palawan coastline in the Maroon Slick of Beach with gigantic islets and secret lagoons. Kayakers, Boracay, and windsurfing are all popular in this informal zipline capital of the world. Furthermore growing in popularity are mountain biking and canyoneering. With a reasonable budget, it takes roughly 7 days to visit all the tourist attractions.
Malaysia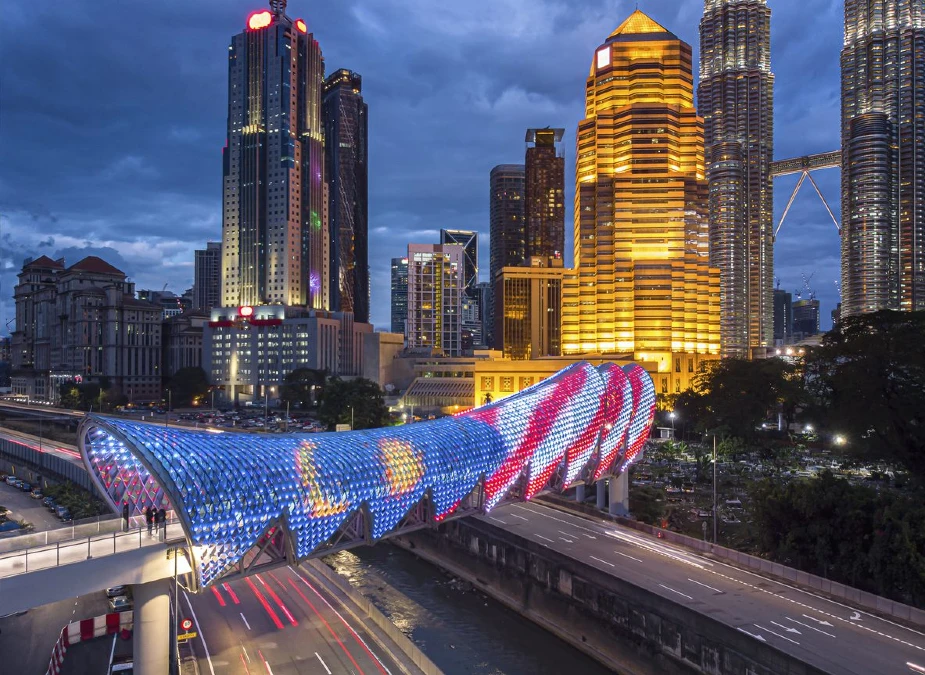 Malaysia has located in the world's largest equatorial area. This area receives year-round tropical rainforest weather. It is a mash-up of anything and everything Asian. It is one of the most renowned tourist destinations in Asia due to its unique combination of various biodiversity, tranquil islands, majestic mountains, rainforests, and a rich gastronomic scene.
Peninsular Malaysia and Malaysian Borneo are the two different classes of multiracial, multiethnic, and multilingual nations by the South China Sea. Gorgeous islands and a variety of sceneries surround these territorial borders. Malaysia also provides top-notch scuba diving locations due to the vastness of its beaches and the vibrant marine life. Singapore, which was formerly a member of the Federal Republic of Malaysia, is connected by a short causeway and bridge, making it a popular place to visit while traveling through Malaysia.
The consortium of 13 states as well as three federal territories known as Malaysia, or the "Land of the Malays," is split into two areas. It is the only nation that has territories on both the Malaysian archipelago and the Asian mainland. Malaysia's diverse population has resulted in a diversified lifestyle, from cuisine and celebrations to cultural and artistic endeavors.
The home of the legendary Jimmy Choo also features a sophisticated shopping culture, from street shopping to opulent malls, along with bustling markets and interesting museums. Malaysian cuisine draws inspiration from its close neighbors, with dishes imported and altered from other diverse Asian nations. Malaysia is home to one of the most extensive transportation systems in Asia, making getting throughout the country a breeze. Malaysia is pulsating with an incredible array of individuals, cultures, and landscapes and is just waiting to be discovered. A tad is pricey, but well worth it for the motivating experience.
Singapore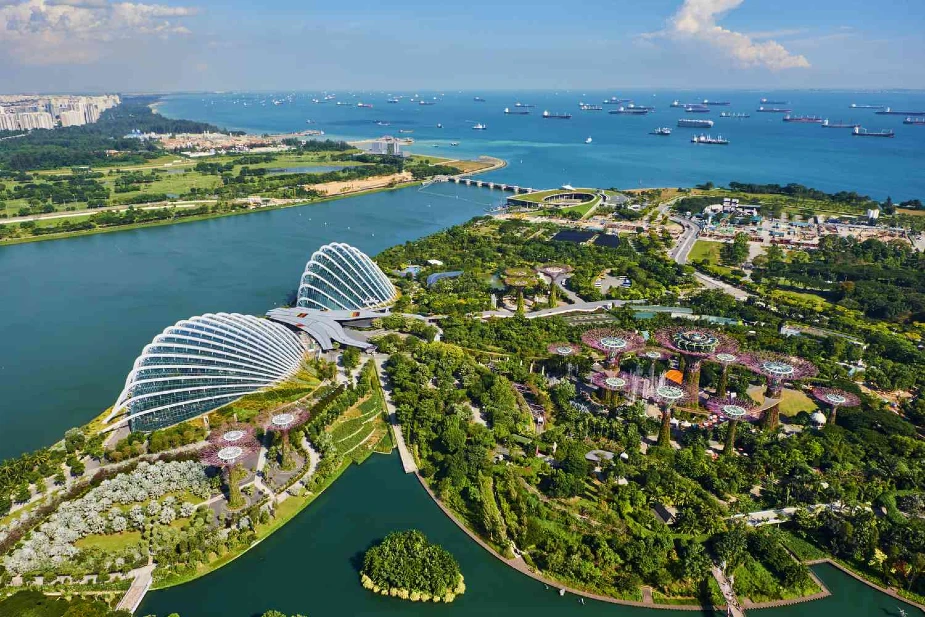 Singapore is a melting pot of history and culture and a veritable cornucopia of gastronomic pleasures, better characterized as a microcosm of contemporary Asia. It is a city and a nation situated in Southeast Asia, and its official name is the Republic of Singapore. Singapore, one of the most popular tourist destinations in Asia, is best characterized as a synthesis of a fast-paced lifestyle with an inheritance from the back streets.
With the highest level of a religious variety of any nation, Singapore epitomizes what it means to be cosmopolitan. Nowadays, it has the busiest port in the world, measuring 42 kilometers from east to west and 23 kilometers north to south. With its effective and extensive transportation network, Singapore has become one of Asia's top tourist attractions. Traveling throughout this nation takes only a few minutes!
Eating is Singaporeans' national pastime, closely followed by shopping. This "City in a Garden" is a fusion of civilizations, fusing many ideologies, foods, and modern structures alongside the shining hints of the old school. The pristine island of Singapore is home to fantastic malls, upscale shops, and retail stores on Orchard Road, as well as the exotic aspects of China and Little India and the top-notch nightlife.
The city is pricey by Southeastern standards, but it also has a tonne of additional entertainment alternatives, like Sentosa Island, the Singapore Night Safari, Marina Bay Sands, the Singapore Zoo, and the Singapore Botanic Garden. Singapore is one of the most well-liked tourist destinations for several reasons, including its picture-perfect skyline and its crowded city center. There is a seven-day package available for about $730.
Cambodia
South East Asia's southernmost nation, Cambodia, is home to a vast empire of temples. One of the main draws of the nation is Angkor Wat, the greatest religious structure, coupled with Siem Reap. The captivating riverfronts of Phnom Penh, the shores of Sihanoukville, the historical towns of Battambang, the vast rice farms of Mondulkiri, and beautiful vegetation parks with charming architecture that give tranquility are just a few of the experiences available in Cambodia. You must visit the Royal Palace in Phnom Penh, the island of Koh Rong Samleoum in the coastal city of Sihanoukville, and Kampot for a pool break by the river. With about $730 in the pocket for over 10 days, visitors may also go cycling through the towns of Cambodia to get a glimpse of local life and enjoy a whole new sort of adventure and peace-filled experience.
Indonesia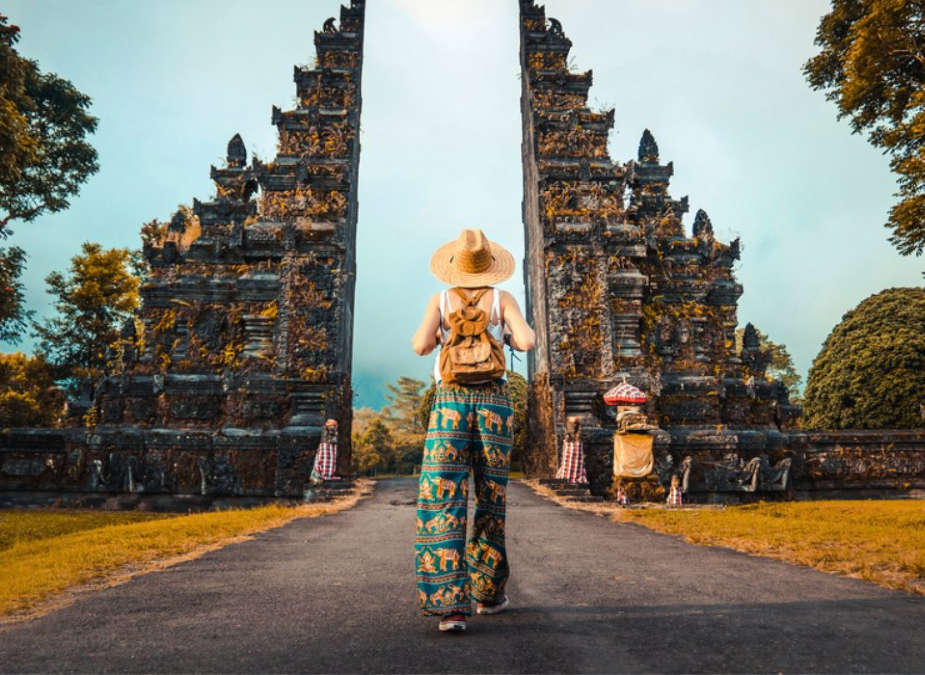 Indonesia's natural beauty attracts tourists from around the world who are searching for cheap adventures. It is the biggest island nation in the world, with unspoiled blue seas, gorgeous marine life, and magnificent reefs. It is located between both the Indian and the Pacific Oceans. Without having to go to pricey locations, you may go diving on beaches like Merah Beach, Batu Bolong, and Tatawa Islands and fulfill your fantasies of diving underwater. The Ubud monkey forest, which represents this nation's untamed side, must be seen. In Indonesia, tourists may enjoy safari trips, diving, snorkeling, and beaches with enormous rock formations. Bali tourism features a variety of romantic resort alternatives with packages starting from $48 making Indonesia one of the top international locations for honeymooners seeking a romantic break.
Conclusion
For frequent or infrequent tourists, each of these places is the most stunning location on earth that are budget friendly travels for tourists. A portion of their tourism involves using private automobiles to get to some of their most isolated locations. Also, they provide cheaper versions of activities that are typically prohibitively pricey.
Recommended Reading
#The Top 5 Winter Destinations
Addressing visitors' interest about low-cost places
What is the usual cost of snorkeling?
The prices vary from one country to another, but usually affordable and among the estimated prices.
Is it free to enter the famous beaches in these counties?
Generally, visiting beaches does not require payment to enter. However, some popular beaches may have fees or entrance fees, or require you to purchase a ticket to get access. It is best to research the particular beach you are interested in visiting and check if there are any fees or entrance requirements.
Is it safe to travel to Vietnam?
Yes, it is generally safe to travel to Vietnam. The crime rate is low and the locals are friendly and welcoming toward tourists.
Which is the cheapest country to visit for a teenager?
Teenagers who are on a budget should travel to Vietnam because it is the least expensive country. This location provides a wide range of entertainment options at reasonable prices.
What is the cheapest destination to visit with the most gorgeous scenery?
Thailand ranks as one of the most affordable destinations for those traveling on a budget. It's lovely, well-equipped for travel, and quite inexpensive. There are rainforests, temples, white beaches, and a stunning blue sea for visitors to view.
Featured Image: Myindiatravel.co.in