"Escape the Chill: Discover the Top 5 Winter Destinations for Adventure and Relaxation!"
A magnificent time of year, winter brings with it the pleasures of snow, skiing, and cozy evenings by the fire. Many places in the world have something to offer everyone, whether you're looking for an outdoor adventure or a peaceful escape in a winter wonderland. We've compiled a list of the best places to travel in winter that are sure to delight and inspire, from skiing in the Swiss Alps to visiting the legendary ice hotels of Lapland. Get ready to experience these gorgeous winter wonderlands by donning your thickest coat.
Lapland, Finland
Finland's northernmost region, Lapland, which borders Sweden, Norway, Russia, and the Baltic Sea, is a best place in winter. The enormous stretches of snow, the frozen lakes, and the breathtaking natural environment are what make this place so enchanting. It's a well-liked destination for anyone looking for outdoor adventure because it offers sports like dog sledding, snowmobiling, and ice fishing. The Aurora Borealis, often known as the northern lights, can be viewed in Lapland throughout the winter. Visitors have the option of staying in cozy ice hotels or traditional Finnish houses. Lapland is undoubtedly a winter wonderland that provides each visitor with a singular and unforgettable experience.
Things to do in Lapland, Finland:
Go dog sledding or snowmobiling
Try ice fishing on a frozen lake
Stay in a cozy Finnish cottage or an ice hotel
Take a reindeer sleigh ride
Enjoy a traditional Finnish sauna experience
Witness the Northern Lights
Visit Santa Claus Village in Rovaniemi
Language
The majority of people in Lapland also speak English, yet Finnish and Swedish are the official languages of Finland.
Some popular hotels in Lapland, Finland are:
Kakslauttanen Arctic Resort
Levi Hotel Spa
Hotel Iso-Syöte
Arctic TreeHouse Hotel
Santa Claus Holiday Village
Aspen, Colorado, USA
The Popular winter resort town of Aspen, Colorado, is situated in the western Rocky Mountains. This quaint town is well-known for its top-notch skiing, opulent resorts, and exciting nightlife. On the slopes of Aspen Mountain, Aspen Highlands, Snowmass, and Buttermilk, visitors may enjoy skiing and snowboarding. Snowshoeing, ice skating, and sledding are just a few of the winter sports available in Aspen in addition to skiing. With activities like the Aspen Music Festival and the Aspen Art Museum, the town also has a thriving cultural scene.
Things to do in Aspen, Colorado, USA
Attend the Aspen Music Festival
Take a hot air balloon ride over the mountains
Go on a scenic winter hike
Relax at a spa or hot springs
Ski or snowboard on the slopes of Aspen Mountain, Aspen Highlands, Snowmass, and Buttermilk
Take a snowshoeing or snowmobiling tour
Go ice skating or sledding
Visit the Aspen Art Museum
Language
English is the primary language used in Aspen and is the official language of the United States. Aspen is a well-known tourist resort, so many locals are bilingual, particularly in Spanish.
Some popular hotels in Aspen, Colorado are:
Hotel Jerome
Limelight Hotel Aspen
The Gant Aspen
The Little Nell
St. Regis Aspen Resort
Innsbruck, Austria
The Austrian Alps are home to the attractive winter resort town of Innsbruck and best places to go in the winter. This charming town provides a rare fusion of culture, history, and winter sports. Skiing and snowboarding can be enjoyed by visitors on the slopes of adjacent mountains including Nordkette and Patscherkofel. Ice skating, tobogganing, and winter trekking are just a few of the winter sports available in Innsbruck in addition to skiing. The city is renowned for its exquisite architecture, which includes structures like the Imperial Palace and the Golden Roof.
Things to do in Innsbruck, Austria:
Go ice skating at the Olympiaworld Ice Stadium
Try tobogganing on the nearby hills
Visit the Bergisel Ski Jump and Museum
Take a winter hike through the surrounding alpine scenery.
Take a cable car ride to the top of the Nordkette for stunning views
Visit the Imperial Palace and the Golden Roof
Take a stroll through the Old Town and admire the colorful architecture
Explore the Swarovski Crystal Worlds
Enjoy a traditional Austrian meal at one of Innsbruck's many restaurants
Language
German is the primary language used in Innsbruck and is also the official language of Austria. Innsbruck is a well-known tourist destination, hence many locals are fluent in English.
Some popular hotels in Innsbruck, Austria are:
Hotel Innsbruck
Grand Hotel Europa
AC Hotel by Marriott Innsbruck
The Penz Hotel
Hotel Schwarzer Adler
Recommended Readings
#The Top 10 Most Beautiful Lakes in the World
#The Top 10 Most Beautiful Beaches in the World
#How to Pack for a Winter Vacation
Sydney, Australia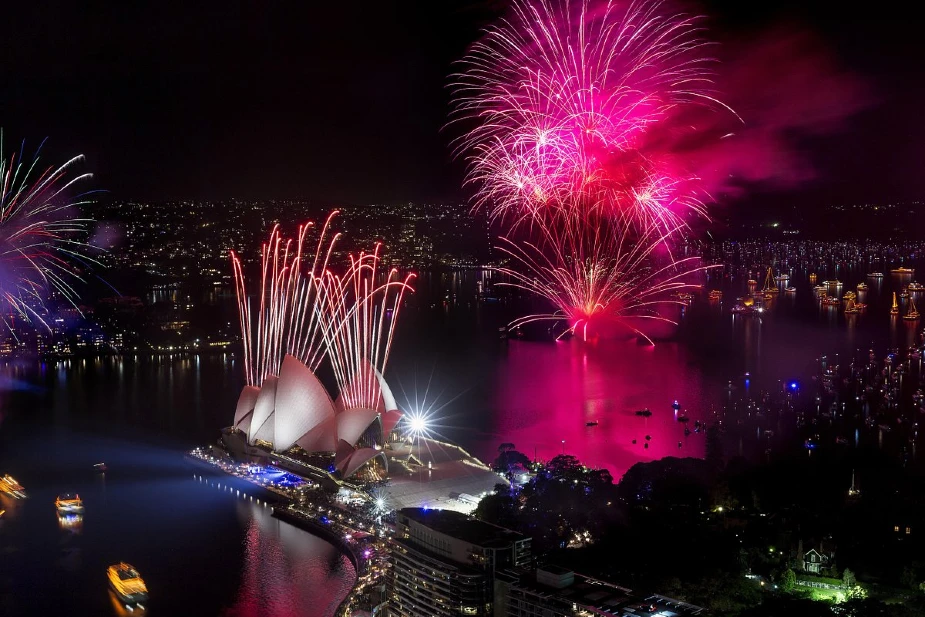 For those seeking to escape the cold and have some fun in the sun during the winter, Sydney, Australia is a terrific option for a winter vacation destination. Sydney caters to all tastes with its stunning beaches, recognisable monuments, and rich cultural environment. Visitors can ride a ferry to the well-known Manly Beach, stroll around the lovely Sydney Harbour, or gaze out over the city from the Sydney Tower Eye. The city is home to a number of top-notch museums, galleries, and theaters for a cultural experience.
Things to do in Sydney, Australia
Climb the Sydney Harbour Bridge for breathtaking views of the city
Enjoy a night out in one of Sydney's trendy neighborhoods, such as Surry Hills or Newtown
Take a day trip to the Blue Mountains and see the Three Sisters rock formation
Visit the Art Gallery of New South Wales for a cultural experience
Explore the historic neighborhood of The Rocks and its markets, shops, and restaurants.
Visit the iconic Sydney Opera House and take a guided tour
Explore the beautiful Sydney Harbour by taking a ferry ride or a harbor cruise
Take a scenic coastal walk from Bondi to Coogee
Spend a day at one of Sydney's famous beaches, such as Bondi, Manly or Bronte
Visit Taronga Zoo and see Australia's native animals
Language
English is the national language of Australia, and Sydney has a large English-speaking population. But you'll also hear a variety of languages spoken there because of the city's multicultural population, including Mandarin, Arabic, and Vietnamese.
Some popular hotels in Sydney, Australia are:
Shangri-La Hotel, Sydney
The Langham, Sydney
Four Seasons Hotel Sydney
The Park Hyatt Sydney
The InterContinental Sydney
Queenstown, New Zealand
A winter wonderland, Queenstown, New Zealand, is renowned and top winter vacation spots for its breathtaking alpine scenery and exhilarating outdoor pursuits. One of the several ski resorts in the region, such as Coronet Peak and The Remarkables, welcomes visitors who want to try their hand at skiing or snowboarding. There are several chances for hiking, bungee jumping, skydiving, and even heli-skiing for those looking for excitement. There are numerous quaint cafes, pubs, and restaurants in the city that serve delectable meals and beverages while providing breathtaking views. Queenstown also provides options for leisure, with a wide selection of spas and wellness facilities.
Language
English and Maori are New Zealand's two official languages, and English is more commonly used in Queenstown.
Some popular hotels in Queenstown, New Zealand are:
Novotel Queenstown Lakeside
Hilton Queenstown Resort & Spa
Sofitel Queenstown Hotel & Spa
Crowne Plaza Queenstown
QT Queenstown
Conclusion
In conclusion, the wintertime offers some of the world's most enchanted and spectacular vacation opportunities. There is something for everyone, from skiing and snowboarding to the Northern Lights and cozy winter towns. The top 5 best winter escape vacations are Lapland, Finland, Whistler, Canada, Banff, Aspen, USA, and Niseko, Japan. These locations assure you of a memorable winter vacation, whether you're looking for action or relaxation. So prepare to pack your luggage and travel to these breathtaking locations to enjoy the beauty of winter.
Questions Tourists ask about where to go for winter break?
Best place to visit in winter with family?
Canada's Whistler, British Columbia, is one of the greatest and top winter destinations to travel during the winter with family. From skiing and snowboarding on its world-class slopes to ice skating, snowshoeing, and even dog sledding, this beautiful ski resort town has plenty to offer everyone. To keep the whole family entertained, the village itself is brimming with quaint shops, eateries, and entertainment venues. Additionally, Whistler offers a variety of family-friendly lodging options, including condos and large hotels, making it a great winter vacation spot for families.
How do I plan a budget-friendly winter vacation to one of these top 5 destinations? 
If you use these suggestions, you can plan a winter holiday on a tight budget to one of the top 5 locations. To start with, think about going off-season to benefit from cheaper rates and lighter crowds. Additionally, making reservations in advance might help you save money on travel and lodging. Look for inexpensive lodging choices like hostels, rental homes, or campgrounds. To reduce your food costs, think about cooking your meals rather than eating out. To enjoy the winter wonderland without breaking the budget, look into free or inexpensive winter activities like hiking or ice skating.
Where can I find the best accommodations for my winter getaway in these destinations?
There are many ways to locate the ideal lodging for your winter holiday. Start your search for hotels online at sites that offer a variety of possibilities, from cheap to luxurious, such Booking.com or Airbnb. To save money on lodging, check the official websites of hotels or resorts for discounts and specials. You may also want to use travel reward programmes. To save money, you might also consider staying in hostels, vacation rentals, or campsites. You may select the ideal lodging for your winter vacation by reading reviews and asking friends or travel groups for advice.
Which winter destinations offer the best skiing and snowboarding opportunities?
There are numerous locations in the winter that provide excellent skiing and snowboarding opportunities. Top vacation spots include Whistler, British Columbia, Canada, with more than 8,000 acres of skiable land, Aspen, Colorado, USA, known for its four magnificent ski mountains, and Chamonix, France, known for its difficult off-piste skiing and breathtaking mountain views. Other famous locations are Niseko, Japan, and St. Anton, Austria, both of which are renowned for their huge ski areas and deep powder snow. All of these locations offer a variety of routes and slopes to suit skiers and snowboarders of all skill levels.
What are some lesser-known winter activities and attractions to explore in these top 5 destinations?
There are several lesser-known activities and attractions to discover in addition to skiing and snowboarder, which are the main draws in the best winter resorts. Visitors can experience the icy environment in Whistler, British Columbia, Canada, by zip-lining, snowmobiling, or even by snowshoeing. Visitors can explore the Maroon Bells, one of North America's most famous peaks, or enjoy a sleigh ride through the charming town of Aspen, Colorado, in the United States. Visitors can take a spectacular helicopter ride or tour the ice caves in Chamonix, France. Visitors can try snow kiting or snowshoeing in St. Anton, Austria, while Niseko, Japan, offers hot spring excursions or snowshoeing.
Featured Image: Facebook.com