Paradise Found: Discover the Top 10 Most Beautiful Beaches in the World
The ocean has a wonderful quality to it, and there is no better location to experience it than on a beautiful beach. Whether you want crystal-clear waters, beautiful white sand, or breathtaking landscape, the world is filled with breathtaking beaches that will leave you speechless. From the renowned Caribbean shoreline to the isolated coves of Southeast Asia, we've compiled a list of the top ten most beautiful beaches in the world. So pack your luggage, apply sunscreen, and prepare for a once-in-a-lifetime beach vacation.
Elafonissi Beach, Greece
Elafonissi Beach is on the southwestern shore of Crete, Greece's largest island. It is regarded as one of the most beautiful beaches in Greece and the world, with crystal-clear turquoise waters and powdered pink sand. The beach is a protected area, and visitors can engage in a variety of activities, including swimming and sunbathing, as well as trekking and touring nearby Elafonissi Island. The beach is easily accessible by vehicle or public transportation, and the shallow waves are great for families with children. Elafonissi Beach is a must-see place for any beach fan, whether you're searching for a calm retreat or an adventure-filled vacation.
There are numerous activities available at Elafonissi Beach in Greece, including:
Swim in the lovely turquoise seas.
Sunbathe on the powdery pink sand.
Take a walk along the beach and explore the surroundings.
In windy circumstances, try windsurfing or kiteboarding.
Snorkel and learn about the various aquatic creatures.
Explore the pristine scenery of adjacent Elafonissi Island.
Hotels Near Elafonissi Beach
Elafonissi Resort by Kalomirakis Family:This coastal resort has cozy accommodations, a pool, and a restaurant serving traditional Cretan food.
Elafonisi Resort by the Sea:This family-friendly resort offers a children's playground, an outdoor pool, and a bar and is just a short walk from the beach.
Chrissoskalitissa Rooms: This low-cost hotel is within a few minutes walk from Elafonissi Beach and features simple, clean rooms as well as a garden.
Anse Source d'Argent, Seychelles
Anse Source d'Argent is a beautiful beach on the Seychelles' La Digue Island. It is famous for its clean waters, powder-soft sand, and unusual rock formations. In the tranquil seas, visitors can swim, sunbathe and snorkel. The beach is also a famous location for photography, thanks to its spectacular granite boulders and blue waves. There are various adjacent lodging options, including guesthouses and resorts, that provide convenient access to this lovely beach.
Things to do
The quiet and clear waters of Anse Source d'Argent are ideal for snorkeling or diving to explore the abundant marine life and coral reefs.
Beach activities like volleyball, Frisbee, and beach soccer are available to visitors. Kayaking and paddleboarding are also popular local pastimes.
The distinctive granite rock formations, blue waters, and palm trees provide a stunning backdrop for photography, making it a favorite destination for both professional and amateur photographers.
Visitors can explore La Digue, the island where the beach is located, to learn about its unique culture, food, and animals.
Anse Source d'Argent is a great place to unwind and relax while soaking up the sun and taking in the scenery.
Hotels near Anse Source d'Argent,Seychelles
Le domaine de l'orangeraie resort and spa:This magnificent resort is located just a few minutes' walk from Anse Source d'Argent beach and features a spa, swimming pool, and restaurant.
Patatran Village Hotel :This hotel is located on La Digue's western side, facing the Indian Ocean, and is only a short walk from Anse Source d'Argent beach. The hotel has a variety of lodging options, including bungalows and villas.
Maya Bay Koh Phi Phi,Thailand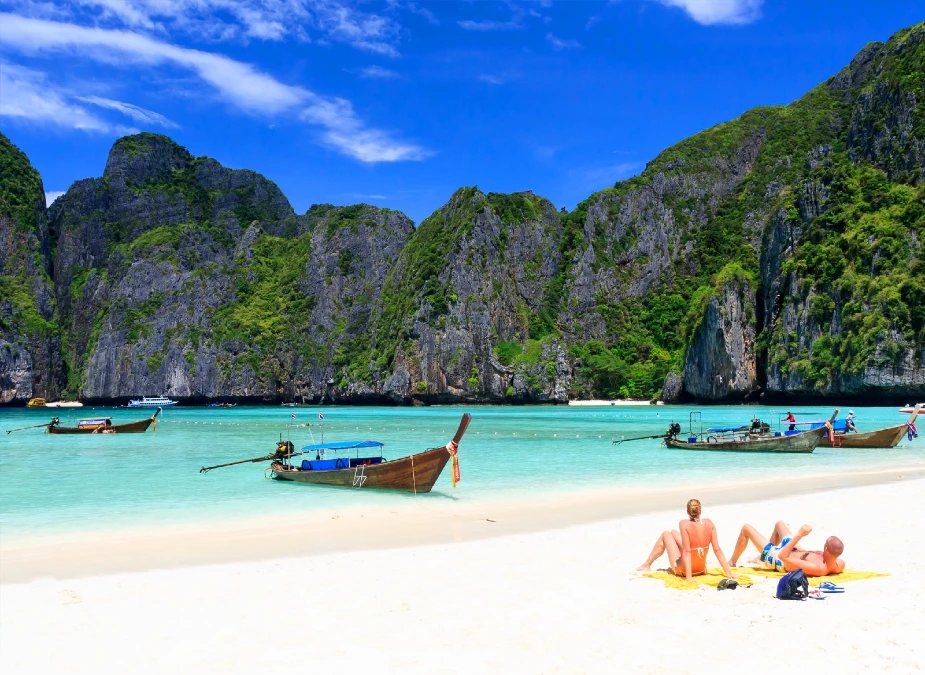 Maya Bay is a stunningly gorgeous beach on the Thai island of Koh Phi Phi Leh in Krabi Province. It is famous for its immaculate white sand, crystal-clear waters, and towering limestone cliffs that form a beautiful backdrop to the exquisite harbor. The beach's popularity surged after it was featured in the Hollywood film "The Beach" starring Leonardo DiCaprio.
Maya Bay can only be reached by boat, which takes 1.5-2 hours from either Phuket or Krabi. The bay can become fairly congested during high season due to its fame and popularity. The Thai government declared in 2018 that Maya Bay would be temporarily closed to allow the ecology to recover from the damage caused by mass tourism. The bay had reopened, although with stringent limits on the number of visitors and activities permitted.
Things to do
Maya Bay is famous for its gorgeous crescent-shaped beach, and many visitors come to simply relax and soak up the rays. The beach is peaceful, flanked by high limestone cliffs and crystal-clear waves.
The underwater world of Maya Bay is rich in marine life, making it an ideal location for snorkeling. This equipment can be rented on the island of Koh Phi Phi Don or on the boats that visit Maya Bay.
If you're a more experienced diver, you might want to consider going on a dive tour to explore the underwater world of the area. On Koh Phi Phi Don, various dive operators provide visits to nearby dive locations.
Kayaking is another popular sport at Maya Bay. You can rent a kayak on Koh Phi Phi Don and paddle over to the bay to explore the limestone cliffs and hidden bays.
Hike to the viewpoint overlooking Maya Bay if you're feeling adventurous. The hike from the beach takes around 20-30 minutes and provides breathtaking views of the bay and nearby islands.
Finally, various boat cruises are available that take visitors to Maya Bay and other neighboring islands.
Hotels near Maya Bay, Thailand
Phi Phi Island Village Beach Resort – Located on the north end of Koh Phi Phi Don, this premium resort offers breathtaking views of the Andaman Sea.
Zeavola Resort – Located on Laem Tong Beach on the northern coast of Koh Phi Phi Don, this rustic-chic resort provides convenient access to Maya Bay.
Hanalei Bay, Hawaii
Hanalei Bay is a breathtakingly gorgeous bay on the north shore of Kauai, Hawaii. The bay is almost two miles long and bordered by gorgeous green mountains and rich tropical foliage, making for a very spectacular environment. The crescent-shaped harbor is renowned for surfing, swimming, and other water activities due to its white sand beach, turquoise waters, and big waves.Hanalei Bay is rich in Hawaiian culture and history, in addition to its natural beauty. Hanalei has several historical sites, including the Waioli Mission House and the Hanalei Pier. At the Hanalei National Wildlife Refuge Visitor Centre, visitors can also learn about the area's history and culture.
Things to do
Hanalei Bay is well-known for its large waves, making it a popular surfing destination. There are various surf schools in the vicinity for people who are new to surfing or want to develop their skills.
The white sand beach in Hanalei Bay is ideal for swimming, sunbathing, and beach volleyball. For a fun day on the water, visitors can hire stand-up paddleboards or kayaks.
Many gorgeous hiking paths surround Hanalei Bay, including the Kalalau Trail, a strenuous 11-mile climb along the mountainous Na Pali Coast.
Hanakapiai Falls and Opaekaa Falls are two of the area's most spectacular waterfalls. Visitors can either participate in guided tours or explore on their own.
The historic Hanalei Pier attracts visitors for fishing, crabbing, and watching the sunset. Visitors can even leap from the pier into the beautiful sea.
Hotels near Hanalei Bay, Hawaii
Hanalei Colony Resort: Hanalei Colony Resort is a boutique hotel on Kauai's lush and scenic north shore. The resort is set on 5 acres of beachfront property and offers breathtaking views of the ocean and the tropical scenery of the island.
Hale Ho'o Maha Bed & Breakfast:Hale Ho'o Maha Bed & Breakfast is a quaint and intimate bed and breakfast in Hilo, Hawaii, on the Big Island's east coast. The B&B provides a tranquil and quiet environment and is surrounded by lush tropical gardens.
Long Beach Vancouver Island, Canada
Long Beach is a lovely and popular tourist spot on Vancouver Island, Canada's west coast. It is part of the Pacific Rim National Park Reserve and extends for 16 kilometers along the shore. The beach is famous for its large expanses of sandy shoreline, pure blue waves, and spectacular sunsets.Aside from resting on the beach, Long Beach offers a variety of activities such as hiking, surfing, kayaking, and animal watching. Visitors can explore adjacent jungle paths, such as the famous 2km jungle Trail, or go on longer excursions like the 9.4km South Beach Trail. Surfing is another popular sport in Long Beach, with neighboring surf schools offering lessons and rentals.
Things to do
Take a stroll along the beach, looking for seashells, driftwood, and other treasures.
Long Beach is a famous surfing destination, with waves appropriate for all skill levels, from beginners to pros. Surf schools provide lessons as well as equipment rentals.
Explore the neighboring jungle paths, such as the Jungle Trail and the South Beach Trail, which provide spectacular views of the coastline as well as wildlife observations.
A variety of species, including salmon and halibut, live in the seas of Long Beach. For those who want to cast a line, fishing charters are offered.
There are various campgrounds near Long Beach that provide a unique opportunity to see the area's splendor up close.
Hotel near long beach Vancouver Island, Canada
Wickaninnish Inn:This premium hotel is positioned on the Pacific Ocean's edge and offers breathtaking views of the coastline.
Pacific Sands Beach Resort: Suites and beach cottages with ocean views are available at this family-friendly resort.
Whitehaven Beach, Australia
Whitehaven coastline is a magnificent seven-kilometer stretch of coastline in Australia's Whitsunday Islands. It is one of the most beautiful beaches in the world, with pristine white silica sand and crystal-clear blue waters. Because the sand is so pristine, it is used to manufacture telescope lenses and scientific instruments. Visitors can visit the beach on a day trip from Airlie Beach or Hamilton Island, or stay overnight on one of the adjacent islands. Swimming, snorkeling, and hiking are popular activities on Whitehaven Beach. The beach is also home to some rare marine animals, such as stingrays and sea turtles.The swirling patterns in the sand that alter with the tides are one of Whitehaven Beach's most distinctive features. Because the sand is so fine and pure, it does not absorb heat, making it comfortable to walk on even on the hottest days. Whitehaven Beach is an absolute must-see for anybody visiting Australia.
Things to do
Turtles and other marine creatures, including dolphins, frequently visit the shallows of Whitehaven Beach.
If you arrive by boat, you can anchor at Tongue Bay and then climb up the hill to the lookout overlooking Hill Inlet and Whitehaven Beach.
Take a scenic flight over the Whitsunday Islands.
Some of the adjacent islands provide camping facilities.
Rent a kayak and paddle around the shoreline and adjacent islands at your leisure.
Hotels near Whitehaven Beach, Australia
Daydream Island Resort: The resort has a variety of accommodations, including modern rooms and suites with their own balcony or terrace. The rooms are well-appointed and provide modern conveniences such as air conditioning, flat-screen TVs, and complimentary Wi-Fi. There are various dining options at the resort, including a seafood restaurant, a buffet-style restaurant, and a poolside bar.
Reef View Hotel: The hotel offers a variety of room types, including regular rooms and suites, each with its balcony or terrace. The rooms are well-appointed and provide modern conveniences such as air conditioning, flat-screen TVs, and complimentary Wi-Fi.
Recommended Reading
#The Top 5 Most Beautiful Lakes in Europe
#The Most Beautiful Beaches in Hawaii
#The Best Beach Resorts in the World
Tulum Beach, Mexico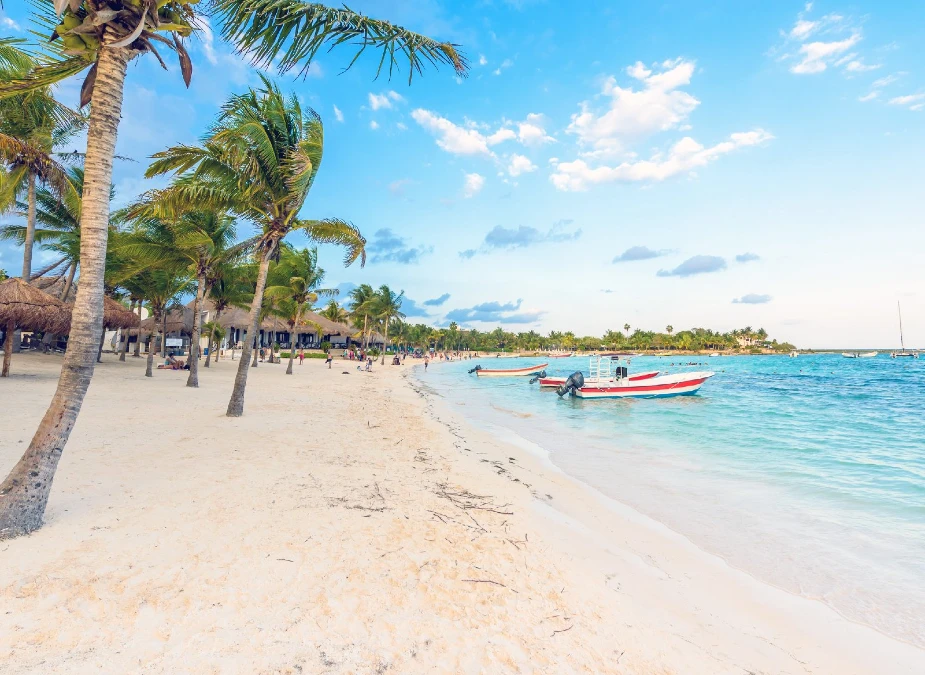 Tulum Beach is a stunning stretch of white sand beach located in the town of Tulum on Mexico's Yucatan Peninsula's Caribbean coast. It is famous for its turquoise waters, smooth sand, and breathtaking views of the surrounding jungle and cliffs.Tulum Beach, in addition to its natural beauty, has a thriving beach culture, with a variety of beach bars and restaurants serving fresh seafood, tropical cocktails, and loud music. Water sports such as snorkeling, paddleboarding, and kayaking are also popular at the beach.
Things to do
These ancient Mayan ruins, positioned on a cliff overlooking the sea, are among the most well-known and well-preserved in Mexico.
Tulum Beach is home to some of the world's most stunning and diversified coral reefs, and various firms provide snorkeling and diving tours.
Tulum Beach is famed for its fine white sand and gorgeous blue waters, making it ideal for simply relaxing and soaking up the sun.
Visit the neighboring cenotes: These natural swimming holes formed by underground rivers are a one-of-a-kind and stunning natural feature of the area.
Take a bike ride: Tulum is a bike-friendly town with plenty of bike rental businesses where you can rent a bike and explore the area at your leisure.
Hotels near Tulum Beach, Mexico
Wakax Hacienda : The hotel has ten rooms, each with a distinct blend of contemporary and traditional Mexican design elements. Each room has air conditioning, a private bathroom and a balcony or terrace with garden views.
Nerea Tulum:The 4-star Nerea Tulum includes a hot tub and a patio. In the surroundings, tourists can enjoy activities such as snorkeling, canoeing, and cycling, as well as relax along the beaches.
Flamenco Beach, Puerto Rico
Flamenco Beach is a picturesque and popular beach on the island of Culebra, off Puerto Rico's eastern coast. It's famous for its gorgeous blue waters, soft white sand, and breathtaking views of the surrounding hills. Flamenco Beach's calm and shallow waters are one of its main draws, making it a great site for swimming, snorkeling, and other water activities. The beach is also bordered by coral reefs, which allow for diving and exploration of aquatic life.The beach was utilized as a military training ground and target range during WWII, and tourists may still see the wreckage of tanks and other military equipment scattered around the region.
Things to do
Hike up to the Flamenco Beach overlook for a spectacular view of the beach and the island.
Spend a night or two under the stars to appreciate Flamenco Beach after dark. Camping is permitted on the beach in authorized places.
Pack a picnic lunch or snacks and enjoy a beach picnic. There are numerous picnic tables and shady spots.
Jet skis are available for rent for those looking for a bit of excitement, allowing you to blast through the waves and explore the surrounding surroundings.
Flamenco Beach, with its spectacular natural beauty, is an excellent location for taking photography.
Hotels near Flamenco Beach,Puerto Rico
Ulala Culebra : Ulala Culebra is a hotel on the Puerto Rican island of Culebra, which is famed for its stunning beaches and crystal-clear waters. The hotel provides spacious rooms and suites with modern amenities such as air conditioning, free Wi-Fi, flat-screen televisions, and private bathrooms.
Aleli Cottages: Aleli Cottages is a tiny, family-run hotel in the Puerto Rican town of Rincón. The motel provides comfortable and cheap lodgings in a peaceful and quiet area. The cottages are surrounded by lush tropical gardens and are only a few steps from the beach.
Baia do Sancho, Brazil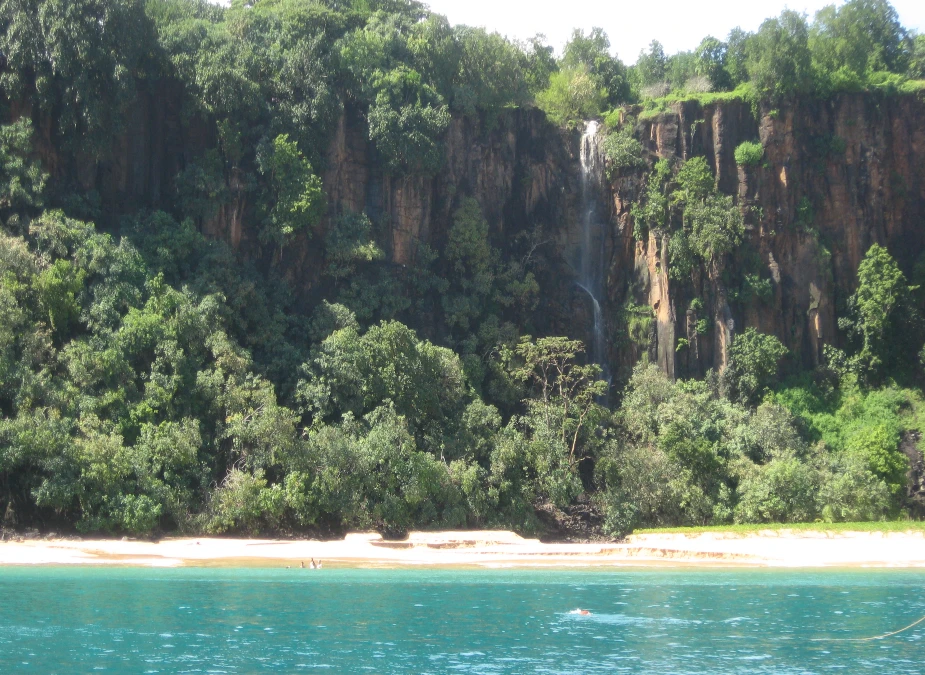 Baia do Sancho is a beautiful beach located on the Brazilian island of Fernando de Noronha. Because of its crystal-clear waters, stunning rock formations, and white sandy beaches, it is often recognised as one of the most beautiful beaches in the world.The beach is accessible through a steep staircase that descends from the cliffs above, but the effort is well worth it for the breathtaking views and beautiful blue waters. Visitors to Baia do Sancho can enjoy snorkeling, swimming, and sunbathing on the beach, as well as spotting sea turtles and other marine life in the nearby seas.
Things to do
Spend time relaxing on the beach and admiring the landscape. Because the beach is rather secluded, it's an excellent spot to rest and decompress.
A variety of species, including sea turtles, dolphins, and birds, may be found in Baia do Sancho. You can learn more about the local creatures and their habitats by taking a guided tour.
The sunset at Baia do Sancho is especially lovely, and many visitors assemble on the beach in the evening to watch the sun set over the lake.
You can take a boat excursion around the island and visit different beaches and coves.
The cliffs above Baia do Sancho provide excellent rock climbing opportunities, with numerous businesses offering guided climbing expeditions.
Hotels near Baia do Sancho, Brazil
Paraíso do Boldró Flat : The Paraso do Boldró Flat is a beachside hotel on the Brazilian island of Fernando de Noronha. The hotel provides nice accommodations as well as spectacular views of the neighboring beaches and coastline.
Casa Da Didda: Casa Da Didda is a modest boutique hotel in the picturesque town of Trancoso, in the Brazilian state of Bahia. The hotel is set in a lovely colonial-style home that has been meticulously restored and rebuilt to provide visitors with a comfortable and one-of-a-kind experience.
Pink Sands Beach, Bahamas
Pink Sands Beach is a beautiful and well-known beach on Harbour Island in the Bahamas. It's famous for its powdery pink sand, which spreads for three miles along the coast and is composed of finely ground coral particles mixed with white sand.The beach's name derives from the sand's distinctive color, which ranges from light pink to deep coral depending on the time of day and the angle of the sun. The color is caused by small shelled animals called Foraminifera, which dwell in the coral reefs that encircle the island.Pink Sands Beach is also famous for its crystal-clear turquoise waters that are ideal for swimming, snorkeling, and scuba diving. The beach is protected by a barrier reef that provides calm and safe swimming conditions, making it perfect for families and children.
Things to do:
With its quiet and clear waves and fine pink sand, the beach provides enough options for swimming and sunbathing.
On the vast and expansive beach, you can play beach volleyball, soccer or paddleball.
You can hire a kayak or paddleboard and explore Harbour Island's coastline from the ocean.
The seas surrounding Harbour Island are also famous for fishing, with plenty of chances to capture snapper, grouper, and other fish.
Harbour Island is a lovely village with colorful colonial architecture, local shops, and restaurants. You may explore the island's narrow streets and alleyways by renting a golf cart or a bike.
Hotels near Pink Sands beach, Bahamas:
Pink Sands Resort : This premium resort is right on Pink Sands Beach and has 25 separate cottages nestled in gorgeous tropical gardens. The cottages are decorated in a traditional Bahamian manner and have conveniences such as air conditioning, private patios, and in-room spa services.
Coral Sands Hotel: This charming boutique hotel is just steps away from Pink Sands Beach and features 39 rooms and suites, each with their own distinct design and decor. There is a restaurant, bar, outdoor pool and fitness center at the hotel.
Conclusion
There are numerous breathtakingly gorgeous beaches around the world, each with its distinct charm and attraction. These beaches provide visitors with an unparalleled experience of natural beauty and tranquility, from the crystal clear waters of Baia do Sancho in Brazil to the powdery white sands of Whitehaven Beach in Australia, the secluded beauty of Anse Lazio in Seychelles, and the turquoise blue waters of Navagio Beach in Greece.
Question tourist ask most attractive beaches in the world
What are some tips for travelers who want to plan a budget-friendly trip to one of the world's most beautiful beaches?
– Off-season travel is recommended.
– Pre-book low-cost accommodations, such as hostels or guesthouses.
– To get around, take public transport or rent a bike.
– Find inexpensive meal options such as street food or local markets.
– To save money, book activities and trips directly from local suppliers.
What makes Hidden Beach in Marietas Islands, Mexico, a hidden gem among the world's most beautiful beaches?
Hidden Beach, on the uninhabited Marietas Islands, is a one-of-a-kind and magnificent resort due to its remote location inside a collapsed volcanic crater. The beach, which features crystal-clear turquoise seas and pure white sand, can only be reached by swimming through a short tunnel, adding to its attractiveness as a hidden gem.
What are the most family-friendly beaches with activities for kids?
Clearwater Beach in Florida, which has a playground and a nearby aquarium, and South Padre Island in Texas, which has a variety of water sports and a sea turtle rescue center, are two of the most family-friendly beaches with activities for kids. Other excellent choices include Myrtle Beach, South Carolina, and Waikiki Beach, Hawaii.
Which beaches offer the most luxurious accommodations and amenities?
The Maldives, noted for its overwater bungalows and private island resorts, as well as Bora Bora in French Polynesia and the Riviera Maya in Mexico, provide some of the most luxurious accommodations and services. Other alternatives include the French Riviera and Italy's Amalfi Coast.
Which beaches are the best for water sports such as surfing or scuba diving?
Some of the beaches that are best for water sports such as surfing or scuba diving include:
– Waikiki Beach in Hawaii
– Pipeline and Waimea Bay in Oahu, Hawaii
– Tavarua Island in Fiji
– Jeffreys Bay in South Africa
– Uluwatu and Padang Padang in Bali, Indonesia
Featured Image: Timesofindia.indiatimes.com