What is the Vatican Museum?
Discover the Vatican Museum's massive collection of paintings, sculptures, and artworks brought together over centuries by the Popes.
With 70,000 artifacts of which 20,000 are on display in 54 galleries, including the iconic Sistine Chapel, visiting the Vatican Museum is a must.
Learn about the precious art and architecture the Vatican is famous for, on a journey through the museums to reach the amazing Sistine Chapel.
This article will inform you of everything you need to know before purchasing Vatican Museum tickets.
Top Tickets for Vatican Museums
Discover the true Vatican Museum tour experience with our top Vatican tickets.
Skip the lines and explore the incredible collection of art and history at your own pace.
Immerse yourself in the beauty of the Sistine Chapel and other interesting galleries.
Select one of our top tickets to ensure a smooth trip to the Vatican Museum:
Entry Ticket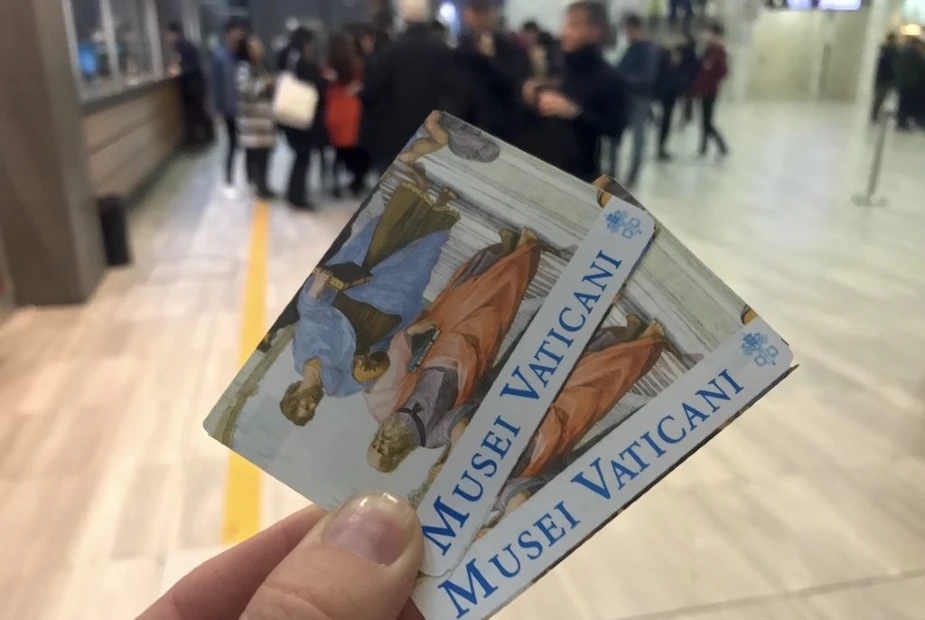 Vatican Skip The Line Ticket:
Get priority entry and bypass the long lines at the Sistine Chapel and Vatican Museum with this entry ticket to Vatican City.
Spend less time waiting in lines and more time enjoying the amazing works of art and history.
Our skip-the-line tickets allow you to enter these famous attractions without waiting in line, making your visit hassle-free.
Last Minute Ticket
Last-Minute Vatican Tickets:
Get last-minute access to the Vatican Museum
Enjoy skip-the-line access
Use the optional official audio guide to enhance your experience.
Guided Tour
Guided Tour Of Vatican:
Experience the Vatican Museums with a professional tour guide.
Enjoy the tour's ease by using the provided headsets.
Stay connected with complimentary WiFi at the meeting location.
Types of Tickets for Vatican Museums
There's one important thing every Vatican visitor should know about to ensure the best experience on your tour of the Vatican Museums.
And that is understanding the different types of Vatican Museum Tickets.
Here are different types of tickets for Vatican Museums, offering a range of experiences according to your preferences:
1. Skip the line Vatican Museum Tickets
Vatican Skip-the-line tickets are the most popular option among visitors, allowing you to avoid huge lines at the Vatican Museum.
Reduce waiting time by getting straight entry to the museum entrance.
Explore the museum's amazing collection and classic artworks without having to deal with any hassles.
Price Range: € 67 (US$ 67) to € 75 (US$ 76)
2. Last minute:
Vatican last-minute tickets are a lifesaver when you forget to book tickets for the Vatican in advance.
But now, with these last-minute tickets, say goodbye to huge lines and hours of waiting at the Vatican entrance.
Choose these essential tickets to save time and have a stress-free visit to the Vatican.
Price Range: € 50 (US$ 50) to € 60 (US$ 75)
3. Early Access:
Early access Vatican tickets provide exclusive access to the Vatican before the general public.
Make the most of your time, and explore the museums and exhibitions in a calm and quiet environment.
With these popular early access tickets, explore the Vatican's treasures in calm serenity in a less-crowded environment.
Price Range: € 85 (US$ 85) to € 125 (US$ 135)
4. Guided Vacation Tour:
A knowledgeable, guided Vatican tour will enhance your visit to the Vatican Museum.
This tour provides an in-depth look at the museum's artifacts, providing detailed explanations and fascinating stories, led by a knowledgeable guide.
With a guided tour that brings the museum's collections to life, you can fully appreciate the Vatican's stunning beauty and rich history.
Price Range: € 90 (US$ 99) to € 101 (US$ 110)
5. Vatican Night Tour:
A wonderful Vatican City Night Tour will allow you to enjoy Vatican City's amazing beauty after sundown.
Enjoy the stunning sights as the sun sets and a lovely vibe fills the city.
The breathtaking sight of the illuminated Vatican makes the Vatican City Night Tour an incredible and valuable experience, though it may cost more money.
Price Range: € 67 (US$ 73) to € 71 (US$ 77)
6. Private Vatican Tour: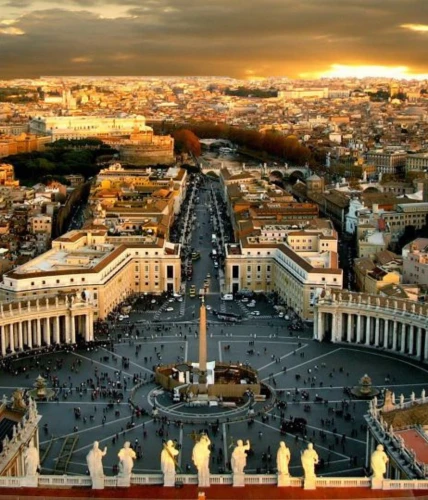 Choose Private Vatican Tour Tickets for an intimate and personalized experience with your family or friends.
Enjoy the company of a dedicated tour guide specifically assigned to your group, giving you plenty of time for questions and an in-depth look at the Vatican's treasures.
You can customize the experience to your interests and create unforgettable adventures with a personalized tour.
Price Range: € 350 (US$ 380) and above
7. VIP Vatican Tickets:
Enjoy the ultimate Vatican experience with VIP tickets, which include a premium and unique tour of the Vatican.
Discover the Vatican Museum's secret treasures and exclusive spaces with a private art scholar guide by your side.
Immerse yourself in this remarkable location's rich history and creativity, ensuring a truly unique and personalized experience within the treasures of the Vatican.
Price Range: € 565 (US$ 613) and above
How to Book Vatican Museum Ticket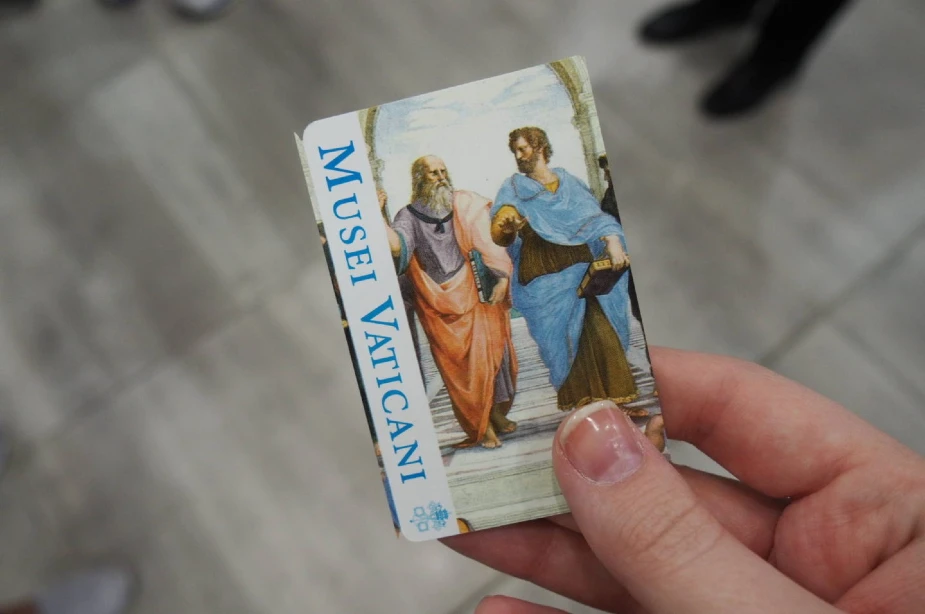 We've got you covered if you're wondering how to book Vatican tickets online. Follow these simple instructions:
Click here to visit the ticket booking website.
Browse the available Vatican Museum tickets online and choose the best tickets for the Vatican that meet your requirements.
Select the number of participants and the visit date on the ticket page.
Select your preferred time slot since the Vatican Museum has timed tickets.
Proceed to make the ticket payment.
The tickets will be sent to you through email once payment has been confirmed.
Show your e-tickets at the museum's entry and enjoy your visit. No need to take the printouts!
Why online Tickets are better
Due to the strong demand for tickets to the Vatican Museums, which gets around 25,000 visitors daily, acquiring them might be difficult.
Thankfully, there are online and offline options available for buying Vatican tickets.
Purchasing tickets online has the following advantages:
Online tickets are frequently less expensive than those purchased at the venue.
By purchasing tickets online, you can avoid the hassle of standing in large lines at the box office.
Buy your tickets online in advance to save money and time.
Simply present your e-ticket on your phone at the entrance to avoid the needing a printout.
Purchasing tickets online assures your entry and protects you from last-minute disappointments.
By purchasing Vatican tickets online, you can have a seamless and convenient experience, fully immersing yourself in the Vatican Museum's gems.
Where is Vatican Museums
The Vatican Museum is in Vatican City, just north of Rome's city centre.
The Vatican, the world's smallest country, is surrounded by Rome.
The Vatican is just 44 hectares (108 acres) in size and has a 3.2 km (2 mile) border with Italy.
Despite its tiny size, the Vatican has four key attractions that draw tourists from all over the world:
Vatican Museums – They display a rich history of culture through their huge collection of art and historical artifacts.
Sistine Chapel – The Sistine Chapel, a Michelangelo masterwork, is known for its stunning paintings, particularly the famous ceiling and Last Judgement.
Saint Peter's Square – Saint Peter's Square, a magnificent square created by Bernini and located in front of Saint Peter's Basilica, acts as a gathering place for pilgrims and visitors.
Saint Peter's Basilica – The largest church in the world, Saint Peter's Basilica is a stunning architectural work of art that contains valuable religious artifacts and popes' tombs.
Due to its close accessibility, tourists frequently visit all four sights in one day or extend the trip over two days, immersing themselves in the Vatican's rich history and creativity.
How to reach Vatican Museums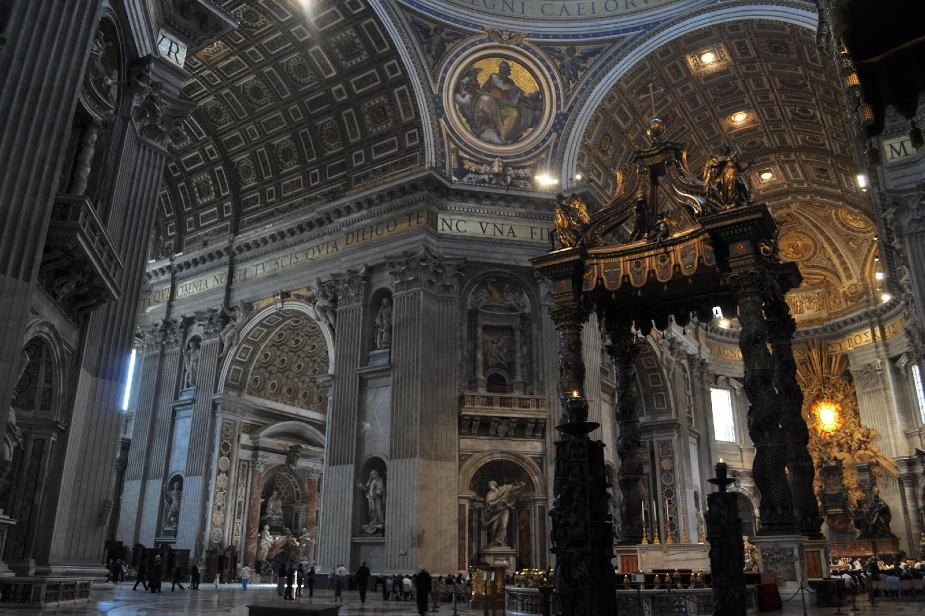 The Vatican Museum is located at Città del Vaticano, 00120, in Vatican City.
Between Vatican City and Rome, there are no limitations or checks on public or private transportation.
Paid parking is available near Viale Vaticano for visitors arriving by car.
There are many ways to get to the Vatican Museum, including by taxi, bus, metro, tram, or other modes of public transportation.
By Metro:
Take line A of the metro in Rome, and get off at the Ottaviano-S. Pietro or Cipro stations.
You won't have to wait long because a train arrives every 4 minutes.
It's a quick 7-minute walk from there.
By Bus: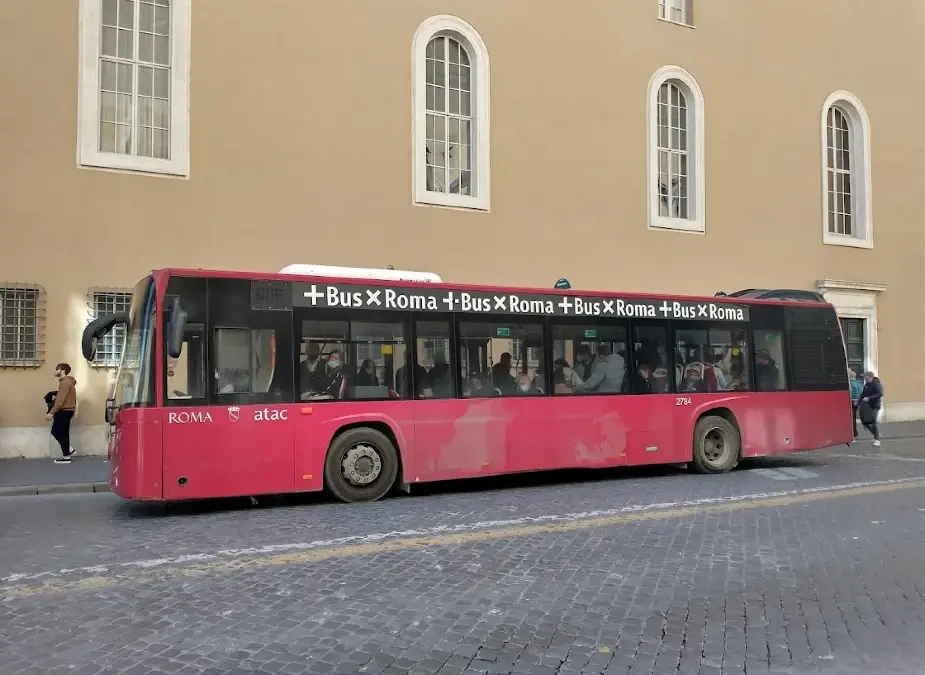 The city of Rome has an established transportation network, and multiple buses travel to the Vatican City daily.
So, if you want to take a bus to the Vatican, take bus no. 49 and step out at the Viale Vaticano stop.
Buses 40 and 64 depart outside Termini Train Station and end at the Vatican.
Another option is to board bus numbers 492 or 990 and step out at the Via Leone IV stop.
The entrance of the Vatican Museum is a 5-minute walk away. Buses no 32, 81, and 982 stop at Piazza del Risorgimento.
By Tram:
Tram 19 is the only tram that stops in Piazza del Risorgimento in Vatican City.
The Vatican Museum is only a 10-minute walk away.
By Train:
The best way to travel to Vatican City is also by train.
From Roma Termini, take the RE 12524 or RE 4134 from Roma Termini to St. Pietro.
St. Peter's Square is about a 10-minute walk from St. Pietro.
By Walk:
Walking to the Vatican museums is an excellent option if you are in Central Rome and have plenty of time to explore on foot.
The museum is roughly 2 Km (1.4 miles) from Piazza Navona in Rome's center.
At Castel Sant Angelo, you will get to see the neighborhood stores.
The best part about walking to the Vatican Museum is that it is a gorgeous walk across the Tiber River from the outside.
By Car:
Driving is another option for getting to Vatican City from Rome.
Only a few cars are permitted to enter Vatican City, which only allows individuals traveling on official business to drive there.
Therefore, public transit is the best way to go to Vatican City.
If you have an official business inside the city, the quickest way to travel to Vatican City is via Corso Vittorio Emanuele II.
You can also enter Vatican City through Viale Del Muro Torto and avoid tolls; however, this is a lengthy route.
Map of Vatican Museums
A map is recommended to help you navigate the vast Vatican Museum.
With so many galleries and rooms to explore, it's easy to get lost inside, so carry a Vatican Museum map.
The map will let you explore the many sights, saving time and ensuring you get all the noteworthy works.
Download the Vatican Museum map to your device for easy access during your visit.
What to Expect at Vatican Museums
You'll discover a world of beauty, history, and art at the Vatican Museums.
Admire works of art, historical artifacts, and stunning structures that will impress you.
Get ready to be stunned by the amazing artifacts and rich cultural heritage awaiting you around every turn.
Vatican Museums:
The Vatican Museum, established in the early 16th century, is home to a vast collection of artwork and artifacts.
It is one of the biggest and oldest museums in the world, with over 70,000 pieces in its collection, 20,000 of which are on exhibit in 54 galleries.
The Vatican Museum offers an interesting trip through history and creativity, with amazing art spaces alongside important historical and cultural artifacts.
It is a must-see location in Vatican City, with millions of visitors annually.
The Sistine Chapel:
The Sistine Chapel is a popular attraction within the Vatican Museum with significant historical and cultural value.
Between 1477 and 1481, Giovanni dei Dolci renovated the structure, which preserves Pope Sixtus IV's name.
The Sistine Chapel, located as the final gallery among the 26 in the Vatican Museum, is the most famous and attracts many tourists.
St. Peter's Basilica:
St. Peter's Basilica in Vatican City is an impressive Renaissance basilica famous for its spectacular architecture and as the holiest Catholic shrine.
According to stories, it was constructed above the grave of St. Peter, one of Jesus' apostles.
St. Peter's Basilica attracts visitors from all over the world because of its beauty and historical significance.
St. Peter's Square:
St. Peter's Square, also known as Square San Pietro, is the world's largest and most magnificent square.
Bernini created it in the 17th century, and has room for about 300,000 people.
This magnificent architecture attracts many pilgrims and tourists because of its great religious significance.
Vatican Museum Opening Hours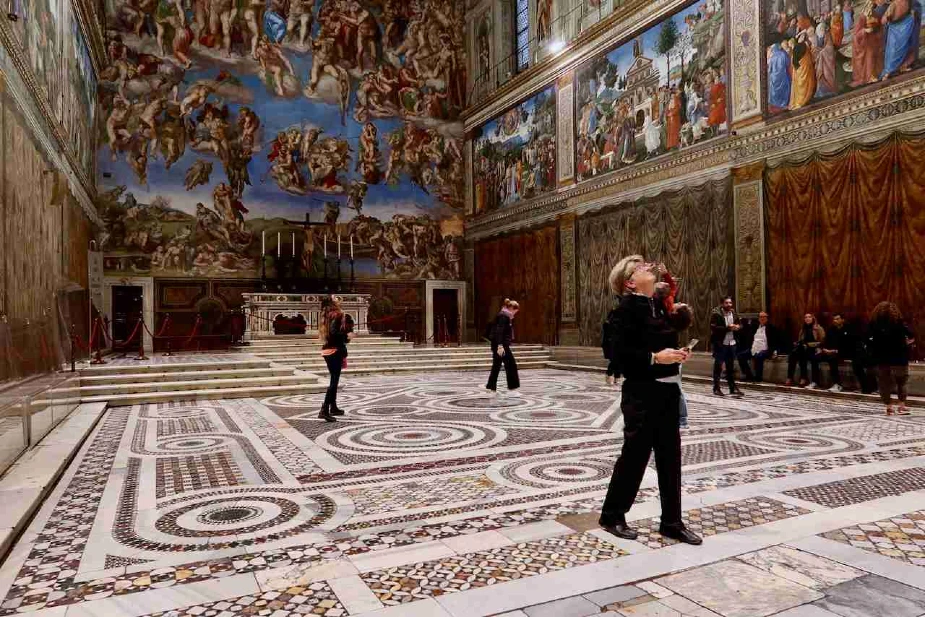 Visitors need to be aware of the Vatican Museum's opening hours before planning their visit to this famous museum.
The Vatican Museum is open Monday to Saturday from 9 am to 6 pm, with the last entry at 4 pm.
| Days | Opening Hours | Closing Hours |
| --- | --- | --- |
| Monday | 9 am | 6 pm |
| Tuesday | 9 am | 6 pm |
| Wednesday | 9 am | 6 pm |
| Thursday | 9 am | 6 pm |
| Friday | 9 am | 6 pm |
| Saturday | 9 am | 6 pm |
| Sunday (except the last Sunday of every month) | Closed | Closed |
| Last Sunday of every month | 9 am | 2 pm |
Vatican Museum Closing time for 2023
Aside from Sundays and a few special occasion holidays, the Vatican Museum will be closed on specific days in 2023.
Visitors should know these closing dates for a pleasant Vatican trip in 2023.
Sundays (Except the last Sunday of each month)
1 January 2023 and 6 January 2023
11 February 2023 10 April 2023
1 May 2023 29 June 2023
15 and 16 August 2023
1 November 8, 25, 26 & 31 December 2023
Best time to visit Vatican Museums
The Vatican Museum is usually busy from April to October, except for holidays such as Christmas and New Year's.
The best time to visit the Vatican is between November and February, and you should stay clear of Mondays, Saturdays, and major holidays.
Because the morning hours are usually packed, it is best to visit in the afternoon.
How long does the Vatican Tour Take?
The Vatican Museums, the Sistine Chapel, St. Peter's Basilica, and St. Peter's Square are Vatican City's other four main sights.
The Vatican Museum takes the following lengths of time to tour each location:
| Attractions | Tour Time |
| --- | --- |
| Vatican Museums | 2 Hours |
| Sistine Chapel | 30 Minutes |
| St. Peter's Square | 30 Minutes |
| St. Peter Basilica | 1 Hour |
Vatican Museums queues explained
There are three queues outside the Vatican Museum when you arrive.
Visitors frequently need help to select the correct queue, resulting in long waits to purchase tickets.
But don't worry, and we're here to explain the three types of lines you'll see at the museum entry:
Line 1: For tourists without tickets
If you arrive at the Vatican Museums without pre-booked tickets, be prepared for long lines at the entry.
You may have to wait an hour or two to get to the ticket booth.
The length of the line varies by season and time of day. The line can reach up to 0.3 miles (500 meters) during peak seasons.
Line 2: For visitors with online tickets
Visitors with pre-purchased tickets for the Vatican Museum should wait in line 2, where they can enter quickly.
Look for the yellow sign board that says "Visitors entrance with online reservations" near the entrance.
By purchasing your tickets for the Vatican online in advance, you can prevent standing in line and experiencing the summer heat.
Line 3: For visitors who have purchased guided tour tickets
There is a third line outside the Vatican Museum for visitors with tickets for guided tours.
This queue moves easily as you meet your guide and group at the scheduled meeting location.
The guide offers identification markers and a quick tour introduction after gathering everyone. From there, take the efficient third line into the museum.
Vatican Museum Dress Code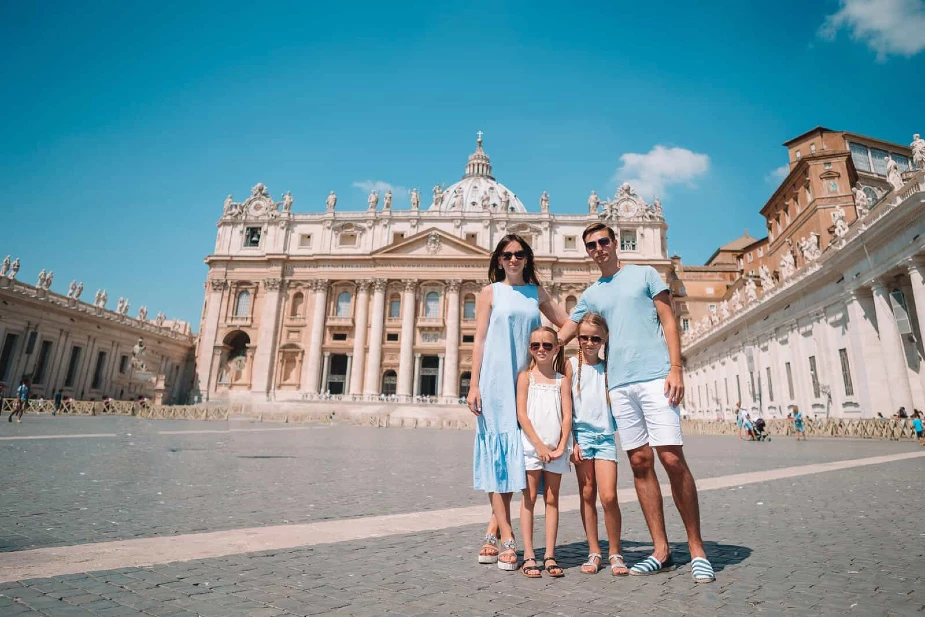 Visitors visiting the Vatican City must follow a dress code that reflects the religious significance of the location.
Access to the city's attractions, such as the Vatican Museum, Sistine Chapel, and St. Peter's Basilica, requires modest, skin-covering clothing.
Because the Vatican City is so important to Christianity and houses the Popes, security guards reserve the right to refuse access to anyone who is not correctly dressed.
All visitors must obey and conform to the Vatican City dress code to enter the city.
| What to wear? | What not to wear? |
| --- | --- |
| Shirts or tops that cover the shoulders | Low-cut or sleeveless tops |
| Knee-covering Pants | Shorts or bottoms that expose the knee |
| Flat shoes (recommended, not required) | Inappropriate tattoos |
| Knee-covered mid-length bottoms | Hats |
What to See at Vatican Museums
The Vatican Museums include a wide range of fascinating artworks and historical artifacts for tourists.
Some of the Vatican Museums' must-see sights are as follows:
Vatican Historical Museum: Learn about the long history of the Vatican.
Sistine Chapel: Look at Michelangelo's famous frescoes.
Raphael Rooms: Explore the stunning paintings by Raphael.
Map Gallery: Walk along corridors lined with detailed maps of Italy.
Gallery of Tapestries: Admire complex tapestries illustrating biblical scenes.
Belvedere Courtyard: Enjoy classical works of art like the Apollo Belvedere.
Egyptian Museum: Discover ancient Egyptian antiques.
Pio Clementino Museum: Enjoy classical sculptures like the Laocoon.
FAQs (General FAQs (every question) + Ticket Related FAQs
Frequently Asked Questions (FAQ's)
Is it free to enter the Vatican Museum?
No, Vatican Museum Tickets are required for entry to the Vatican Museum.
Every month's final Sunday, from 9 am to 2 pm, the Vatican Museum accepts visitors for free, except Easter Sunday, St. Peter and Paul Day on June 29, Christmas Day on December 25, and St. Stephen Day on December 26.
Book Your Vatican Tickets Now!
Is there a discount on tickets to the Vatican Museums?
Children under the age of 5 can enter for free. Students aged 19 to 25 with a valid student ID receive an 8-euro discount on skip-the-line Vatican tickets.
Can I purchase Vatican Museum tickets at the venue?
Although buying tickets for the Vatican Museum at the ticket counter is possible, plan to wait for at least one to two hours.
 
To avoid this, we recommend purchasing Skip the Line Vatican tickets online, which provide straight admission to the museum and is the best way to buy Vatican tickets online.
You can also purchase last-minute Vatican tickets online for convenience.
Is there a combination virtual tour ticket for the Vatican Museum?
No, tickets purchased online or at a physical ticket counter do not include virtual Vatican tours. 
However, you may always visit it online and experience the museum's scenarios.
Is the Vatican Museum accessible by wheelchair?
The Vatican Museums are generally wheelchair accessible, but some parts could be challenging. 
The majority of the exhibition halls, galleries, and staircases in the museums are wheelchair accessible, as well as the main entrance.
Does the Vatican Museum have a food court and restrooms?
Yes, the Vatican Museum offers a variety of dining options and has restrooms spread out across the museum's grounds. 
Restaurants such as "Bistrot La Pigna" are ideal for lunch with family and friends.
Where can I find the Raphael Rooms in the Vatican Museum?
The Raphael Rooms are a group of four rooms of the Vatican Palace that are part of the Vatican Museums. 
These rooms feature stunning artworks by Raphael, one of the most famous artists of the High Renaissance period.
Where can I find the Sistine Chapel in the Vatican Museum?
The final and most well-known art area of the Vatican Museum is the Sistine Chapel. 
The chapel is known for its magnificent Michelangelo paintings, which include the ceiling fresco that features events from the Book of Genesis.
How much time does it take to tour the Vatican Museum?
A complete tour of the Vatican Museum can take 6 to 8 hours.
 
If you're in a hurry,  you can walk around and look at the museum for 2-3 hours. 
The time to tour the Vatican Museums depends on some things, including the Vatican City tickets you will carry.
Can I take pictures inside the Vatican Museum?
Photography is usually permitted inside the Vatican Museums, except for the Sistine Chapel, where photography and filming are strictly restricted. 
Flash photography is not permitted in other museum sections to conserve the artworks. 
Please note, taking images for personal use is permitted, but authorization from the Vatican Museums is necessary for commercial usage.ican Museum?
Are there any additional activities or events held at the Vatican Museum?
The Vatican Museums also hold several temporary exhibitions, events, and activities annually.
The Vatican Museums provide a variety of thrilling activities. 
The Vatican's collection of artwork, artifacts, and manuscripts is on display in special exhibitions. 
Additionally, they host lectures, conferences, and cultural activities. Along with standard tours, there are also guided tours, family activities, night tours, and many more unique experiences.
 How do I get tickets to the Vatican?
You can buy Vatican tickets here. (add link)
 What does Vatican museum ticket include?
A Vatican Museum ticket usually grants entrance to various sections of the Vatican Museums. You can find all the information here (add link)
More articles on Vatican City
Featured Image: Loernid Andronov