When visiting the Vatican, following the Vatican City dress code is critical.
The Vatican, as a religious state, has strict dress regulations.
It's essential to dress modestly and ensure the clothing appropriately covers your body to visit the city and its attractions.
Visitors must follow a dress code that reflects the religious significance of the location.
Access to the city's attractions, such as the Vatican Museum, Sistine Chapel, and St. Peter's Basilica, requires skin-covering clothing.
Because the Vatican City is so important to Christianity and houses the Popes, security guards can deny access to anyone who is not correctly dressed.
All visitors must obey and conform to the dress code to enter Vatican City.
| What to wear? | What not to wear? |
| --- | --- |
| Shirts or tops that cover the shoulders | Low-cut or sleeveless tops |
| Knee-covering Pants | Shorts or bottoms that expose the knee |
| Flat shoes (recommended, not required) | Inappropriate tattoos |
| Knee-covered mid-length bottoms | Hats |
Vatican Museum Dress Code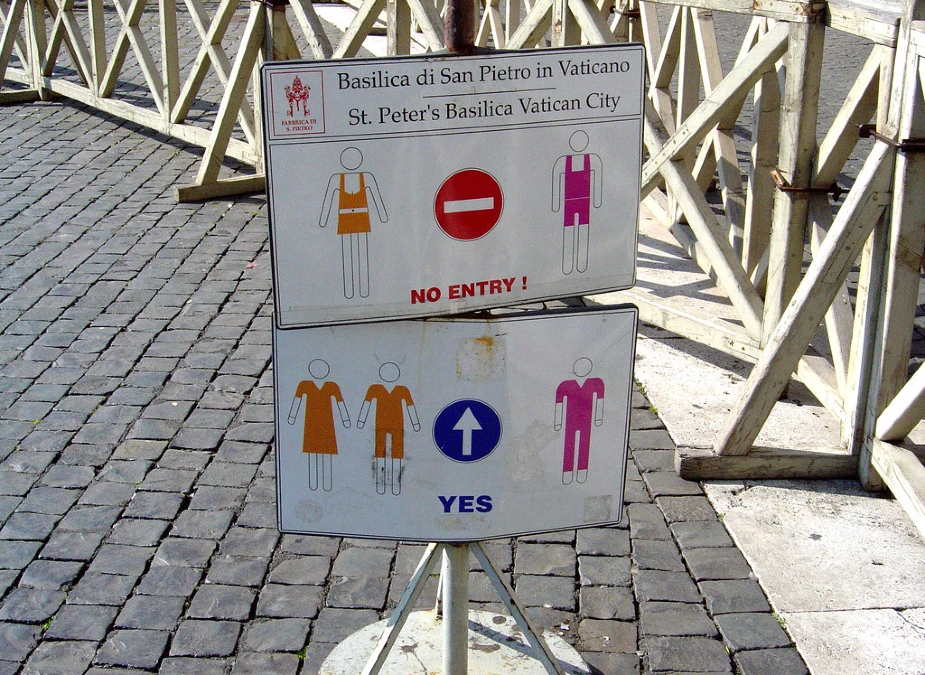 The Vatican Museum, often known as The Museum of Museums, is renowned for its historical past and has a specific dress code.
When visiting this renowned museum, you must obey the dress code.
Vatican City Dress Code for Men
Men are permitted to wear T-shirts but shouldn't have inappropriate pictures or slogans.
During your visit, you must cover your shoulders and knees.
Male visitors should wear long trousers and long-sleeved shirts.
Keep in mind that hats are not permitted inside the Vatican museums.
Vatican City Dress Code for Women
Wearing sleeveless or low-cut clothing is not permitted because shoulder coverage is essential.
Crop tops are not allowed.
Make sure your skirt or trousers reach your knees if you wear them.
You can buy plastic cloaks to protect your shoulders and knees if necessary.
Vatican City Dress Code for Kids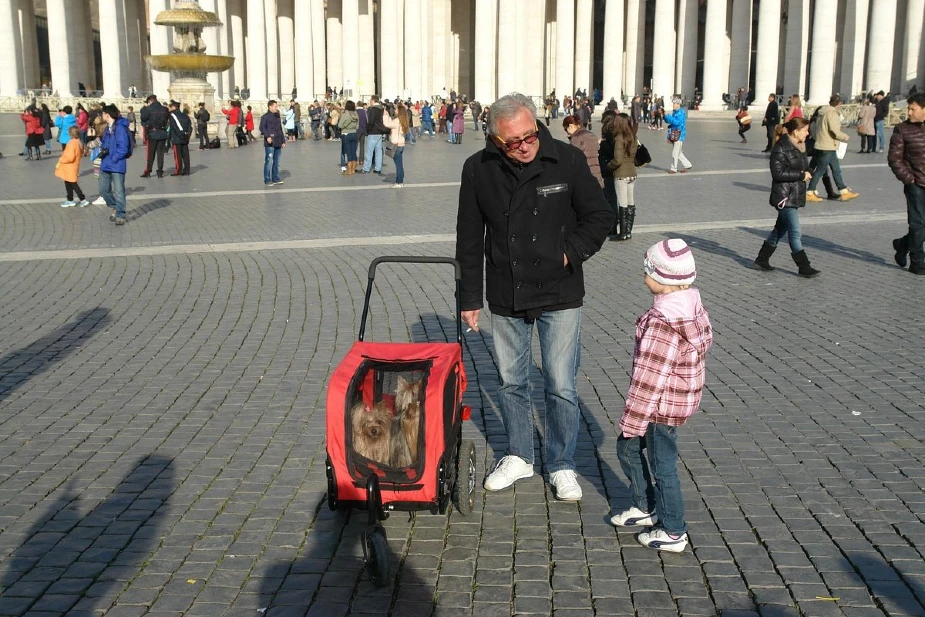 Children must follow the same rules as adults about proper dress when visiting Vatican City.
These are the primary points to keep in mind:
Children should wear clothing that covers their knees and shoulders.
Inappropriate words or images on clothing are not permitted.
Sistine Chapel Dress Code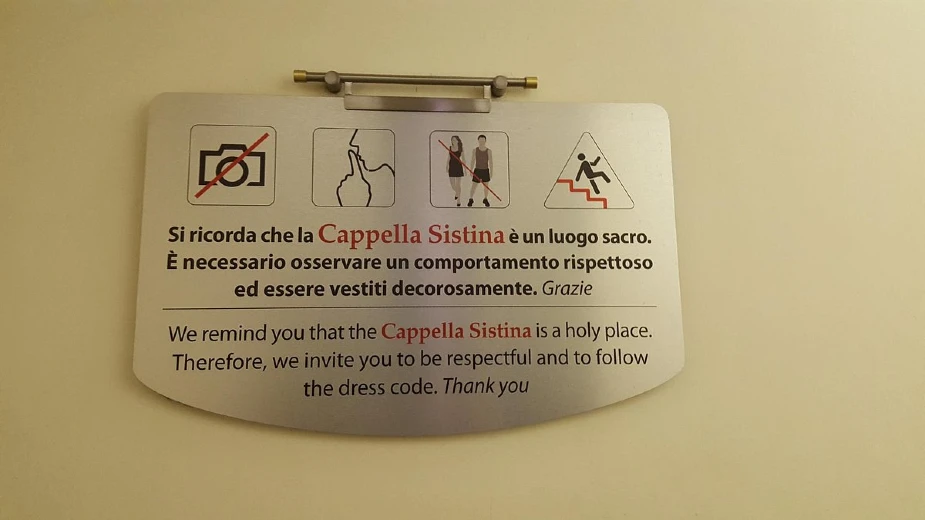 The Vatican Museum and the Sistine Chapel both have similar clothing guidelines.
Here are the rules to follow:
For Men:
Wear shirts and T-shirts with shoulders covered.
Avoid wearing clothing with offensive statements or images.
Long trousers should cover the knees.
The Sistine Chapel does not permit hats.
For Women:
Make sure your dress covers your stomach, shoulders, and knees.
You should avoid miniskirts, sleeveless dresses, and low-cut dresses.
Note: The dress code for St Peter's Basilica is the same as the dress code for the Vatican Museum and Sistine Chapel.
Papal Audience Dress Code
The Papal Audience is held every Wednesday in St. Peter's Square (only while the Pope is in Rome).
Many people travel from all around the world to attend this wonderful event and pray with the Pope.
Here are some key factors to remember regarding the Papal Audience dress code:
The Papal Audience has the same dress code as Vatican City.
It is mandatory to cover your knees and shoulders.
Casual clothes are permitted. However, it must be appropriate and comply with the Vatican Museum dress code.
During the performance, men are authorized to wear hats.
Taking hats, sunscreen, and enough clothing to prevent sunburns is essential because Rome experiences hot weather.
Not dressed in accordance with the Vatican City dress code?
To enter Vatican City and its attractions, all visitors must follow a strict dress code, with no exceptions.
Visitors must follow the Vatican City dress code to access the city and its varied attractions.
But what if you're not dressed according to the Vatican's dress code?
Not to worry! There is an easy fix.
Vendors all over the city sell plastic cloaks (ponchos) and robes that cover your shoulders and knees.
Frequently Asked Questions (FAQ's)
Is there a dress code for Vatican Museum?
Yes, the Vatican Museums have a dress code. 
When entering the museum, modest clothing is necessary, with the shoulders and knees covered.
Why Vatican City has a dress code?
The Vatican City maintains a dress code to ensure reverence and respect for its religious significance.
How strict is the Vatican dress code?
The Vatican dress code is strictly enforced to ensure visitors dress appropriately, showing appreciation and regard for the religious setting.
What & What Not to Wear?
Visitors to the Vatican must dress modestly, avoiding exposing or offensive clothes. 
Knees and shoulders should be covered, and comfortable walking shoes should be worn.
Are there any specific clothing items that are prohibited?
Yes, caps, shorts, miniskirts, and tank tops are prohibited.
Are there any restrictions on footwear?
Because of the amount of walking required, high heels are not advised.
Can I bring a bag or backpack?
Bags and backpacks are permitted. However, security checks may be performed.
Can I wear sandals or flip-flops?
Sandals are generally acceptable if they are not very casual or beachwear.
More articles on Vatican City
Featured Image: Shutter_speed/Pexels