The Museum of Modern Art New York opening hours are at 10.30 am throughout the week.
However, its closing time varies: it closes at 5.30 pm from Sunday to Friday and at 7 pm on Saturday.
MoMA is closed on Thanksgiving and Christmas.
Members of MoMA and guests of members have exclusive access to select galleries and exhibitions.
This privilege occurs on Saturday and Sunday mornings from 9.30 am to 10.30 am before the museum opens to the public.
Free admission to MoMA is available for New York City residents on the first Friday of every month from 4 pm to 8 pm.
For visitors visiting during the usual times, they need to purchase an entry ticket.
Here are the MoMA NY opening and closing times:
| Days | Opening Time | Closing Time |
| --- | --- | --- |
| Sunday to Friday | 10:30 am | 5:30 pm |
| Saturday | 10:30 am | 7 pm |
MoMA store's opening hours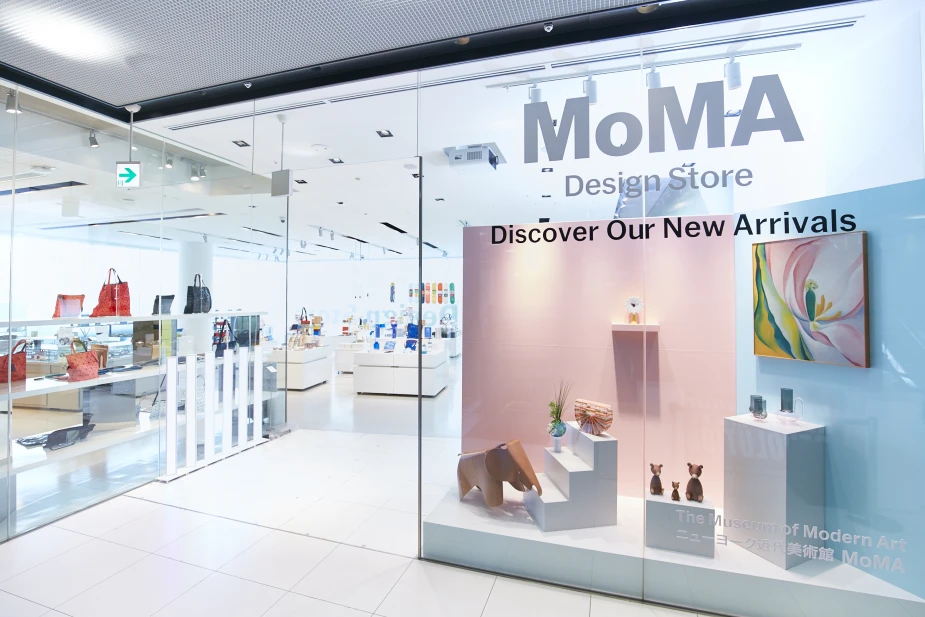 The MoMA stores in New York slightly differ from the MoMA opening hours.
From Sunday to Friday, the Museum and MoMA design stores open at 9.30 am and close at 6.30 pm.
On Saturdays, the Museum of Modern Art stores extend their opening hours until 7.30 pm.
Additionally, the MoMA stores stay open until 8.30 pm on the first Friday of every month.
This allows visitors to explore and shop later in the evening.
MoMA restaurant opening hours
MoMA provides a restaurant and two cafes, offering visitors a place to relax and refresh.
The opening hours of MoMA's restaurants and cafes are as follows.
| Restaurant | Opening hours | Closing hours |
| --- | --- | --- |
| The Modern | Lunch: 12 pmDinner: 6 pm | Lunch: 2 pmDinner: 8.30 pm |
| The Modern Bar | Lunch: 11.30 amDinner: 5 pm | Lunch: 2.30 pmDinner: 9 pm |
| Cafe 2 | 11 am | 5 pm |
| Terrace Cafe | 11 am | 5 pm |
Note: The Modern Restaurant and bars are closed on Sundays.
Best time to visit MoMA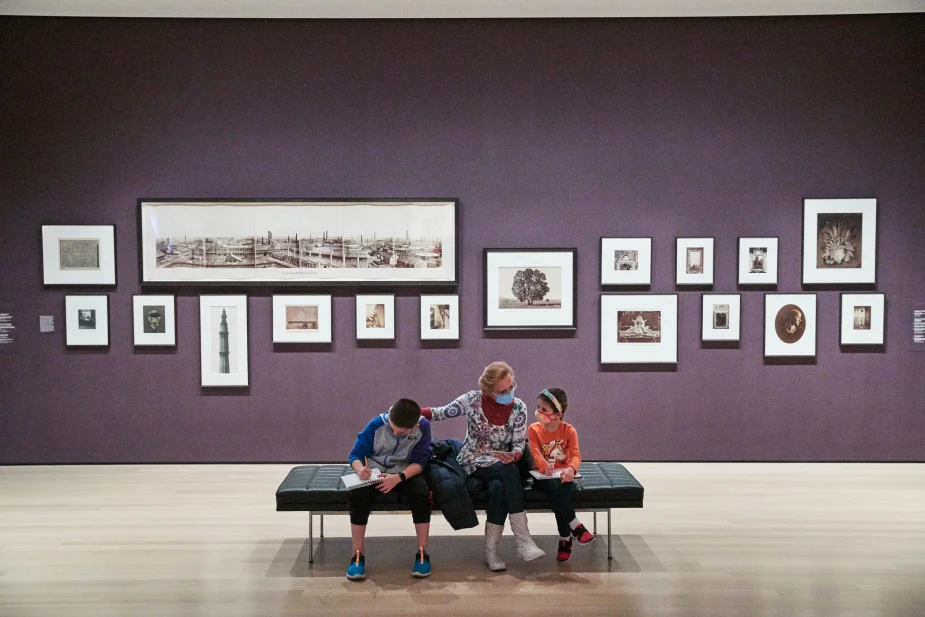 The ideal time to visit the Museum of Modern Art in New York is from 10.30 am to 1 pm.
This period usually has fewer crowds, allowing you to enjoy the museum without much hustle and bustle.
Weekdays generally have fewer visitors than weekends.
Choosing a weekday for your visit can help you avoid large crowds and long lines.
To minimize crowds, plan your visit during the off-peak season or less busy months like January, February, or September.
These months tend to have fewer visitors, providing a more serene experience.
If you are interested in attending special exhibitions, schedule your visit on a weekday, as weekends tend to attract larger crowds.
Before heading to MoMA, check their website for special exhibitions or events during your visit.
This will allow you to plan accordingly and maximize your time at the museum.
How long does it take to visit MoMA?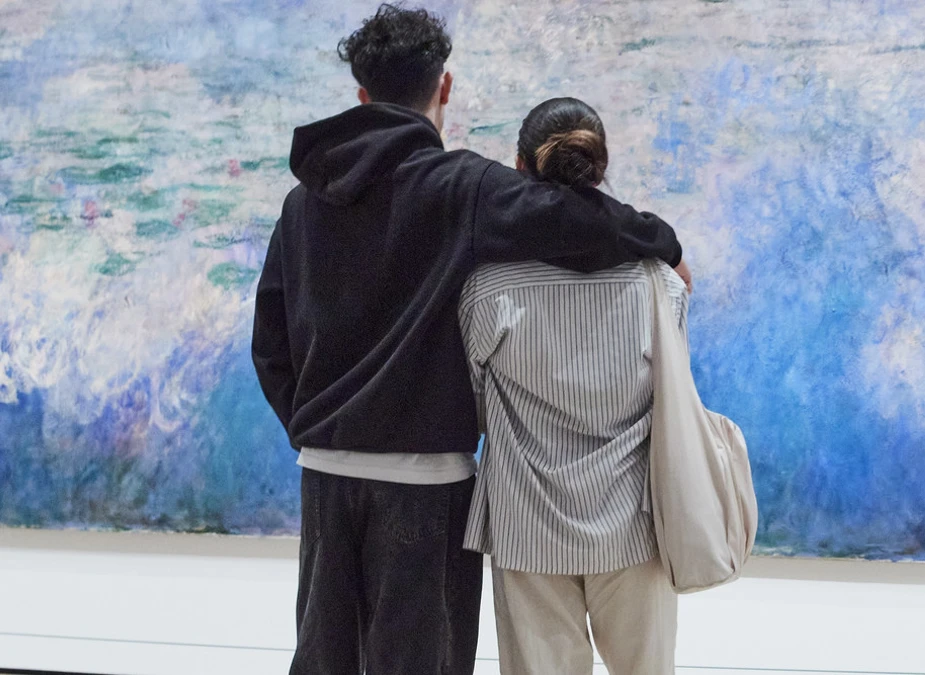 Exploring the Museum of Modern Art (MoMA) takes 2 to 3 hours.
During this time, you can cover all the permanent collections and main exhibitions at this time.
However, if you wish to see the special exhibitions, allocate an additional hour or more.
The duration will depend on the exhibition's size and popularity.
Those who prefer a more comprehensive exploration of the museum's collections might need to allocate more time.
Conversely, you can still get a good museum overview if your time is limited.
You can do so by focusing on the areas that interest you the most.
It is important to consider the museum's opening hours when planning your visit.
FAQs
What time does MoMA open?
MoMA opens daily at 10.30 am for visitors to enjoy the Museum of Modern Art in New York.
Is MoMA open every day of the week?
Yes, MoMA is open seven days a week, ensuring ample opportunities for visitors to explore its offerings.
What are the visiting hours for MoMA NYC?
Visiting hours for MoMA NYC begin at 10.30 am and conclude at 5.30 pm from Sunday to Friday. 
However, the museum extends its opening hours on Saturdays until 7 pm.
When is MoMA New York closed?
MoMA remains open throughout the week, ensuring visitors can access its exhibits and collections without interruption.
How can I obtain free entry to MoMA?
MoMA offers free admission during various times, including Friday evenings from 4 pm to 8 pm. 
Individuals aged 18 and below, visitors with disabilities, and their caregivers, as well as active members of the military with valid ID, can enjoy free entry to the museum every day. 
What is the recommended time to visit MoMA?
The best time to visit MoMA is during the initial opening hours from 10.30 am to 1 pm. 
Visitors can expect fewer crowds and shorter waiting times during this time, enhancing their overall experience.
Some of the best Museum of Modern Art tickets are given below:
Museum of Modern Art entry ticket: This is the simplest ticket that provides access to all permanent artworks of the Museum.
Museum of Modern Art guided tour: Enjoy a guided tour with priority access to all parts of the museum with this ticket.
Museum of Modern Art Combo ticket: With a combination ticket, earn access to MoMA and another New York City attraction.
New York City Pass: Visitors with a New York City Pass enjoy discounted access to different attractions within the city, along with the Museum of Modern Art.
More articles on Museum of Modern Art
Featured Image: Moma.org