Paris, the City of Lights, is known for its exquisite beauty, rich history, and remarkable landmarks.
One such gem nestled in the heart of Paris is the magnificent Sainte Chapelle.
While visiting Sainte Chapelle is a must, numerous other attractions and activities will add to your Parisian adventure.
Join us as we explore the enchanting wonders and hidden treasures near Sainte Chapelle, promising you an unforgettable experience.
Read this article to get information on things to do near Sainte Chapelle and plan a fun day of sightseeing on your trip to Paris!
Attractions to Explore Near Sainte-Chapelle
Here is a list of the best things to do near Sainte Chapelle after visiting the stunning medieval chapel turned museum.
Island Île de la Cité: The Hub of Main Attractions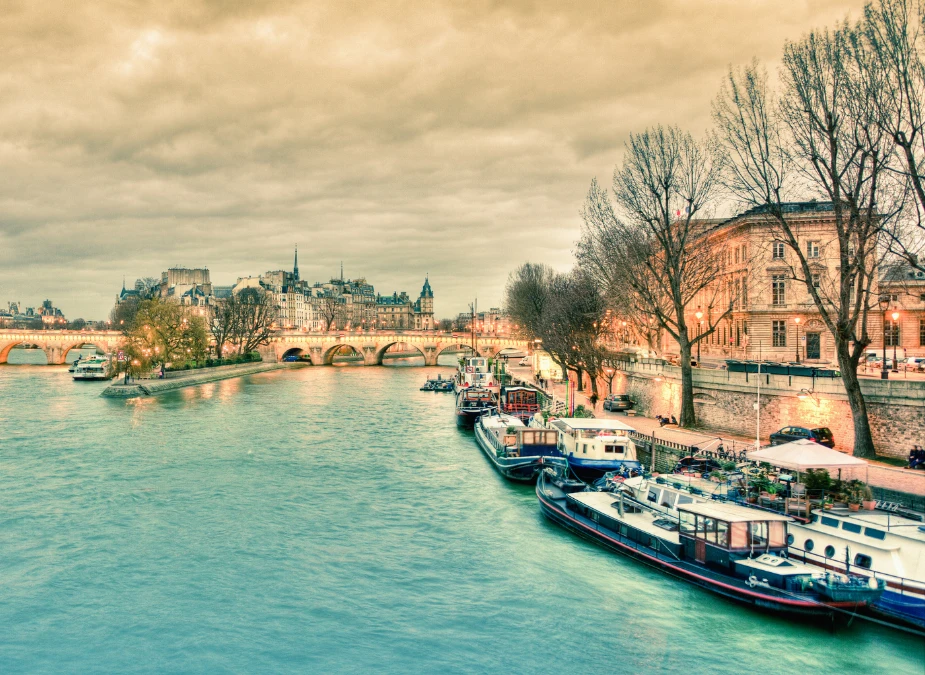 Continuing your journey near Sainte Chapelle, you will arrive at Île de la Cité, an enchanting island in the heart of the Seine River.
This island is where you can immerse yourself in its rich history as you wander its charming streets.
You can admire the stunning flower market, Marche aux Fleurs, and indulge in delectable pastries at quaint patisseries.

Also, explore the hidden treasures of Shakespeare and Company, the legendary English-language bookstore, and walk along the intellectual capital- Latin Quarters.
You can sit by the riverbank and revel in the city's ambiance or explore the ancient Palais de Justice.
Île de la Cité will captivate your heart and leave you craving more. Spend enough time here to soak up the Parisian vibe and get the true flavor of this historic city.

Also, with its long list of attractions, a visit to Île de la Cité is enjoyable.
Here you can visit:
Notre Dame Cathedral
Sainte Chapelle
La Conciergerie
Marche aux Fleurs
Pont neuf
Memorial des Martyrs
Square des Galants
Place Dauphine
You can also find excellent tours that offer the option to explore the whole of Île de la Cité at an affordable price. Grab it Now!
Unveiling the Splendor of Notre Dame Cathedral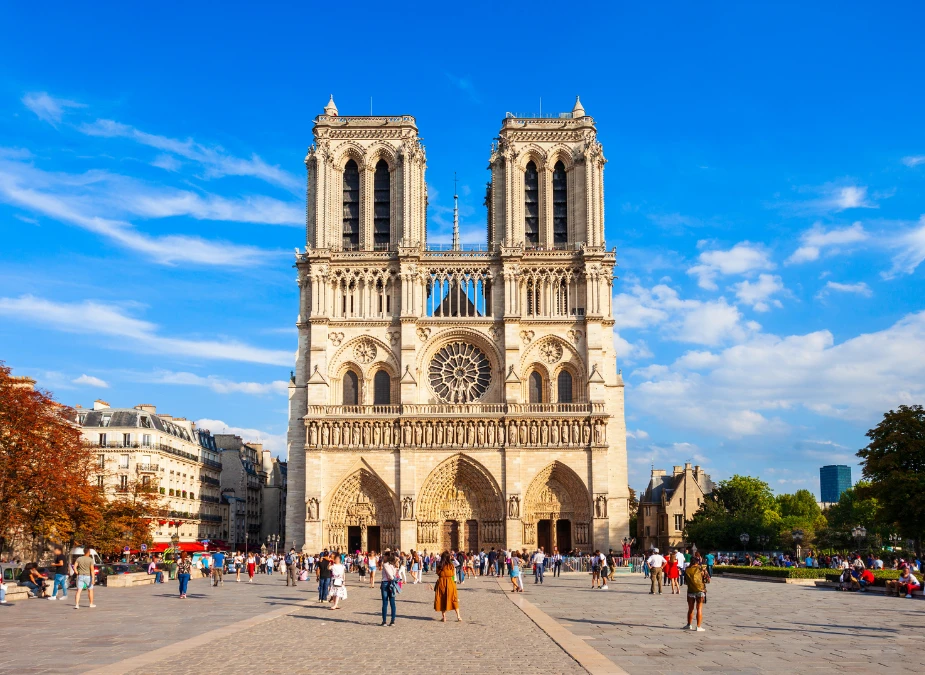 As you bask in the beauty of Sainte Chapelle, another architectural marvel awaits you just a stone's throw away- the iconic Notre Dame Cathedral.
Also known as Our Lady of Paris, this is a medieval Catholic Cathedral in the heart of Paris, attracting about a million visitors annually.
Imagine strolling along the picturesque Seine River with the sun shining on your face and the wind in your hair.
You take a moment to stop and admire the view of Notre Dame Cathedral, its Gothic spires reaching the sky.
Also, feel the history of this place—the centuries of people who have come before you to gaze upon its beauty.
Notre Dame Cathedral is an essential stop for any visitor seeking to embrace the true essence of Parisian charm.

The best part is that you can take a combined tour of Sainte Chapelle and Notre Dame Cathedral at an affordable price.
So you can experience the joy of knowing about Paris's spiritual history in one day.
Marie Antoinette's Cell: La Conciergerie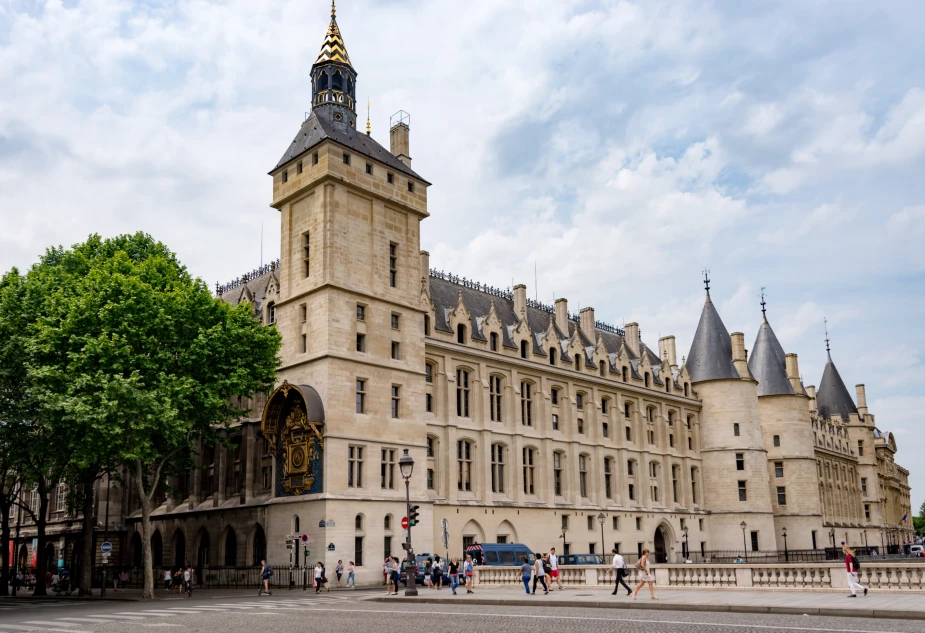 Just a short distance from the magnificent Sainte Chapelle in Paris lies the historic Conciergerie, an architectural gem brimming with tales of the past.

Originally constructed as a royal palace in the 14th century, the La Conciergerie later transformed into a prison during the French Revolution.
This transition from an opulent residence to a symbol of the revolutionary struggle adds to the intrigue and historical significance of the site.
As you step inside, you will find yourself transported back in time.
Walking the same halls that once housed renowned figures such as Marie Antoinette during her imprisonment.
So, book a guided tour and explore La Conciergerie and Sainte Chapelle together!
The Louvre: A Masterpiece of Art and Culture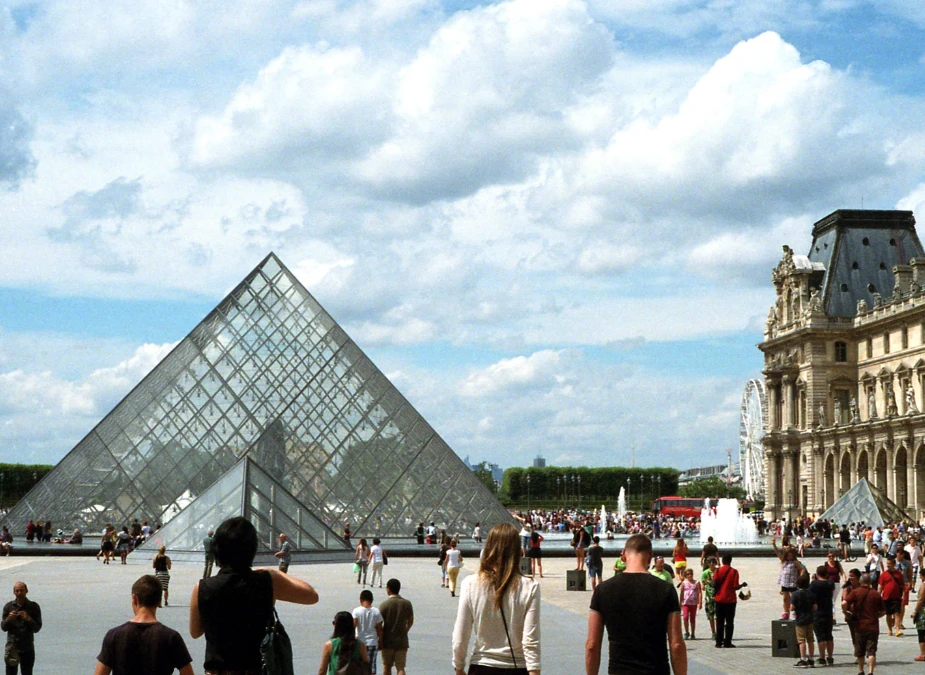 Just a short distance from Sainte Chapelle lies the world-renowned Louvre Museum, a treasure trove of artistic masterpieces.
Lose yourself in the labyrinthine halls as you marvel at the iconic Mona Lisa, the majestic Venus de Milo, and countless other works of art that span centuries.
The Louvre's extensive collection is a testament to human creativity and provides a profound journey through history.
Allow yourself ample time to explore the vast galleries and immerse yourself in the artistic wonders that await around every corner.
Indulge in Culinary Delights at Le Marais
As the day nears its end, indulge in the culinary delights offered at Le Marais, a charming and trendy neighborhood adjacent to Sainte Chapelle.
This historic district boasts a vibrant food scene, offering myriad options to satisfy any palate, and is well known for its kosher delis and bakeries.
Today, it caters to the diverse Jewish, Asian, and LGBTQ communities.
From cozy cafes serving traditional French cuisine to international fusion restaurants, Le Marais caters to every culinary desire.
After a delicious meal, stroll through the narrow alleys and winding streets of Le Marais, popular with locals and visitors.
If you plan to shop somewhere, Rue des Archives and Rue du Temple are the central shopping streets that hold trendy men's and women's clothing.
Exploring the Latin Quarter: Intellectual Haven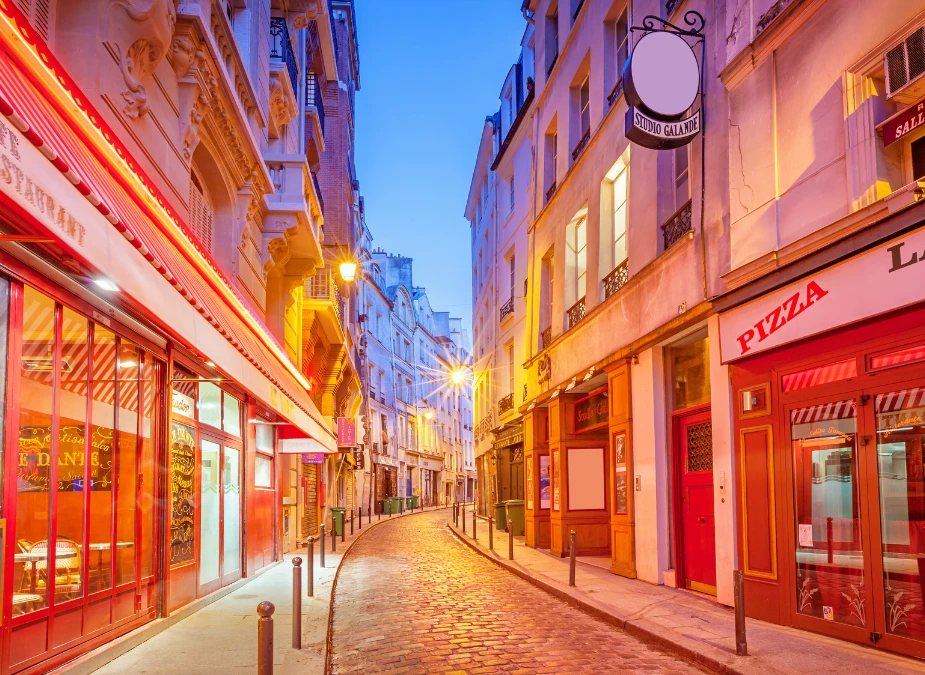 Venturing a little farther from Sainte Chapelle, you'll find yourself in the lively Latin Quarter, known for its youthful atmosphere and intellectual heritage.
There, you can uncover the secrets of the prestigious Sorbonne University, where great minds have gathered for centuries.
Lose yourself in the maze-like streets filled with charming bookstores, quaint cafes, and lively jazz clubs.
The Latin Quarter exudes a unique charm best experienced by wandering through its narrow alleys.
Its bohemian vibe often leads to spirited conversations with locals and fellow travelers, adding priceless memories to your trip.
Visit the Shakespeare and Company Bookstore

The famous Shakespeare and Company bookstore is a short walk from Sainte Chapelle.
This historic bookstore is known for its cozy ambiance and extensive collection of books.
It is a haven for book lovers, a charming spot to relax and immerse yourself in literature, and one of the best things to see near Sainte Chapelle.
Seine River Cruise: A Magical Journey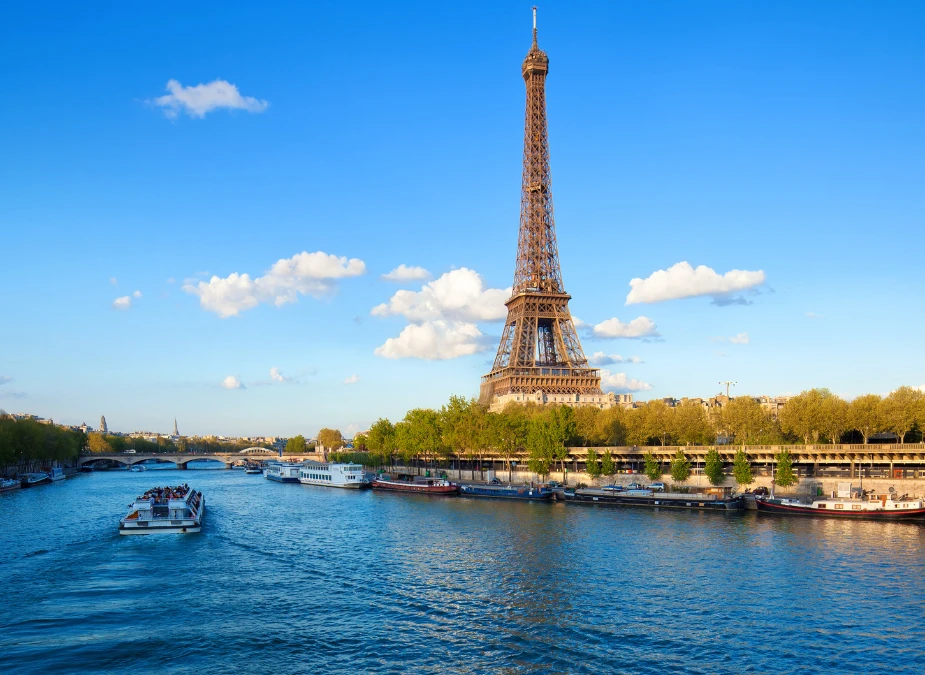 No visit to Paris would be complete without embarking on a romantic Seine River cruise.
Glide along the gentle waters as you witness the city's iconic landmarks from a different perspective.
You can admire the majestic Eiffel Tower, the fantastic Louvre, and the charming bridges that dot the river.
During the day or under the enchanting glow of the city lights at night, a Seine River cruise will transport you into a magical world where Paris truly comes alive.
The Seine River runs parallel to Sainte Chapelle, offering a picturesque backdrop for a leisurely walk.
Place Dauphine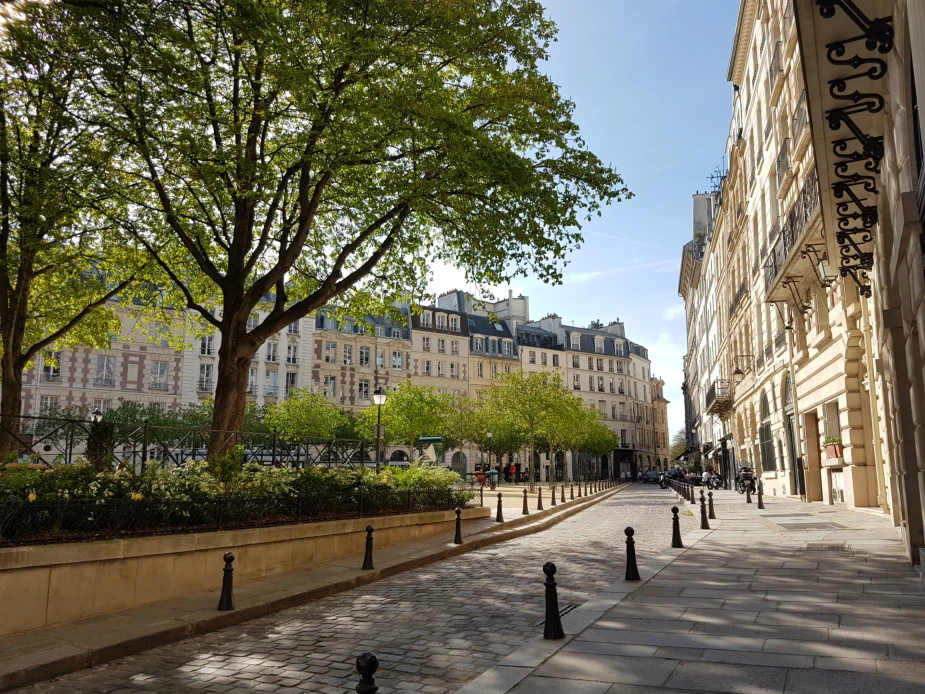 Among the places to visit near Sainte Chapelle, Place Dauphine, at the tip of Île de la Cité, is a definite wonder.
It is one of the oldest squares in Paris, built in the traditional French style.
A popular spot for artists, who often set up their equipment and paint the beautiful River Seine and picturesque backgrounds.
Also, one of the fun things to do near Sainte Chapelle is to play Pentaque in Place Dauphine, which is quite similar to British lawn bowling.
Pont Des Arts: A Bridge of Love and Selfies
Regarding picturesque spots near Sainte Chapelle, Pont des Arts takes center stage.
This elegant bridge, located just a 15-minute walk away, offers more than just breathtaking views of the River Seine.
It has a fascinating history and a tranquil ambiance that beckons visitors worldwide.
While the lock tradition is no longer permitted due to safety concerns, Pont des Arts remains a cherished destination for visitors seeking a touch of enchantment.
Instead of locks, a new tradition has emerged. Visitors now partake in the selfie tradition!
To learn about this exciting attraction and why locks are no longer permitted there, read our detailed article on Pont Des Arts.
Palais De Justice
If you are a history lover or want to visit a medieval working court, the Palais De Justice is the perfect spot.
It is one of the oldest surviving monuments in the country and was an active part of the 18th-century French Revolution.
The Palais de Justice is one of the most important places near Sainte Chapelle.
The interiors of the building are stunning for being an active judicial courthouse.
Although given its status, people can visit inside and even attend the court proceedings for free.
However, photographs are strictly prohibited, and visitors must maintain a certain decorum.
Even with the rules and regulations, the Palais de Justice is worth your time.
These are just a few suggestions to enhance your visit to Sainte Chapelle.
The area is filled with charming streets, historical sites, and cultural attractions, ensuring there's always something to discover and enjoy near this architectural gem.
FAQs
What is next to Sainte Chapelle?
La Conciergerie is next to Sainte Chapelle.
The official address of the Chapelle is 1 0 Bd du Palais, 75001 Paris, France.
You will also find Notre Dame Cathedral just a few minutes away, while the famous prison Conciergerie is beside it.
Le Palais de Justice is also close to Sainte Chapelle and La Conciergerie.
Is Sainte Chapelle worth a visit?
Yes, Sainte Chapelle is definitely worth your time.
If you are wondering if the only church in Île de la Cité is Notre Dame Cathedral, then you are wrong.
The 13th-century royal chapel, with an extensive collection of stained glass and magical Gothic interiors, is unmissable.
Until the end of 2024, you can see Notre Dame from the outside as it is under renovation. You can check out the beautiful Sainte Chapelle meters from Notre Dame
What are the most popular things to do near Sainte Chapelle?
The most popular thing will be the attractions to explore near Sainte Chapelle.
These attractions are not only famous but intricate pieces of Paris's history.
While some are just so stunning, one cannot resist visiting them.
The sites near the Chapelle are worth your time, from Notre Dame Cathedral to La Conciergerie and many others!
For further information, you can check out our detailed article above.
Is Sainte Chapelle close to Notre Dame?
Yes, Notre Dame Cathedral is about 1.4 kilometers away from Sainte Chapelle.
Yes, Notre Dame Cathedral is less than a kilometer from Sainte Chapelle.
You can cover this distance on foot in about 7 minutes.
Moreover, you can easily visit both attractions together on a combined tour.
More Articles on Sainte Chapelle
Featured Image: Tripadvisor.com