Sainte Chapelle, in the heart of Paris, is a medieval Gothic chapel renowned for its stunning stained glass windows and architectural brilliance.
This article delves into the various aspects of Sainte Chapelle, discussing its historical significance, architectural features, cultural impact, and overall experience.
If you're an art enthusiast, a history buff, or simply seeking inspiring beauty, Sainte Chapelle is a must-visit destination in Paris.
Let's find out: Why? As you read this article on "Is Sainte Chapelle worth visiting."
Let's dig into its history first and see what makes it the gem of Paris.
History of Sainte Chapelle
Sainte Chapelle, meaning "Holy Chapel" in French, was constructed in the 13th century under the patronage of King Louis IX, also known as Saint Louis.
It was built to house significant Christian relics, including the Crown of Thorns, which King Louis IX acquired.
The chapel was completed in just seven years, a remarkable feat considering its intricate design.
Because of its heavy historical past, it will delight the most ardent history buffs.
That's the reason, a visit to the Sainte-Chapelle is highly recommended.
Everything about Architecture!
Sainte Chapelle is celebrated as a masterpiece of Gothic architecture.
The chapel stands tall with its soaring spires, intricate stone carvings, and delicate flying buttresses.
Its symmetrical design and vertical emphasis create an ethereal ambiance, transporting visitors to a bygone era.
The skilled craftsmanship and attention to detail evident in every nook and cranny of the chapel leave visitors in awe of its architectural grandeur.
The architectural brilliance is a hallmark of Sainte Chapelle that sets it apart from other cathedrals of its time.
The Beauty of Stained Glass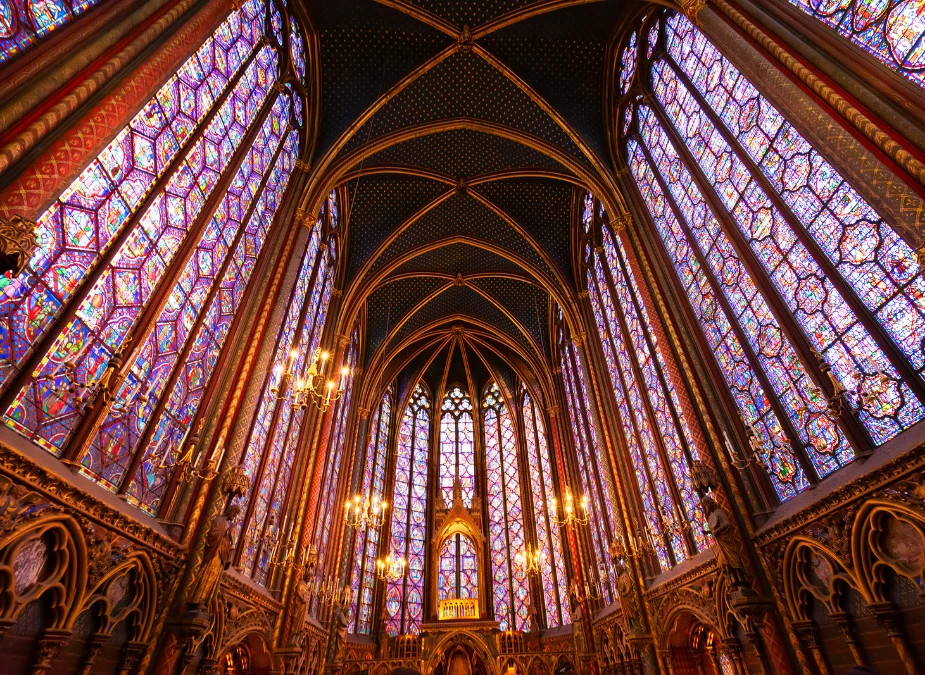 One of the main highlights of Sainte Chapelle is its 1,113 stained glass windows, which are 50 feet (15 meters) high.
These windows cover many of the chapel's walls, depicting biblical scenes and stories.
Particularly when illuminated by sunlight, the chapel's stained glass windows vivid colors and intricate details produce a mesmerizing kaleidoscope of light.
You can witness the play of colors, and the spiritual narratives depicted in the glass are a truly enchanting experience.
Unlike many other cathedrals, where stained glass is limited to specific areas, the entire interior of Sainte Chapelle is adorned with it.
This makes it different from various other chapels and makes it a must-visit place in Paris.
Its Religious Significance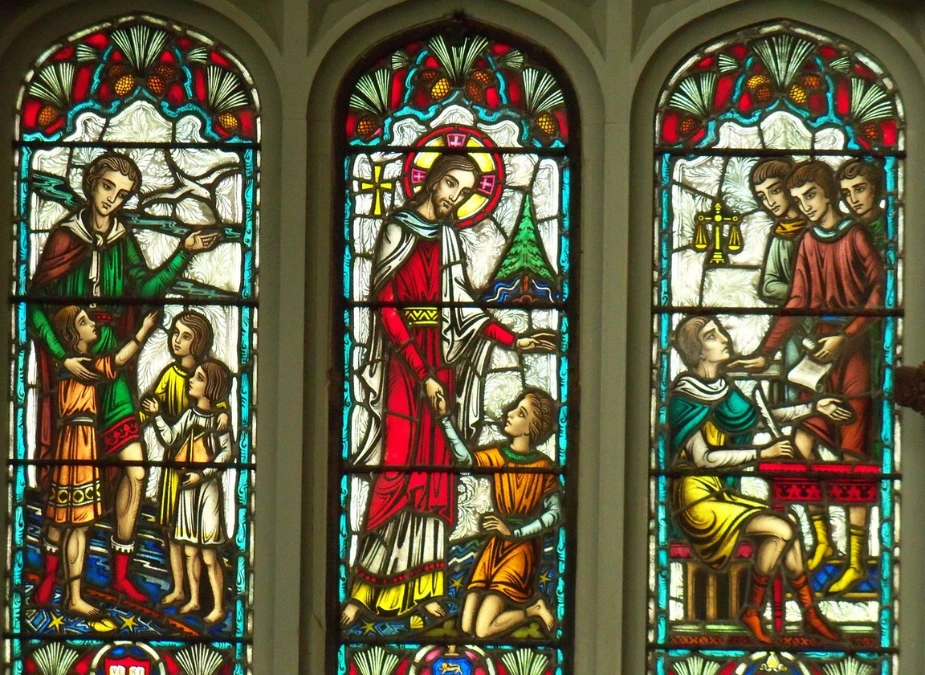 Sainte Chapelle holds immense religious significance as a place of worship and pilgrimage.
It was designed as a private chapel for the French monarchy, serving as a sanctuary for prayer and reflection.
This close connection to royalty adds an extra layer of fascination to Sainte Chapelle's story, setting it apart from other cathedrals.
The Crown of Thorns, housed within the chapel, symbolizes devotion and reverence for Christians worldwide.
Many visitors are drawn to Sainte Chapelle for its architectural splendor and the spiritual connection it offers.
Influence on Art and Culture
Over the centuries, Sainte Chapelle has left a mark on art, architecture, and culture.
Its exquisite stained-glass windows have been a source of inspiration for countless artists throughout the centuries.
The interplay of light and color within the chapel has influenced the works of renowned painters.
By visiting Sainte Chapelle, you can witness firsthand the artistic legacy that continues to captivate visitors from around the globe.
Why visit Sainte Chapelle
When you enter this wonder, the central chapel area open to the public, will greet you.
A narrow spiral staircase leads to the Upper Chapel, where the grandeur of the stained glass windows takes center stage.
Also, the intricate stone rib vaults and ornamental details add to the chapel's mystical allure.
The Upper Chapel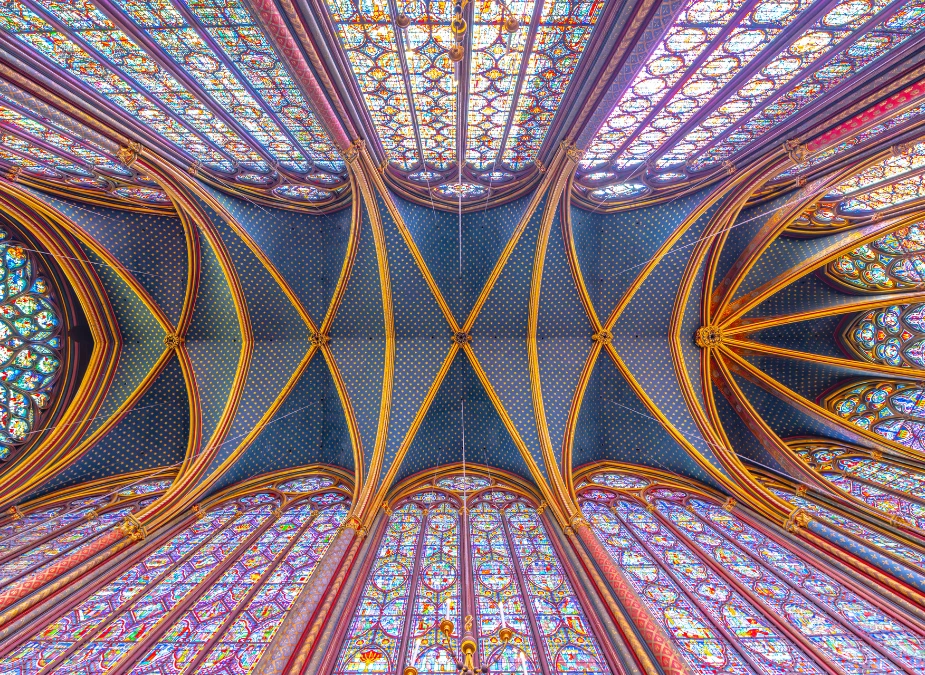 The Upper Chapel is the heart of Sainte Chapelle, featuring fifteen towering stained glass windows that span two levels.
Each window depicts a biblical story, creating a visual narrative that leaves visitors spellbound.
The rose window, located at the eastern end of the chapel, is a true masterpiece, radiating light and showcasing intricate patterns.
The Lower Chapel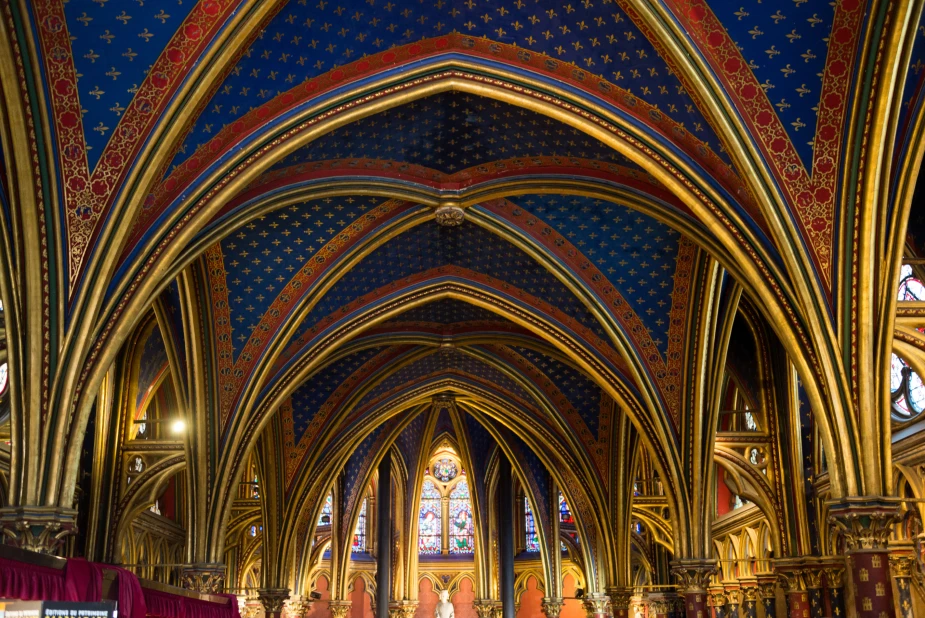 Below the Upper Chapel lies the Lower Chapel, a more intimate space adorned with beautiful yet smaller stained glass windows.
The Lower Chapel served as a place of worship for palace staff and the lower clergy.
Although not as extravagant as the Upper Chapel, the Lower Chapel exudes its own unique charm.
The Rose Window
The rose window, also known as the "Great Rose," is a focal point of Sainte Chapelle.
Positioned at the center of the western wall, this immense circular stained glass window captivates visitors with its intricate design and stunning details.
These details will make you want to know more. So, if you are one of them, read our article on Sainte Chapelle Rose Windows.
All these details make Sainte Chapelle worth a visit.
Visiting Sainte Chapelle
To ensure a seamless and enriching experience at Sainte Chapelle, it is advisable to plan your visit in advance.
The chapel is located on the Île de la Cité, within close proximity to other notable attractions such as Notre-Dame Cathedral.
We recommend you pick one of the below options to make your visit to Sainte Chapelle worth it.
Audio Guides and Guided Tours
To enhance the visitor experience, Sainte Chapelle offers audio guides and guided tours.
The audio guide provides in-depth information about the chapel's history, architecture, and symbolism.
An expert guide provides valuable insights and detailed explanations of the chapel's architectural features, religious significance, and the stories behind its stained glass masterpieces.
Engaging with these resources can greatly enhance your visit and enrich your overall experience.
Events and Concerts
Sainte Chapelle is a historical monument and a venue for cultural events and concerts.
The acoustics within the chapel create an exceptional musical experience, making it a sought-after location for classical music performances.
Attending a concert within the hallowed walls of Sainte Chapelle is a truly enchanting and memorable experience.
Consider Seasonal Factors
The time of year can also influence the quality of your visit to Sainte Chapelle.
Each season offers a distinct atmosphere and lighting conditions within the chapel.
Spring and autumn are particularly lovely, as the mild temperatures and softer lighting create an enchanting backdrop.
However, do note that peak tourist seasons, such as summer, can bring larger crowds and longer queues.
Winter, while potentially quieter, may involve shorter daylight hours, so plan accordingly to make the most of your visit.
Things worth seeing near Sainte Chapelle
While visiting Sainte Chapelle, take the opportunity to explore the surrounding area.
The world-famous Notre Dame Cathedral is another architectural marvel just a short walk from the chapel.
Unfortunately, this cathedral is currently not open to the public due to the fire. However, it soon will.
Mark your calendars for 24 December 2024, the date when this place will open its doors to visitors worldwide.
But for now, you can visit Sainte Chapelle, nearby this attraction, at a very reasonable price.
Also, you can book a guided tour to explore the nearby attractions and see the restoration process at Notre Dame yourself.
Click the button below to buy your tickets now!
Get at €61/ Adult
Another place worth exploring when visiting Sainte Chapelle is the classic streets of the Île de la Cité.
It is a combo pack that offers charming cafes, boutiques, and picturesque views of the Seine River.
So, plan your visit to this enchanting island and begin a journey that will leave you with memories to cherish for a lifetime.
Practical Information about Sainte Chapelle
Address: 8 Boulevard du Palais, 75001 Paris, France
Opening Hours: Open daily from 9 am to 5 pm
Admission: There is an entrance fee. It is recommended to book tickets in advance to avoid long lines.
Photography: Non-flash photography is allowed inside the chapel.
Accessibility: Please note that the chapel has a narrow spiral staircase and may not be accessible for visitors with mobility constraints.
Is it worth visiting Sainte Chapelle? Conclusion
Yes, Sainte Chapelle is worth visiting if you are in Paris.
Sainte Chapelle stands as a testament to the artistic and architectural achievements of the medieval period.
Its grandeur, stunning stained glass windows, and historical significance make it a must-visit destination in Paris.
Drawn to its spiritual aura, fascinated by Gothic architecture, or simply seeking an experience, a visit to Sainte Chapelle promises to be an unforgettable journey into the past.
So plan your visit and seize the chance to attend a concert in this sacred space. Sainte Chapelle is a true gem of Paris that should not be missed.
FAQs
1. Can I purchase tickets online in advance?
Yes, booking tickets online in advance is highly recommended to avoid long lines.
Moreover, you can scroll through different types of tickets and combine Sainte Chapelle with different attractions.
2. Are there any restrictions on photography inside the chapel?
Non-flash photography is allowed inside Sainte Chapelle, so you can capture the beauty of the stained glass windows.
3. How long does a visit to Sainte Chapelle typically take?
A visit to Sainte Chapelle usually takes around one hour, allowing sufficient time to explore both the Upper and Lower Chapels.
If you want to combine this chapel with other attractions, the total tour will take you around 2-3 hours.
4. Is there any parking available near Sainte Chapelle?
There are several parking garages located near Sainte Chapelle. 
However, it is advisable to use public transportation due to the limited parking availability in the area.
5. Can I attend a concert at Sainte Chapelle?
Yes, Sainte Chapelle hosts concerts featuring classical music. 
To learn about Sainte Chapelle's concert schedule and upcoming dates in 2023, check out our page on Sainte Chapelle concerts.  
6. When to visit Sainte Chapelle?
To avoid large crowds and enjoy a more serene atmosphere, it is advisable to visit Sainte Chapelle during off-peak hours. 
Typically, early mornings and late afternoons tend to be quieter, providing a more intimate experience within the chapel.
7. Can you visit Sainte Chapelle at night?
The chapel's official opening hours typically conclude before sunset.
However, there are special evening events and concerts when visitors can witness the ethereal beauty of Sainte Chapelle at night.
8. How to visit Sainte Chapelle?
Booking tickets online will give you easy access to the chapel, and you can get transport options as well.
This is especially important during peak season, as the chapel can get very crowded. 
Moreover, the chapel is located on the Ile de la Cite in Paris, near Notre Dame Cathedral. 
So, it is easy to go there by public transportation, taxi, or bicycle.
More Articles on Sainte Chapelle
Featured Image: Sergey Novikov/serrnovik from Sergey Novikov (Canva)