Pompeii, the ancient city frozen in time, holds an irresistible allure for history enthusiasts and curious travelers.
As you plan your journey to this remarkable archaeological site, it's crucial to consider the best time to visit to make the most of your experience.
Learn about the optimal time of day, the ideal day of the week, and the best month to visit Pompeii, ensuring that your adventure is enriching and memorable.
Best time of the day to visit Pompeii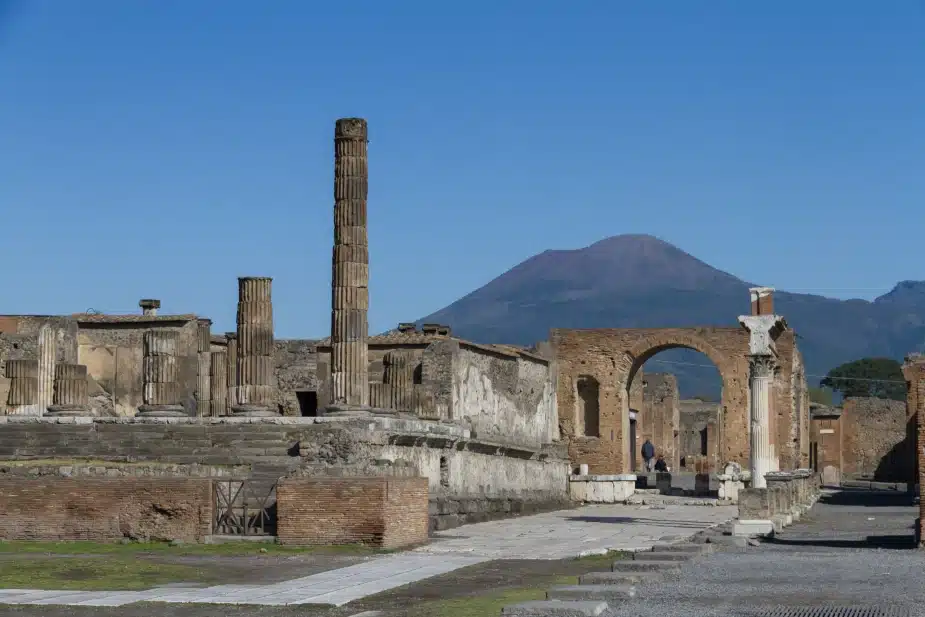 When it comes to the best time of day to visit Pompeii, early morning and late afternoon are highly recommended. But why?
Because during these times, the site is generally less crowded compared to the peak hours, especially in the bustling summer months.
By arriving right when the site opens in the morning, you'll have the opportunity to explore the ruins with fewer crowds, allowing for a more immersive experience.
The cooler temperatures in the morning also provide a pleasant atmosphere for your exploration.
On the other hand, visiting in the late afternoon offers a unique ambiance as the setting sun casts a warm glow over the ancient city, adding a touch of magic to your visit.
Best time of the week to visit Pompeii
Weekday visits to Pompeii are a luxury for visitors.
As for the ideal day of the week, midweek visits are often preferred for those seeking a quieter and more relaxed experience.
Crowds are much smaller from Monday to Friday than on weekends or public holidays.
Weekends, mainly Saturdays, tend to attract larger crowds, including tourists and locals.
On weekdays, you will have a better chance to explore the ruins at your own pace and fully absorb the site's historical significance.
Additionally, shorter queues for tickets and facilities can make your navigation throughout the area much smoother, enhancing your overall enjoyment.
You are likely to see a group of students walking through the streets of Pompeii with their teacher, and organized groups do the tour with a guide.
In any case, Monday through Friday have more available times, so you'll be spoiled for choice.
However, to enjoy a hassle-free experience booking your tickets for Pompeii in advance is still recommended.
The best month to visit Pompeii
When choosing the best month to visit Pompeii, consider the transitional seasons of spring and autumn.
April, May, September, and October offer mild weather with pleasant temperatures ideal for exploration.
During these months, you'll also encounter fewer tourists compared to the peak summer season, allowing you to soak in the ancient atmosphere more quickly.
The best time to visit Pompeii is in springtime
Spring is one of the best times to visit Italy, especially if your destination is in the country's center or south, such as Pompeii.
Spring temperatures are mild, the days are longer, and you have a good chance of seeing some sunshine during your trip.
Vesuvius shining at a perfect temperature in the April or May sun will make your trip unforgettable.
Spring brings blooming flowers, adding bursts of vibrant color to the landscape, while autumn treats you to beautiful foliage, creating a picturesque backdrop for your journey.
Remember that the tour takes place outside, and there aren't many places to get shade from the weather change, so spring is the best time to go.
Springtime crowds of tourists
Many visitors feel the same way and choose to visit Pompeii in the spring, so the crowds increase in April (especially at Easter) and May after the cold winter.
But don't worry – they don't reach the levels of visitors in the summer.
Pompeii in autumn: A pleasant atmosphere with fewer visitors
Autumn weather in Pompeii is similar to spring weather, especially if you visit in October.
At this time, the thermometer has not yet dropped completely, temperatures are still mild, and even though daylight hours are beginning to shorten.
Pompeii is the ideal temperature for a day outdoors.
You must bring a jacket or windbreaker if you want a relaxed day.
Autumn tourist season
The number of visitors to Pompeii began to decline dramatically in October (especially in November).
There are no longer months of the year when more tourists and large organized groups visit the archaeological site of Vesuvius.
You should be able to spend a relaxing day strolling through the city's ancient streets without dodging people to enjoy the ruins.
Summer in Pompeii: Heat and crowds
Summer in Italy is glorious: long days of sunshine, people on terraces, and tourists enjoying Italian cuisine. Pompeii is no different.
If you visit Pompeii in the summer, rest assured that rain is unlikely, but the heat will be oppressive, so come prepared with cool water, a hat, sunscreen, and comfortable shoes.
Avoid wearing black or dark clothing. Instead, wear light-colored and loose-fitting fabrics to save yourself from the heat.
Summer tourist crowds
Pompeii is busiest during the summer months, particularly in July and August.
As one of Italy's most iconic archaeological sites, the warm weather and school vacations attract a large number of visitors from all around the world.
Large groups of organized tourists are common during this time, so plenty of timetables are available for English-language guided tours.
Winter in Pompeii
Wrap up warmly because the cold at the foot of Vesuvius is biting. The cold and dampness in Pompeii's streets begin to be felt around the end of November.
The days are also shorter, the sun sets earlier, and many visitors avoid Pompeii at this time of year.
If you prefer to avoid mass tourism, winter is also an excellent time to visit Mount Vesuvius. Make sure to arrive early in the morning to maximize the daylight hours.
While considering the best time to visit Pompeii, there are a few additional factors to consider.
Pompeii experiences a Mediterranean climate, with hot summers and mild winters.
Depending on your temperature preferences, you can plan and dress appropriately to ensure a comfortable visit.
The festivals or holidays may attract larger crowds. If you prefer a quieter experience, it's advisable to avoid visiting during peak holiday periods.
Check the most up-to-date information on opening hours, closures, or special events for a smooth and seamless visit.
Lastly, consider joining guided tours of Pompeii to enhance your understanding and appreciation of Pompeii's history.
You can choose from the list of best-guided tours of Pompeii.

You can make the most of this experience by checking the availability and times of guided tours.

Conclusion
Pompeii is a place where history comes alive, and every step unveils stories of an era.
By choosing the best time to visit Pompeii, you can explore the ancient wonders of Pompeii while avoiding excessive crowds and maximizing your exploration.
So, take your time to explore this extraordinary site, wander through its streets, and appreciate the remarkable preservation of an ancient civilization!
More articles on Pompeii
Featured Image: Christopher Ott on Unsplash