Pompeii was once a flourishing Roman town in Campania, Italy.
It met a tragic fate when it was buried under layers of volcanic ash during the catastrophic eruption of Mount Vesuvius.
As you explore the preserved ruins, you will walk through streets with ancient buildings, discover intricate frescoes, and witness the remnants of an extraordinary civilization.
Pompeii is an unremarkable suburb in modern times, bordered to the north by Mount Vesuvius and to the south by the Amalfi Coast.
Unlock the gates to an ancient world with Pompeii tickets – a time-travel pass to the captivating wonders of Roman history!
How to buy tickets to Pompeii?
We recommend buying online tickets as they are simple to purchase and use.
To buy the best Pompeii tickets, follow these steps for a hassle-free experience.
To buy the best and most popular tickets for Pompeii, Click here. It will direct you to the page of the Pompeii tickets.
Once on the ticket page, you will find a range of options available for your visit to the archeological site of Pompeii.
Then, carefully select the type of ticket that suits your needs, as there are a wide variety of tickets such as general admission, skip the line, day trips, or guided tours.
In the next step, choose the date and time slot for your schedule. Also, specify the number of participants joining for the trip.
Once you have selected your tickets, proceed with the payment process.
After completing the payment, you will receive a confirmation email containing the ticket details.
On the day of your visit, you can enter the attraction by showing your Pompeii tickets on your mobile device – there is no need to bring printouts.
Types of Pompeii tickets
Here you can find a variety of ticket choices that will suit all of your tastes if you're keen to visit the fascinating remains of Pompeii.
Choose your Pompeii ticket type that suits your interest and experience history comes to life as you wander through the antiquated streets frozen in time.
Pompeii Ruins and Mount Vesuvius Day Tour: Take a combined tour of Pompeii and Mount Vesuvius with a day-tour ticket from Naples.
Reserved entrance to Pompeii: You can secure the reserved entrance tickets in advance and explore the remains of crucial artworks, buildings, and artifacts buried beneath the volcanic ash.
Fast-track entry ticket with audio guide: Skip the long lines with this fast-track Pompeii ticket and take advantage of an audio guide.
Guided tour of Pompeii: Experience the archeological wonder of Pompeii with a guided tour.
Pompeii and Mount Vesuvius Day Trip: You can explore Pompeii on this day trip from Rome, visit the heritage site of Pompeii and climb Mount Vesuvius.
Pompeii Archaeological Park Tour with Skip-the-Line Entry: Enjoy a skip the line entry to the archeological park of Pompeii with an archeologist guide
Combination tickets for Pompeii
1. Herculaneum and Pompeii combined tickets:
Double the adventure, double the history – experience the magic of two ancient wonders with our Herculaneum and Pompeii combined tickets.
Small-Group Pompeii and Herculaneum Tour
In a small group of 15 people, take a guided tour of Italy's two most significant Roman sites.
With the help of a knowledgeable English-speaking archaeologist guide, you will tour Pompeii and Herculaneum.
Pompeii & Herculaneum Full-Day Sightseeing Tour
On this full-day trip from Naples, discover the wonders of the antiquated cities of Pompeii and Herculaneum.
You will visit the ruins of Pompeii in the morning and tour the Herculaneum in the afternoon.
2. Combo tickets for Pompeii and Mount Vesuvius
Choose from these combo tickets for Pompeii and Mount Vesuvius, and you can unlock the mysteries of the past and scale the heights of nature.
Pompeii Ruins & Mount Vesuvius Day Tour from Naples
With this day tour ticket, visit Pompeii to see Mount Vesuvius and the ruins of the Roman city. Stroll to the Vesuvius crater to see sweeping views of the Bay of Naples.
Learn everything about the tragic day that Vesuvius' eruption submerged Pompeii.
You can explore the Pompeii remains and see the Forum, Thermal Baths, Greek Theatre, and Lupanare.
Full-Day Pompeii and Mount Vesuvius Tour
Take a tour of Pompeii and the top of Mount Vesuvius in a single day from Naples or Sorrento.
You can enjoy the beautiful view of the Bay of Naples from Vesuvius while skipping the lines for a guided tour of Pompeii.
Why are online tickets better?
Online tickets are better than paper or on-site tickets since they have several benefits.
Let's learn about the benefits of purchasing tickets online in more detail.
You may avoid the ticket lines and go right to the gate by purchasing your tickets online, saving you time – especially during peak times.
This enables you to make the most of your trip and devote more time to seeing the ruins and learning about the fascinating tales buried within the ancient city.
Online ticket sales for Pompeii give customers access to extra services and advantages that improve their experience.
These include audio guides, virtual tours, or digital maps highlighting the significance of specific structures, the history of the archaeological site, and other details.
Flexibility and availability
Visitors can select their desired date and hour of entry thanks to online ticketing. You can look through the open time slots and choose the best option based on your plan.
This flexibility benefits people who want to avoid busy times or have a specific travel schedule.
Pompeii tickets discount
When planning your visit to Pompeii, it is essential to consider the ticket options and discounts available.
The Pompeii Reserved Entrance ticket is the most popular choice, providing both convenience and affordability.
This ticket starts at €24 and grants adults aged 18 years and older access to the ruins of Pompeii.
Kids aged 17 years and below receive a significant 85% reduction on ticket prices, making their entry a mere €4, an incredible deal to explore this historical gem.
Furthermore, European Union citizens between 18 and 24 can also avail themselves of a substantial discount, receiving nearly 75% off the regular ticket price.
With just €7, EU citizens can immerse themselves in the wonders of Pompeii.
Visitors can benefit from Pompeii's reduced ticket price, allowing them to explore the ancient city's wonders while keeping their budget in check.
Opening hours of Pompeii
The archaeological site of Pompeii requires a ticket to enter. Visitors should know the Pompeii opening hours before planning a trip here.
The attractions are open almost every day of the year.
Opening hours of Pompeii from April to October are from 9 am to 7.30 pm. From November to March, the hours of operation are only till 5.30 pm.
You can find details about Pompeii's Opening Hours with the last entry below:
| Months | Timings |
| --- | --- |
| 1 April to 31 October | 9 am to 7 pm Last entry: 5.30 pm |
| From 1 November to 31 March | 9 am to 5 pm Last entry: 3.30 pm |
Closed on: 25 December, 1 May, and 1 January
Best time to visit Pompeii
Discovering the best time to visit Pompeii is essential for a trip to this renowned archaeological site that will leave you with lifelong memories.
The ancient Roman city of Pompeii was preserved in stone by Mount Vesuvius' eruption in 79 AD.
It provides an insight into the lives of its citizens and information about the incredible state of preservation of its ruins.
To make the most of your visit to Pompeii, aim to arrive early in the morning or opt for a late afternoon visit.
During these times, the site tends to be less crowded, allowing you to explore without feeling rushed.
The soft morning light or the golden hues of the late afternoon sun add a touch of enchantment to the ancient city, creating a wonderful experience.
The temperatures are usually milder during these times, especially in the summer, ensuring a more comfortable visit.
These weekdays have fewer visitors than on weekends when locals and tourists flock to the site.
At this time, you can navigate the ruins with greater ease and fully appreciate the historical significance of each site.
The best month to visit Pompeii is April, May, or September for an enjoyable experience, whether you are looking for pleasant weather, fewer tourists, or an appealing environment.
Since these months are not during the busiest travel period and there will be fewer visitors.
Depending on your interests and preferences, you can choose the ideal month to visit Pompeii.
Additionally, a magnificent backdrop to your tour of the ancient remains is provided by the blossoming flowers and greenery in spring or the brilliant colors of fall.
How long does it take to visit Pompeii?
This now-tourist attraction, located at the foot of Mount Vesuvius, is a UNESCO World Heritage Site with over 2.5 million visitors annually.
The Pompeii ruins cover 44 square hectares, and touring the park would take at least two full days.
However, most of the highlights can be seen in 4 hours, and more extended visits can be exhausting – especially on a hot day.
We recommend a visit to Mount Vesuvius, you will enjoy the beautiful views of Naples and leave you with treasured memories.
If you plan to take one of the day trips to Mount Vesuvius, this visit can cover your entire day.
You can also spend an entire day exploring the park and stopping for lunch at one of the park's picnic areas.
The recommended amount of time to spend in Pompeii is 2 to 3 hours, which allows you to see some of the more popular attractions.
You can buy the Pompeii Archeological site entry tickets in advance, skip the long lines, and use your time to explore Pompeii's attractions.
How to reach Pompeii
If you plan to visit this remarkable destination, you might wonder about the best ways to reach Pompeii.
Several convenient options are available to travel to this UNESCO World Heritage site.
Pompeii is well-connected and easily accessible from major cities such as Rome, Naples, and Sorrento.
How to reach Pompeii from Naples
Are you heading towards Pompeii from Naples?
There are 3 modes of transportation used to reach this attraction in Naples that you can choose based on your comfort and preferences.
By train
Take the EAV line 1 train, called the Circumvesuviana.
This 40-minute ride will get you to the Pompei Scavi- Villa Dei Misteri stop, which is adjacent to this archeological site.
By bus
Every 30 minutes, SITA local buses depart from Naples' Nuova Marina port for Pompeii.
The SITA office at Nuova Marina Port is where you can purchase the bus ticket.
The approximate travel time is 35 minutes.
By car
Naples and Pompeii are only 28 kilometers apart (about a 30-minute drive).
It's also an effortless drive on the A3 Autostrada until you get to the Pompeii Ovest exit, which takes you straight to the site.
Mount Vesuvius is roughly halfway between Naples and Pompeii, requiring a lengthy detour.
If you choose Naples-Mount Vesuvius-Pompeii, the drive will take approximately 1 hour and 11 minutes (about 48 kilometers).
How to reach Pompeii from Rome
You can reach Pompeii from Rome using these transportation modes.
By train
You can take a high-speed train from Roma Termini station to Napoli Centrale in just an hour.
Switch the train towards Sorrento from Napoli Centrale and get down at Pompeii Scavi- Villa Dei Misteri.
The train journey will take you around 20 minutes.
By car
Take the Grande Raccordo Anulare (GRA) and get on the A1 highway to Naples.
Once you reach Naples, change to the Motorway A3 Napoli-Salerno and exit at Pompeii.
How to reach Pompeii from Sorrento
You can choose from the options below based on your comfort and preferences.
By train
You can take the Circumvesuviana, which travels from Sorrento to Pompei Scavi – Villa Dei Misteri, making it a simple day trip.
The duration is about 20 minutes.
By car
Drive from Sorrento to Pompeii along Strada Statale 145. The journey by car takes around an hour.
You can check out all the modes of transportation in detail and get all the essential information to help you reach Pompeii effortlessly.
Pompeii entrances
Pompeii is accessed through a series of entrances that provide insight into its layout and historical significance.
Exploring these entrances allows visitors to appreciate the intricate urban planning of Pompeii and witness the remnants of a vibrant civilization.
There are three main Pompeii entrances that you must know. To save time and energy, choose the closest entrance to you.
Porta Marina
Porta Marina is the most popular entrance for Pompeii visitors.
It is located directly across from the Pompeii Scavi train station and provides access to various amenities such as souvenir shops, information kiosks, etc.
Visitors with limited mobility can also enter Pompeii through the Porta Marina and explore the ruins via a specific path.
How do I get there?
Porta Marina is the closest train station to Pompei Scavi – Villa Dei Misteri.
Trains from Sorrento stop here. Buses D-E and SITA can also take you to the Porta Marina entrance.
Entrance timings: You can visit Pompeii between 8.30 am and 7 pm. The last entry time is 5.30 pm.
Average waiting time: Depending on the time and date of your visit, you can expect a wait time between 1 to 2 hours.
Piazza Anfiteatro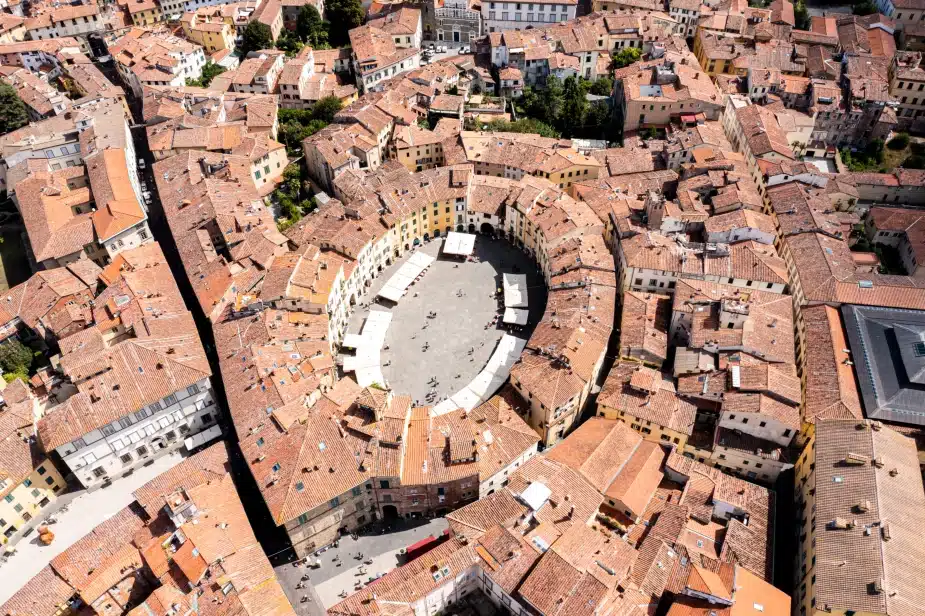 To access Pompeii's most important sites, enter through the Piazza Anfiteatro.
Piazza Anfiteatro is the closest entrance to modern Pompeii, located just 15 minutes from the main entrance, Porta Marina.
Several amenities are at the entrance, including an ATM, a bookstore, and restrooms.
People with mobility issues can find a dedicated path that leads them through various Pompeii sites.
How do I get there?
The Piazza Anfiteatro is located 15 minutes from the Porta Marina entrance. If you take the bus to Mount Vesuvius, the last stop will be Piazza Anfiteatro.
Entrance timings: Between 8.30 am and 5.30 pm, you can enter through Piazza Anfiteatro.
Average waiting time: Depending on the time and date of your visit, the wait at Piazza Anfiteatro can last between 1 to 2 hours.
Piazza Esedra
Group tours are not permitted on Piazza Esedra.
It is less crowded despite being close to the Porta Marina entrance.
One of the main reasons visitors avoid entering Pompeii from Piazza Esedra is the need for more facilities at the entrance.
However, that also means there's less waiting time.
How do I get there?
The Porta Marina entrance is close to Piazza Esedra.
Buses 105, 150F, 170, 590, 60, 910, and H stop near the Piazza Esedra entrance.
If you take the FL5 or R train, you can get off at Pompeii Scavi and walk to Piazza Esedra.
Timings for entry: From 8.30 am to 5.30 pm, enter Pompeii through Piazza Esedra.
Average waiting time: The average wait time at Piazza Esedra is the shortest of the three entrances because it is primarily used for group tours.
However, if you travel during peak season, you may encounter crowds.
What happened at Pompeii?
Pompeii is situated at the foot of Mount Vesuvius, a volcano located in the Bay of Naples.
When Vesuvius erupted, it sowed death and destruction on the city in hours.
It was the 24th of August, 79 A.D. The volcano's ash, lapilli, and lava began to rain down on the city and nearby Herculaneum and Stabiae.
The ground shook violently, knocking midday shoppers off their feet and toppling fish and meat stands.
A large ash, rock, and gas cloud was ejected into the air. Thousands of people were killed in Pompeii and the surrounding areas.
Millions of tons of stones and ash covered Pompeii when it was finished.
Everything was buried to a depth of several meters beneath a thick blanket of volcanic material.
The inhabitants fled toward the coast and were suffocated by the gas fumes, while others died in their homes. And it stayed there for over a thousand years.
Visitors can also learn everything about that devastating day on a guided tour.
We strongly advise booking a guided tour of Pompei. It would take a whole day, or longer, to tour the site in its entirety due to its vastness and level of detail.
The Forum, House of the Vettii, the public baths, and the brothel are just a few of Pompeii's prominent attractions that can be experienced by traveling with a guide.
Pompeii Map
Visitors can use the map to follow the routes of historic streets, find significant landmarks, and better understand how the city is laid out and organized overall.
With a map, navigating the large Pompeii archaeological site can be easy.
Its precise representation of the city's streets, lanes, and buildings makes it easier for visitors to get around and organize their exploration.
Pompeii is a vast archaeological site covering over 150 acres.
With its intricate network of streets and numerous structures, navigating the site can be challenging without a map.
A map of Pompeii provides a visual guide, helping visitors orient themselves, locate specific areas of interest, and plan their exploration efficiently.
Pompeii's map comprehensively overviews the city's layout and organization.
It showcases the arrangement of streets, alleys, squares, and neighborhoods, allowing visitors to comprehend the city's structure and urban planning.
This understanding helps visitors gain a deeper appreciation for the city's design and the daily lives of its inhabitants.
The map highlights landmarks and structures within Pompeii, such as temples, theaters, baths, and villas.
It enables visitors to identify and locate these significant sites, ensuring they can experience important attractions.
Visitors can plan their itinerary to include must-see landmarks and provide a comprehensive city exploration.
With the help of a map, visitors can venture off the main paths and explore lesser-known areas of the site.
It provides a sense of direction and empowers visitors to go beyond the popular attractions, uncover hidden gems, and create a more personalized and immersive experience of the ancient city.
Pompeii's map serves as a gateway to understanding the historical and cultural significance of the site.
It allows visitors to contextualize the various structures within the city, connecting them to the daily lives, religious practices, and social dynamics of ancient Pompeii.
A map of Pompeii offers numerous advantages, including effective navigation, understanding of the city's layout, locating key landmarks and enhanced exploration opportunities.
Having a map will improve your overall experience. It provides valuable guidance in uncovering the secrets of this fascinating ancient city.
FAQs
Do you need to buy Pompeii tickets in advance?
Yes, we recommend you reserve your tickets for Pompeii online in advance. This ensures a quick entry without having to wait in what could be a very long line. 
There are better ways to start your day in Pompeii than long queues, especially in the summer. 
Do you need tickets for Pompeii?
Yes, there is an entrance ticket for Pompeii. Their one-day tickets include admission to amphitheater, Villa of the Mysteries, temples, and public buildings.
Can you buy tickets at Pompeii?
Yes, visitors can purchase tickets at specific gates of the Pompeii ruins. Tickets are available at the Porta Marina, Piazza Esedra, and Piazza Anfiteatro entrances.
How much are tickets for the Pompeii exhibition?
The entry tickets to Pompeii is approximately €24 for an adult (18+ years), €7 for an EU Citizen (18 to 24 years), and €3 for Children (upto 17 years). 
Do you need tickets for Pompeii Archeological Park?
Yes, tickets are required for entry to Pompeii Archaeological Park. 
We recommend visitors to purchase booking online tickets to access the ancient ruins and explore the fascinating history of this UNESCO World Heritage Site.
More articles on Pompeii