A Kaleidoscope of Colors: Exploring the World's Most Beautiful Gardens
What are the most beautiful gardens in the world? Although the definition of beauty is arbitrary, these breathtaking green areas are among the best gardens in the world. These breathtaking gardens will awe you whether you are an avid gardener yourself or just love browsing them online.
These outdoor areas are delightful in every direction, with everything from vivid tropical gardens to glittering fountains. This list includes a number of well-known gardens from across the world in addition to a few undiscovered treasures. Each one has its own distinct appeal and is brimming with both domestic and foreign flora.
Gardens are the ideal fusion of man-made and unspoiled natural beauty. Anyone looking to escape the stress of everyday life and experience the magnificence of nature should visit these wonderful green spaces.
Fondation Monet in Giverny, France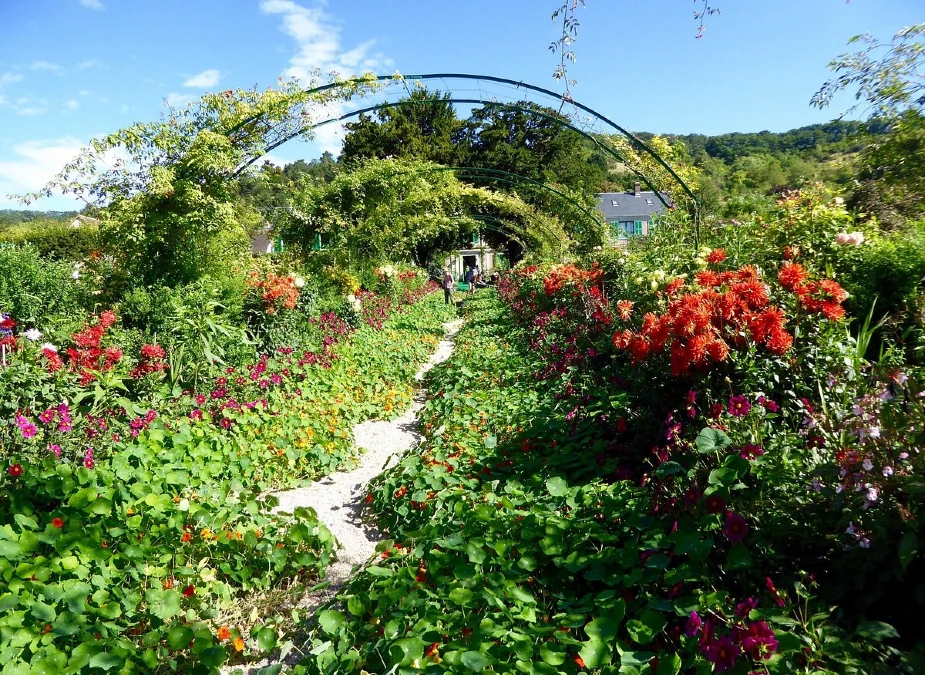 Giverny is a lovely area most known for being the garden of French Impressionist painter Claude Monet. The Giverny gardens, which are located in a gorgeous part of Normandy, are typically open from June to the beginning of November. Visitors may take in Monet's pink home and explore the mesmerizing beauty of the water lily-filled Japanese-style gardens, considered one of the most beautiful flower gardens in the world. This scene was captured by Monet in several of his well-known water lily paintings.
You may visit Claude Monet's home in Giverny, where he spent 43 years of his life. With a dining room painted in yellow and a kitchen and living room painted in blue, the painter used color well. Several American Impressionist painters moved to the village of Giverny starting in 1887. They included Theodore Wendel, John Leslie Breck, Willard Metcalf, and Louis Ritman.
Address: 84 Rue Claude Monet,
27620 Giverny,
France.
Jardin Majorelle, Morocco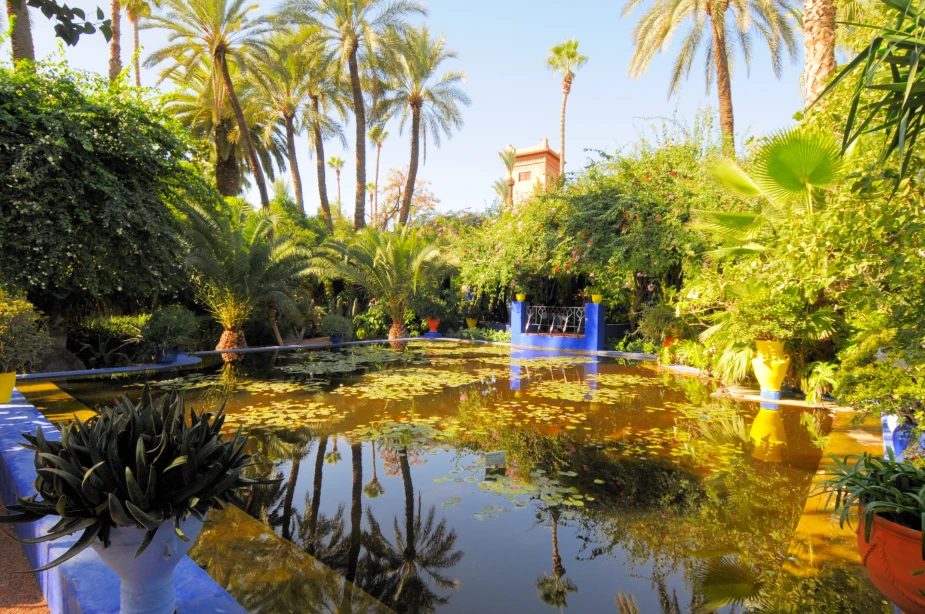 The Jardin Majorelle in Marrakech is another well-known garden connected to an artist. The French painter Jacques Majorelle spent nearly 40 years creating the garden, which has become one of the most famous gardens in the world. This 9,000 m2 tropical garden combines Art Deco and Moorish design elements. In 1980, French fashion designers Yves Saint-Laurent and Pierre Bergé bought the mansion and grounds, which needed refurbishment.
Paul Sinoir created a bright blue cubist home for this botanical garden. You may also see the Villa Oasis garden, which was Saint-Laurent and Bergé's private garden, if you go there from Monday through Friday. The Yves Saint-Laurent museum is a must-see tourist destination. The Jardin Majorelle may be reached in three minutes by foot.
Address: Rue Yves St Laurent,
Marrakech 40090,
Morocco.
Recommended Reading: The Top 10 Beaches in the Caribbean
Isola Bella, Italy
Isola Bella, a stunning island, lies adjacent to Lake Maggiore, therefore its name. The Italian-style baroque garden on Isola Bella, often considered one of the most beautiful gardens in the world, is located among the three Borromean islands that the Borromeo family has controlled since the 16th century. Its breathtaking beauty has made it a popular tourist destination.
The statue of a unicorn, the heraldic symbol of the Borromeo dynasty, is located in a grand building called Teatro Massimo. Rivers Ticino and Po are also shown in other monuments, as well as Lago Maggiore. Visitors are delighted as white peacocks prance about the gardens.
You may visit Palazzo Borromeo in addition to the gardens on Isola Bella. The Hall of Honour, the Gallery of Tapestries, and various artificial grottos are just a few of the spectacular spaces in this baroque structure.
Address: Isola Bella,
Province of Verbano-Cusio-Ossola,
Italy.
Longwood Gardens, United States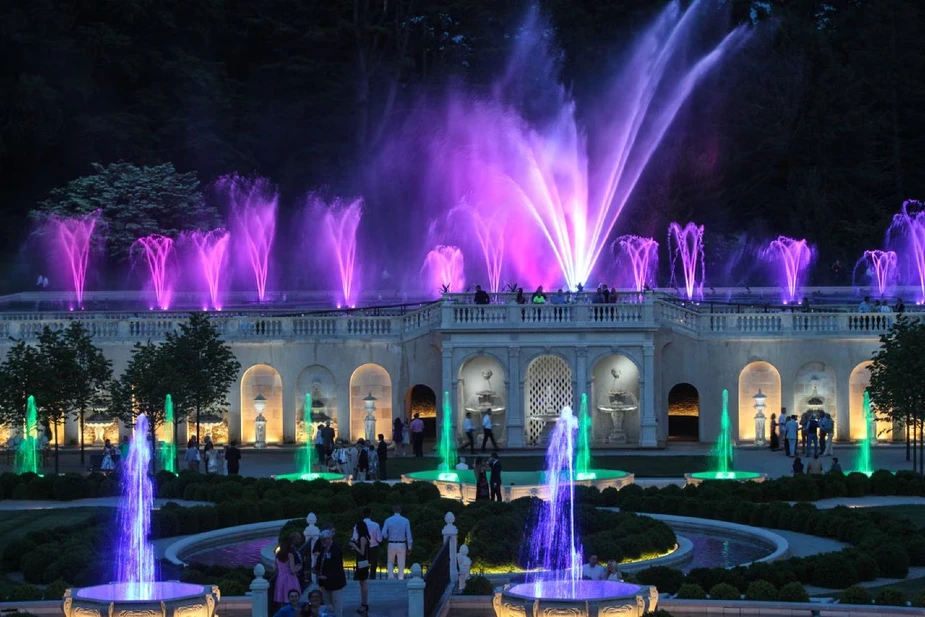 Over 1,077 acres make up this extraordinary botanical garden in Pennsylvania, known as one of the best gardens in the world. Spend 3 to 4 hours exploring the exhibits and be captivated by the unique offerings of each season, including a magnificent garden decorated for Christmas. Visitors can also enjoy the enchanting Open Air Theatre Fountain Shows, which take place every 15 minutes and are beautifully lit for nighttime viewing.
A well-liked feature is the Main Conservatory, and the small Garden Railway skillfully combines horticulture and engineering. In front of Longwood Gardens Visitor Centre is a tiny parking lot.
Address: 1001 Longwood Rd,
Kennett Square,
PA 19348,
United States.
Recommended Reading: How to Stay Connected While Traveling Abroad
Keukenhof, Netherlands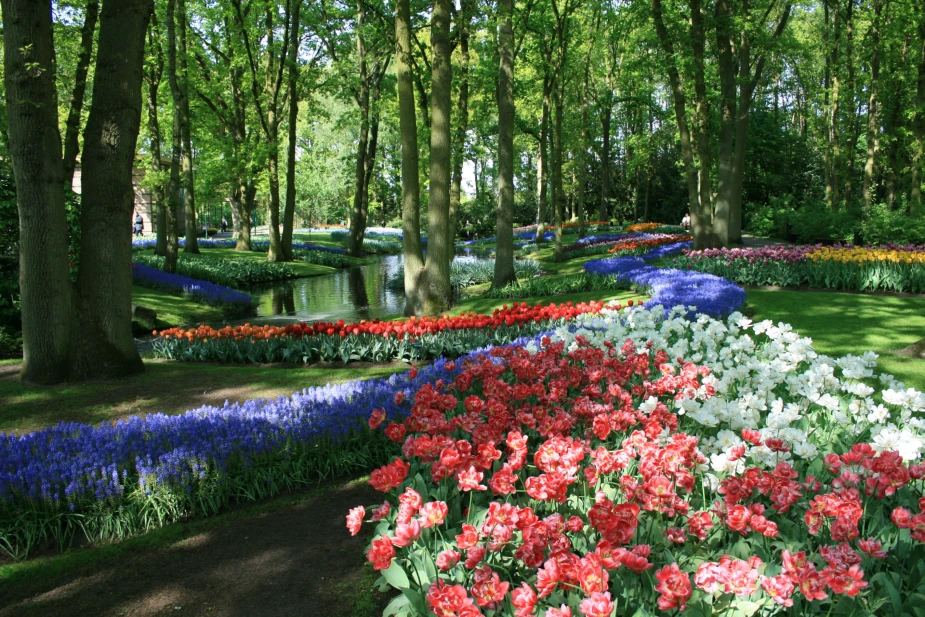 Keukenhof, one of the biggest flower gardens on earth and a must-visit for garden enthusiasts and those seeking beautiful garden places to visit, is well-known for its tulips and other beautiful bulbs. Spanning 32 hectares of land, Keukenhof lies in the municipality of Lisse, just a short drive from Amsterdam. Here, around 7 million bulbs are planted each year, creating a mesmerizing display. This flower garden is accessible only during the spring, typically from mid-March to mid-May.
Keukenhof, often known as The Garden of Europe, is home to 800 different kinds of tulips. The gardeners freely give away the vibrant blooms. Tours of the Keukenhof Gardens typically last 45 minutes, but you can also go on your own. In this situation, set aside a few hours to thoroughly enjoy the gardens.
Address: Stationsweg 166A,
2161 AM Lisse,
Netherlands.
The Butchart Gardens, Canada
The Butchart Gardens, one of the most visited garden places to visit in British Columbia, attract over a million people annually. This Canadian National Historic Site was founded by the wife of a cement producer, and it has become a beloved destination for garden enthusiasts and tourists alike.
The limestone quarry owned by Jennie Butchart's husband Robert was turned into a genuine paradise. There are 900 different plant species and 26 greenhouses spread throughout the 55 acres of these Victorian gardens.
Don't forget to see the Sunken Garden, Mediterranean Garden, Japanese Garden with koi pond, and Rose Garden. There is a gift shop as well as The Blue Poppy Restaurant, The Dining Room, and Coffee Shop among other dining options.
Address: 800 Benvenuto Ave,
Brentwood Bay,
BC V8M 1J8,
Canada.
Brookside Gardens, United States
Brookside Gardens, a gorgeous 50-acre public garden in Wheaton Regional Park in Maryland, is home to a wide assortment of plants, flowers, and trees. A butterfly garden, rose garden, Japanese-style garden, and water garden are just a few of the themed gardens that may be explored by visitors.
Additional amenities at Brookside Gardens include a nature center, a number of walking trails, and a conservatory with a huge selection of exotic plants. The year-round availability of educational activities and programmes makes it the ideal vacation spot for families, nature lovers, and anybody looking for a tranquil escape from the hustle and bustle of suburban life.
Come experience Brookside Gardens' splendor and serenity for yourself. The primary gardens don't charge admission, although some yearly events could.
Address: 1800 Glenallan Ave,
Wheaton,
MD 20902,
United States.
Recommended Reading: How to Plan a Budget-Friendly Vacation
Gardens by the Bay, Singapore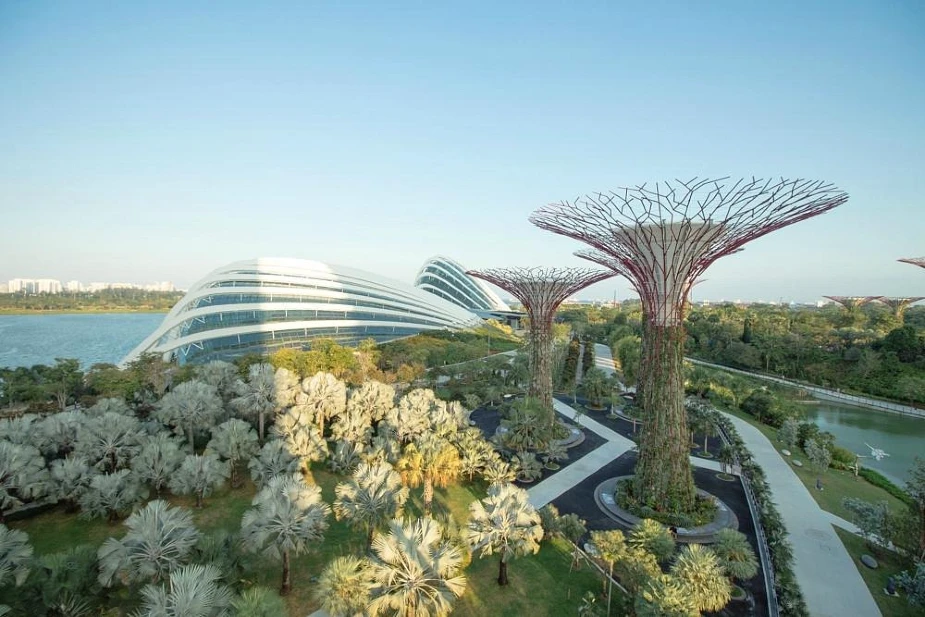 More than 50 million people have visited Gardens by the Bay since it first opened in 2012. This modern area, which should not be mistaken with Singapore Botanic Gardens, is a well-liked location for pictures.
There are three waterfront gardens and an 18-light Supertree grove there. One of these buildings has a restaurant, and several of them are connected by an elevated walkway.
The second-tallest indoor waterfall in the world is located in the Cloud Forest. The Flower Dome is the biggest column-free greenhouse in the whole globe.
Address: 18 Marina Gardens Dr,
Singapore, 018953.
Desert Botanical Garden, United States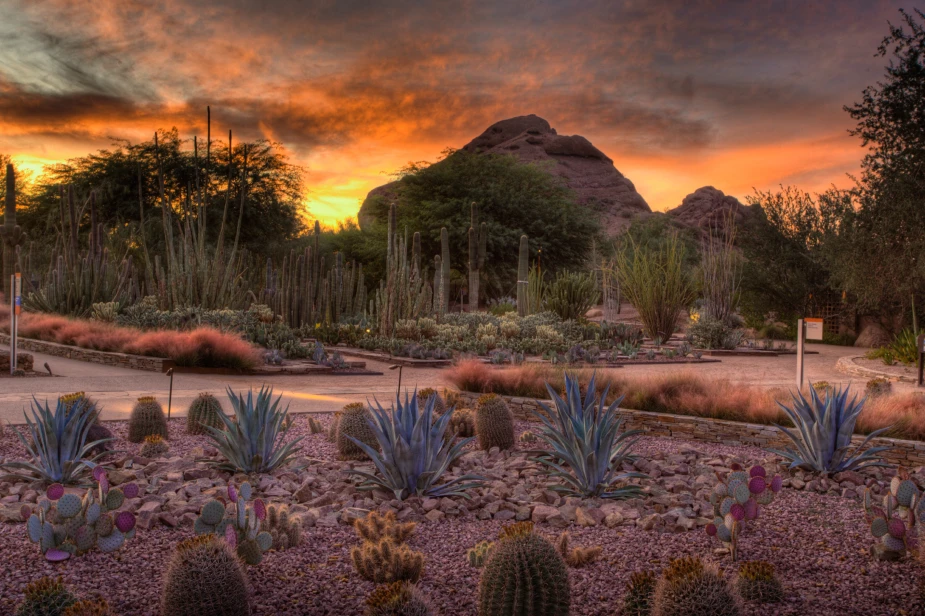 In the middle of the Phoenix urban region sits the breathtaking Desert Botanical Garden. With more than 50,000 distinct plant species, it has one of the greatest collections of desert plants in the world.
The garden makes an effort to encourage conservation and inform visitors about the value of preserving these delicate ecosystems. The garden offers interactive activities for visitors of all ages in addition to its enormous plant collection, art displays, and seasonal events.
Visitors may view spectacular cactus, vibrantly coloured wildflowers, and other native flora by strolling around the twisting roads and loop trails. The Desert Botanical Garden is a must-visit location in the Southwest, regardless of whether you are an enthusiastic gardener or simply searching for a distinctive outdoor experience.
Address: 1201 N.Galvin Parkway,
Phoenix,
AZ 85008,
United States.
Recommended Reading: The Most Scenic Drives in the United States
Nong Nooch Tropical Garden, Th vailand
Nong Nooch is a 500-acre garden that is among Thailand's most stunning. However, the Nong Nooch Tropical Botanical Garden offers much more than just flowers.
To give it its full name, NongNooch Pattaya Garden & Resort, it also features lodging, dining options, gathering spaces, and a swimming pool. The Thai Cultural Hall offers cycling and paddle boats in addition to regular cultural performances.
Great views of the garden are provided via an elevated promenade. The feeding of the Arapaima, enormous fish from the Amazon, is another well-liked sight.
Address: 34 Na Chom Thian,
Sattahip District,
Chon Buri 20250,
Thailand.
Summing Up
Among the most potent forces in the universe is nature. These gardens serve as a living, breathing example of that power, exhibiting magnificent beauty that can only be attained through harmony between people and environment.
We may all take inspiration from their example, even if not everyone can have a garden as expansive or as grand as those seen here. See our other travel articles for additional details about some of the most stunning gardens in the world.
We really hope you have liked this list of famous gardens in the world. Please let us know in the comments if you can think of any further green areas to include.
Most Common Queries about The Beautiful Gardens in the World
Are there guided tours available in these gardens?
Many of the gardens offer guided tours, providing valuable insights and information about their history, design, and notable features.
Which garden is considered the most beautiful in the world?
The title of the most beautiful garden is subjective, but some popular contenders include the Butchart Gardens, Keukenhof Gardens, and Versailles Gardens.
Can I purchase souvenirs or plants from these gardens?
Many gardens have gift shops where you can find souvenirs, books, and sometimes even plants to take home as a memento.
Are there facilities for children, such as playgrounds or interactive areas?
Some gardens offer dedicated spaces for children, including playgrounds, interactive exhibits, or educational programs to engage young visitors.
Can I find restaurants or cafés within these gardens?
Many gardens have on-site restaurants, cafés, or tea rooms where visitors can enjoy refreshments or meals amidst the beautiful surroundings.
Featured Image: Browardexteriordesign.com