Indulging in a Caribbean vacation means immersing yourself in some of the world's most awe-inspiring beaches. Each island in the Caribbean Sea offers a plethora of beaches that leave you spellbound, with their turquoise blue waters, pristine white sands, and gently swaying palm trees. Whether you are looking for a peaceful hideaway to unwind or an exciting destination packed with water sports activities, the Caribbean caters to all preferences.
However, with an abundance of stunning beaches to choose from, selecting the perfect one can be daunting. But fret not, we have curated a list of ten most beautiful beaches in the Caribbean. From sprawling sandy stretches that take your breath away to secluded coves that offer respite from the crowds, each beach on this list has its own unique allure. So, pack your bags, slather on that sunscreen and embark on a journey to explore the beauty of the Caribbean's magnificent coastline.
Pink Sands, Harbor Island, Bahamas
If you are searching for the top beaches in the Caribbean, Pink Sands Beach on Harbor Island in the Bahamas should be at the top of your list. This three-mile-long coastline with its striking salmon-colored sand and clear waters is a feast for the eyes. Swimming and snorkeling in the warm, calm waters is an unforgettable experience. You might even see some colorful marine life that inhabits this area. The pink hue of the sand is a result of tiny microscopic shelled animals called Foraminifera, which wash up on the shore by the waves. Pink Sands Beach is not the only attraction in Harbor Island. One of the top dive sites in the world, Current Cut Dive, is located here, which is famous for its fast drift diving. Whether you start your day with a beautiful sunrise or end it with a breathtaking sunset, Pink Sands Beach is the perfect place to unwind and soak up the natural beauty of the Caribbean.
Recommended Reading: The Top 10 Most Beautiful Lakes in the World
Shoal Bay, Anguilla
Anguilla's most popular beach is Shoal Bay, which is regarded as one of the best beaches in the Caribbean islands. The British Overseas Territory of Anguilla has among of the nicest coastlines in the world, thanks to the two miles of pinkish-white sand beach that surrounds the glistening blue waters.
The beach may be readily traversed on foot and is split into lower and upper portions. Shoal Bay is the busiest beach in the area, but none of the beaches on Anguilla are even close to being crowded. Swimming, diving, snorkeling, and kayaking are just a few of the adventure watersports you may partake in in Shoal Bay. For a leisurely beach picnic and breath-taking sunset views, Lower Shoal Bay is the most serene of the two.
Eagle Beach, Aruba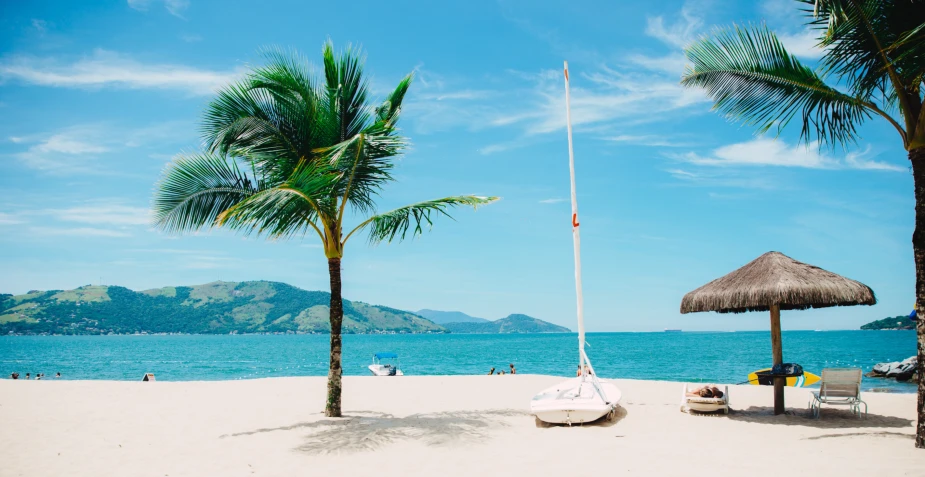 Eagle Beach, which is often considered one of the nicest beaches in the Caribbean, is located on Aruba's northwest coast and is a favorite among families traveling together. Camping and picnics are two common ways for locals to take in the beauty of the beach. Although Eagle Beach isn't the most isolated beach on Aruba, tourists love it because of the perfect balance of peace and energy it offers.Eagle Beach's waters are excellent for snorkeling. Rental gear and guided snorkeling excursions are easily accessible nearby. A lengthy beach holiday by the coast is possible because of the miles of fine, white sand and calm waves. In Eagle Beach, you may easily find restrooms, picnic tables, food stands, concession stands, chairs, and umbrellas.
Recommended Reading: The Most Scenic Train Rides in the United States
Boston Bay Beach, Jamaica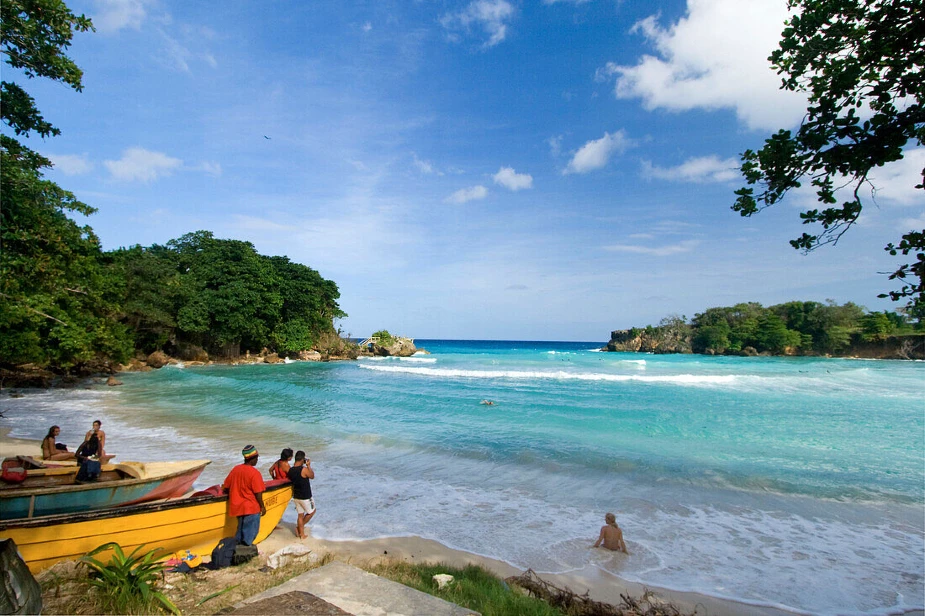 Boston Bay Beach is a must-visit for those looking to experience the top Caribbean beaches. Located on Jamaica's east coast, this beach offers a unique blend of urbanization and community. With its golden sand beaches and rough waves, Boston Bay is perfect for adventurous water sports enthusiasts, particularly windsurfers. There are several restaurants serving genuine Jamaican food, but if you stay close enough, you can also ask your hotel for a packed lunch or get your meal from one of the many cafes and vendors that line the beach. Boston Bay Beach is not just a true surfing destination, but the water there is also ideal for snorkeling. There are numerous picnic tables dispersed across the area, however there are only restrooms at adjacent businesses. Savor some tasty pig jerky while mingling with the locals.
Recommended Reading: The Most Beautiful Beaches in Hawaii
Seven Mile Beach, Grand Cayman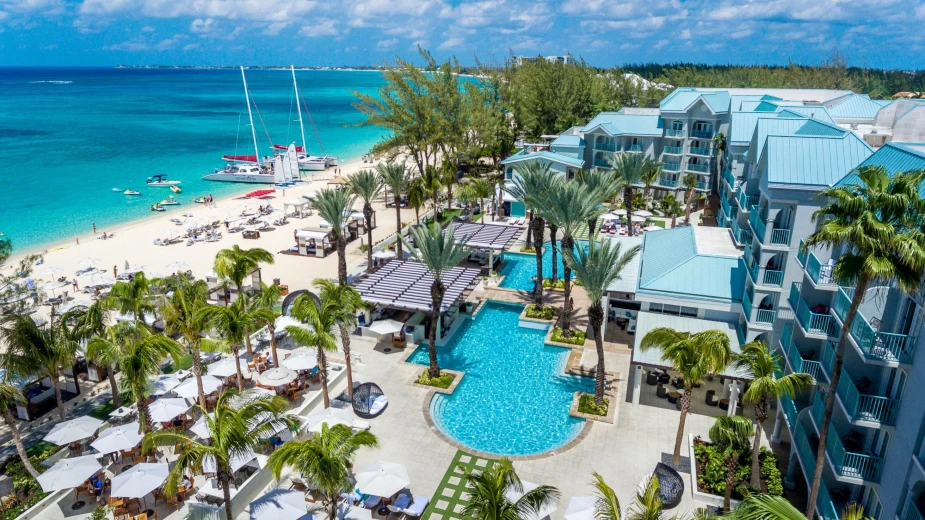 Seven Mile Beach is regarded by tourists from all over the world as the ultimate beach experience, earning the distinction of being one of the "Ultimate Beaches" in the region from Caribbean Travel and Life.West of Grand Cayman, Seven Mile Beach is the most well-liked beach in the region and is home to a number of opulent beachfront resorts. Whether you are a visitor for the day or a guest at one of the resorts, the entire coral-sand beach is accessible to the public and can be experienced in its entirety.Some of the well-liked water sports in the region include shallow snorkeling, scuba diving near Cemetery Reef, and parasailing. You might play volleyball with your loved ones or play against the neighborhood kids.
Varadero, Cuba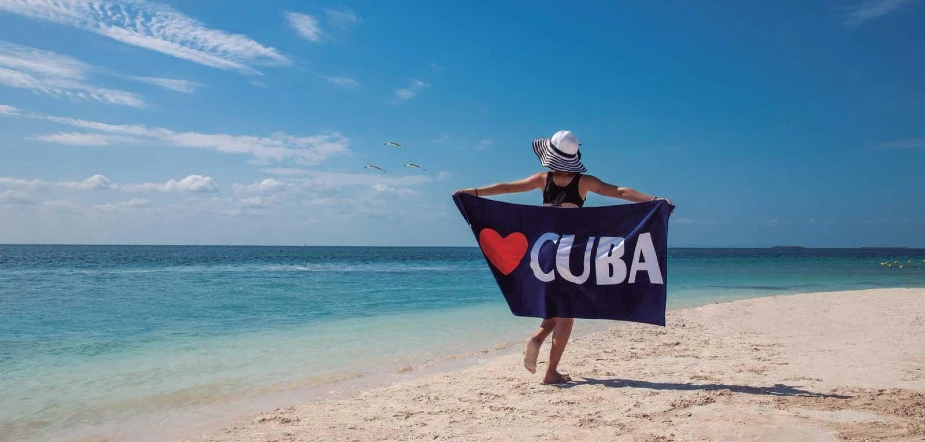 Varadero is undoubtedly one of the best beaches to visit in the Caribbean. It is formerly known as The Hicacos Peninsula, is the best place to find a beach in Cuba. Many consider Varadero, with its 13-mile-long beachfront, to be one of the world's top beach destinations. Varadero is a beach resort famous for its turquoise waters, but it also has a lot to offer in terms of a vibrant Cuban culture. Many museums, art galleries, artisan markets, cabarets, as well as stores and restaurants, can be found in the town.Around Varadero, there are a number of hiking routes and caverns to discover. The coastal town is particularly well-known for its flora and fauna and frequently draws visitors who enjoy the outdoors. Fishing, diving, snorkeling, and kiteboarding are among the main water sports in Varadero. Take a tour on a glass-bottom boat to view the beautiful waterways in a more bizarre way.
Grand Anse, Grenada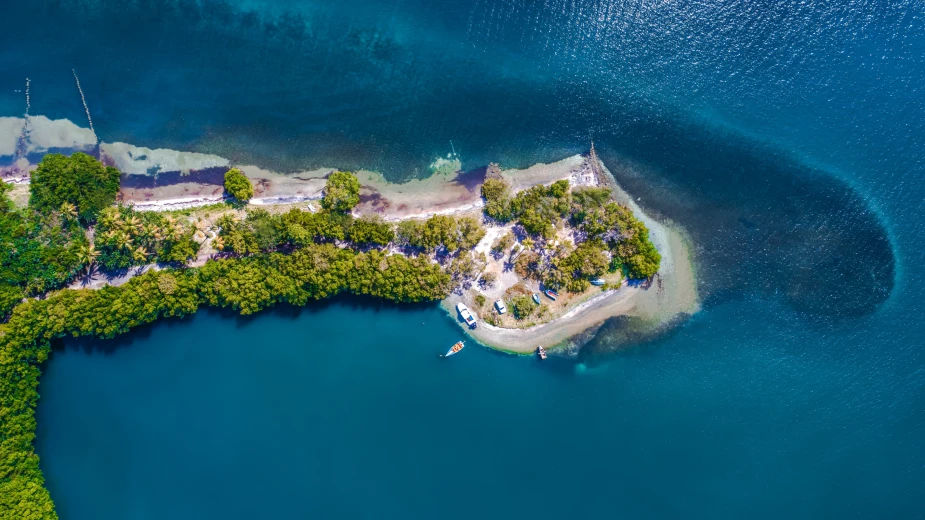 Grand Anse, which is often referred to as the "Granddaddy of all Grenada Beaches," is a must-visit if you are looking for the clearest beaches in the Caribbean. The beach town is located on Grenada's southwest coast, and you may get there by minibus, automobile, or water taxi. Some of the most luxurious homes and vacation houses may be found at Grand Anse, which is also one of the nation's most recognisable sights.Both locals and visitors frequent the island, and colorful fishing boats frequently provide color to the beach's clear waters. Although there are many opportunities for water sports, the dive center's guided excursions to the island's breathtaking dive locations are the main draw.
Sun Bay Beach, Vieques, Puerto Rico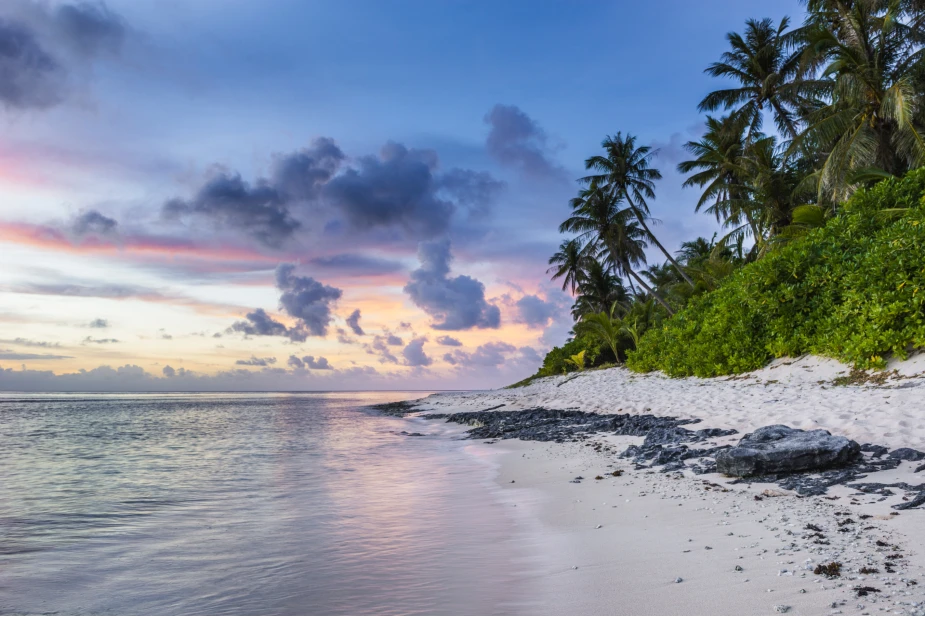 Sun Bay Beach, the sole government-maintained beach on Vieques, is a favorite among swimmers, sunbathers, and snorkelers and is regarded as one of the greatest in Puerto Rico. Camping is permitted right on the beach at Sun Bay, which also offers a number of public amenities and services. You can leave your car in the nearby village of Esperanza to avoid paying for parking.Sun Bay Beach is known as "Sombe" by the locals, is a mile-long crescent-shaped beach bordered on either side by Cayo de Tierra and Punta Negra. It is considered to be the most beautiful beach in the Caribbean by many, and for good reason. The brilliant blue waters are encircled by a palm-lined beach. You can purchase snacks and beverages at the beach's concession stand while you spend a quiet afternoon tanning on the pristine sand.
Warwick Long Bay, Bermuda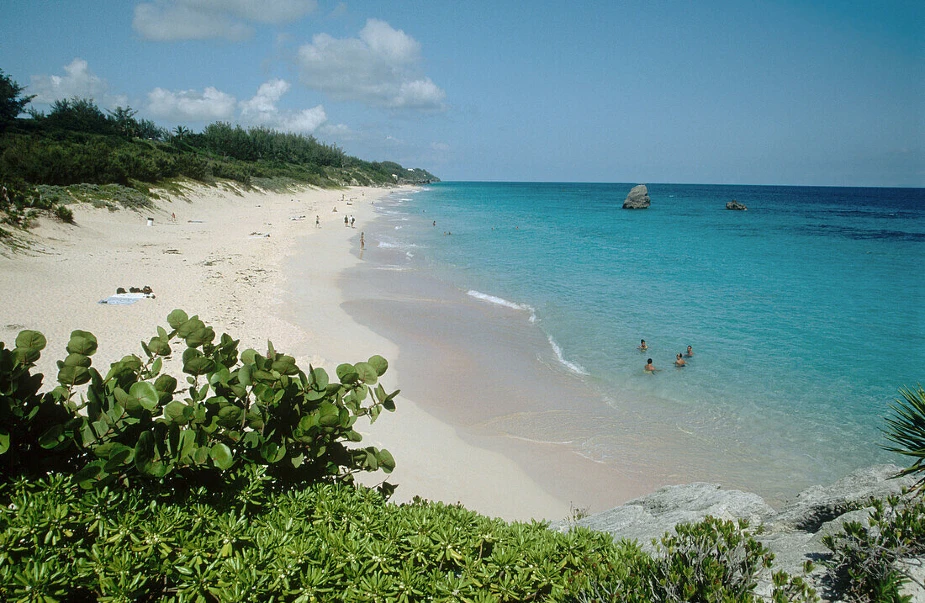 Warwick Long Bay, Bermuda's longest beach, is renowned for its half-mile stretch of fine, pink sand, turquoise waves, cedar and grape trees that line the shore, and partially submerged rock formations. On a quiet day, you can see schools of blue parrotfish just 60 meters off the coast, making snorkeling and swimming a fantastic alternative. When westerly winds are present, it is preferable to stay away from the waterways.The location is well-liked by early morning joggers, walkers, and even horseback riders, thanks to the scrublands, shallow dunes, and short grasses that adorn the walking pathways. Both beachgoers and history fans are familiar with Warwick Long Bay because the neighborhood is home to some of the best art galleries and museums.
Dickenson Bay, Antigua

Dickenson Bay, on Antigua's northwest coast, is one of the island's most prized beauties, despite the fact that it is unlikely that you would find it alone there. The Bay is distinguished by its tranquil seas and white, sandy beaches. The beach is perfect for numerous water activities, including swimming and snorkeling, due to the calm sea conditions. As an alternative, you may stop for lunch along the way or buy it from a vendor near the shore and have the ideal seaside picnic.The neighborhood is overrun with hotels, restaurants, stores, and other tourist amenities and services as a result of Dickenson Bay's popularity. Visitors may come across a number of barren islets and a mile-long coral reef just off the coast of Dickenson Bay.
Summing Up
In conclusion, a Caribbean getaway is not complete without indulging in the beauty of its beaches. With an array of options available, it can be a daunting task to choose the perfect one. However, our list of prettiest beaches in the Caribbean provides a helpful guide for those looking to explore the region's picturesque coastlines. Whether you prefer secluded coves or lively shores, the Caribbean's beaches offer an unparalleled experience. So, pack your bags, and get ready to witness the breathtaking turquoise waters, white sands, and lush greenery that the Caribbean has to offer.
Questions About the Travel Guide for Caribbean Beaches
What are the best times to visit the Caribbean beaches?
December through April is the greatest season to visit Caribbean beaches because the weather is drier and less humid during this time. The peak travel season, however, may result in increased pricing and greater crowds on the beaches. Consider traveling in the off-peak months (May–June or November) if you want a more sedate experience, but keep in mind that there can be more rain at these times.
Are Caribbean beaches safe for swimming and water sports?
In general, Caribbean beaches are suitable for swimming and water sports. However, it is always vital to pay attention to warning flags and warnings that may indicate dangerous circumstances, such as rip currents or jellyfish. Before entering the ocean, it's a good idea to ask locals or lifeguards about any potential dangers.
What are some of the most popular water sports activities in the Caribbean?
The Caribbean is well-known for its water sports, which include 
Kayaking
Fishing
Kiteboarding
Paddleboarding
Surfing
Windsurfing
What are some affordable Caribbean beach destinations?
While some Caribbean destinations can be expensive, there are also many affordable options. Consider visiting destinations like Puerto Rico, Jamaica, or the Dominican Republic, which offer a range of budget-friendly accommodations and activities. It's also a good idea to look for all-inclusive resorts or vacation packages, which can help you save money on meals and activities.
What should I pack for a beach vacation in the Caribbean?
When packing for a beach vacation in the Caribbean, make sure to bring plenty of sunscreen, a hat, sunglasses, and lightweight, breathable clothing. You should also pack a swimsuit, water shoes, and any necessary beach gear, such as a beach towel and a beach bag.
Featured Image: Ishan @seefromthesky on Unsplash