Enjoy the Culinary Capital: Our Professional Guide to the Best Restaurants in Paris
The city of love and light, Paris is also recognized as the world's gourmet capital. It's no wonder that Paris is a must-see destination for foodies, with a rich culinary heritage and a wealth of excellent dining alternatives. Here are some of the greatest places to eat in Paris, from traditional French bistros to sophisticated Michelin-starred restaurants.
Le Comptoir du Relais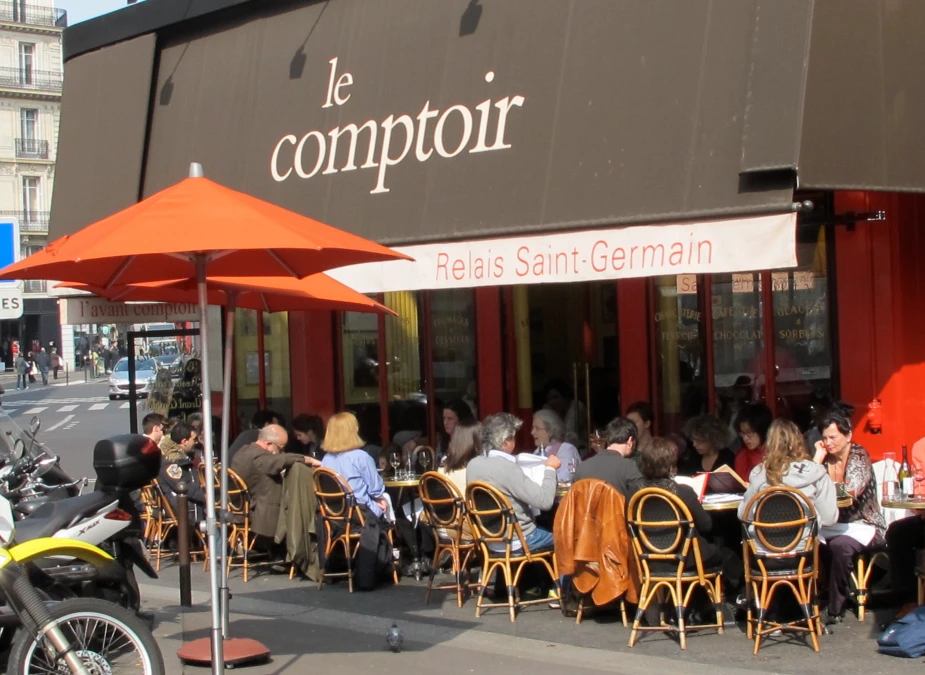 A classic Parisian restaurant called Le Comptoir du Relais is situated in the Saint-Germain-des-Prés district. Yves Camdeborde, the restaurant's chef, is a forerunner of the Parisian bistrômy movement, which emphasizes premium ingredients and inventive meals at reasonable costs. The items that stand out on the constantly-changing menu include foie gras terrine, confit pig belly, and the traditional French dessert Paris-Brest.
Address: 5 Carrefour de l'Odéon, 75006 Paris
Price: 40-60 euros per person
Hours: Open daily, 12:00 pm-2:30 pm and 7:00 pm-10:30 pm
Website: https://www.hotel-paris-relais-saint-germain.com/restaurant-comptoir.php
Chez L'Ami Jean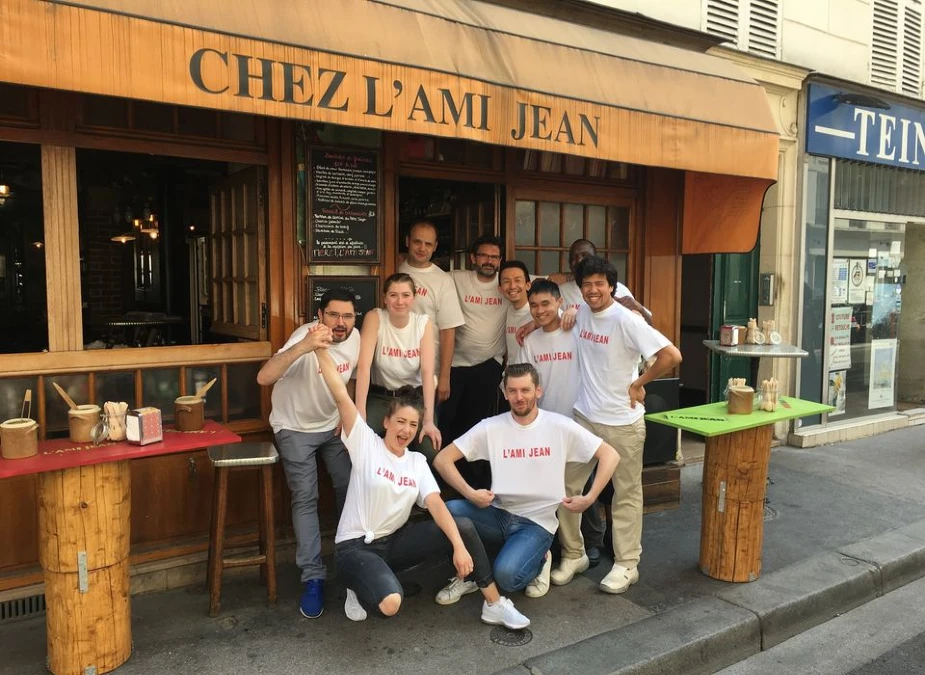 L'Ami Jean is a modest bistro with a large personality that is situated in the hip Oberkampf neighborhood. Basque-inspired foods at the restaurant are prepared with love and skill, yielding homely and elegant dishes. The renowned rice pudding, which is prepared to order and served in a massive copper pot, is a must-try meal at L'Ami Jean.
Address: 27 Rue Malar, 75007 Paris
Price: 50-70 euros per person
Hours: Open Monday-Friday, 12:00 pm-2:00 pm and 7:00 pm-10:00 pm
Website: https://www.amijean.eu/
Chez L'Ami Louis
Chez L'Ami Louis is a Paris institution that has been serving traditional French fare since 1924. The rustic design and cozy ambiance of the restaurant make it a popular destination for both residents and visitors. The menu is heavy on meat, including options such as roast chicken, veal kidneys, and foie gras. Chez L'Ami Louis is great for a group supper because the dishes are substantial and designed to be shared.
Address: 32 Rue Vertbois, 75003 Paris
Price: 80-120 euros per person
Hours: Open Monday-Friday, 12:00 pm-2:30 pm and 7:00 pm-11:00 pm
Website: https://www.chezlamilouis.fr/
Septime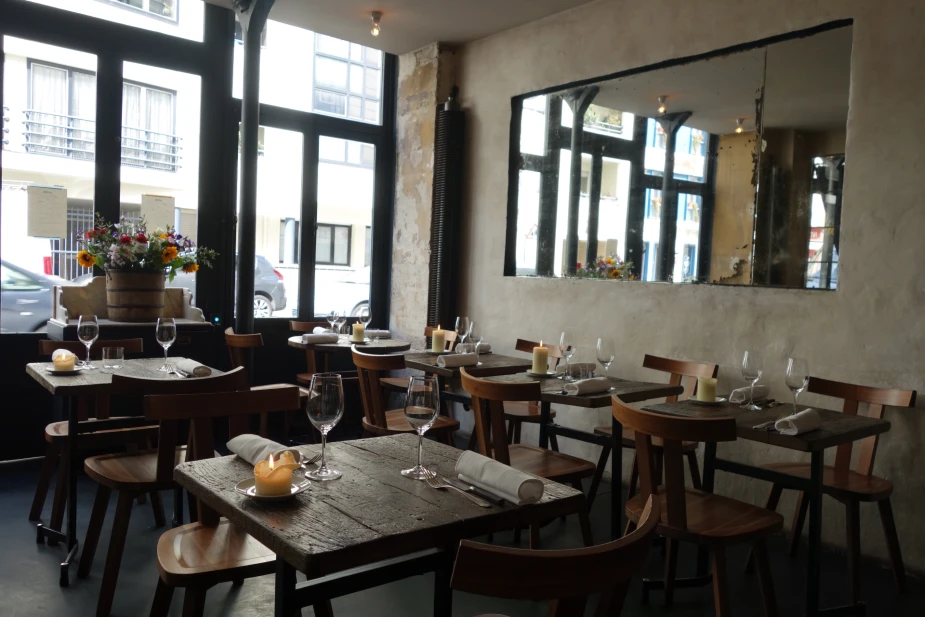 In the 11th arrondissement, there is a contemporary French eatery called Septime. The innovative and whimsical cuisine of Chef Bertrand Grébaut features dishes like lamb with artichokes and olives as well as smoked eel with green apple and horseradish. The restaurant is a favorite among foodies searching for a more laid-back eating experience because of its simple design and calm atmosphere.
Address: 80 Rue de Charonne, 75011 Paris
Price: 70-100 euros per person
Hours: Open Monday-Friday, 12:15 pm-2:00 pm and 7:30 pm-10:00 pm
Website: https://www.septime-charonne.fr/
Le Jules Verne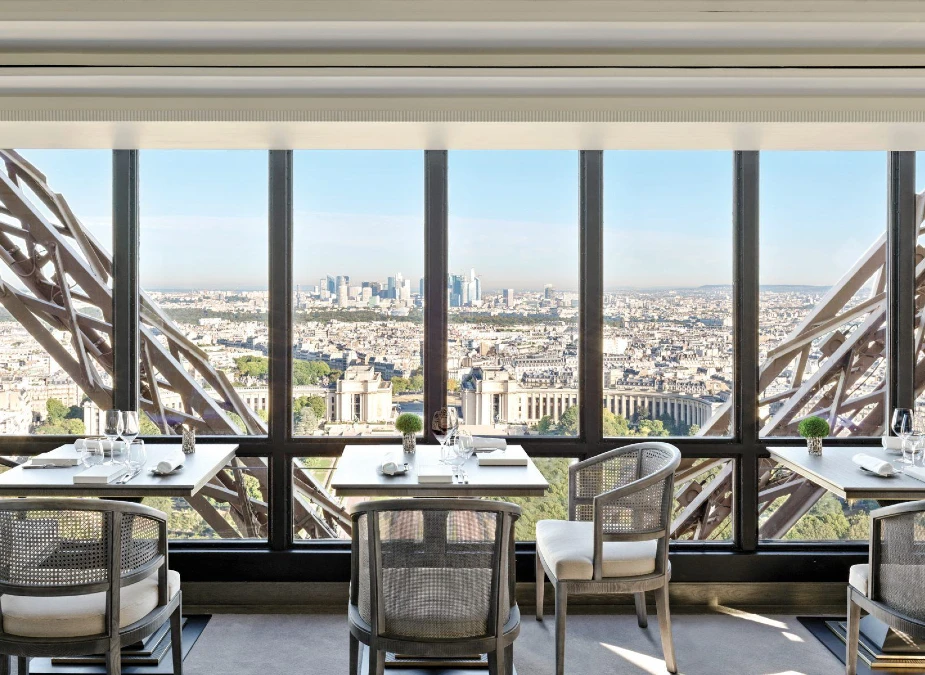 Le Jules Verne, a restaurant of the highest caliber, is situated on the second story of the Eiffel Tower and provides breathtaking views of Paris. Alain Ducasse, a well-known chef, runs the eatery, which offers traditional French fare with a modern touch. Along with an exceptional wine selection, the tasting menu included delicacies like veal sweetbreads with truffle and sea scallops with caviar.
Address: Champ de Mars, 5 Avenue Anatole France, 75007 Paris
Price: 200-300 euros per person
Hours: Open daily for lunch and dinner
Website: https://www.lejulesverne-paris.com/
Frenchie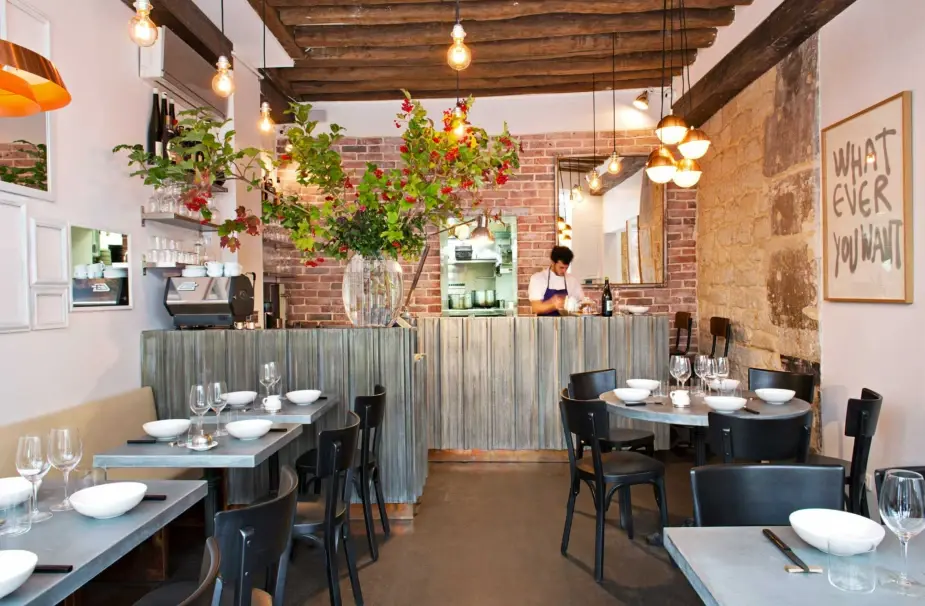 The chic restaurant Frenchie is situated in the thriving Marais neighborhood. The New York City experience of Chef Gregory Marchand has had a significant impact on his cuisine, resulting in meals that are both French and American in flavor. Frenchie's smoked beef with pickled onions and mustard is the restaurant's signature dish, but there is always something fresh and interesting on the menu.
Address: 5 Rue du Nil, 75002 Paris
Price: 50-70 euros per person
Hours: Open Tuesday-Saturday, 6:00 pm-11:00 pm
Website: https://frenchie-restaurant.com/
Le Grand Véfour
The Palais Royal has a historic restaurant called Le Grand Véfour. Since it opened in 1784, the restaurant has served meals to guests including Napoleon and Jean Cocteau. The menu features traditional French fare, including lobster bisque, roasted pigeon, and crème brûlée. Le Grand Véfour is a must-visit location for anybody interested in Parisian cuisine because of its exquisite design and outstanding history.
Address: 17 Rue de Beaujolais, 75001 Paris
Price: 150-200 euros per person
Hours: Open daily, 12:00 pm-2:00 pm and 7:00 pm-10:30 pm
Website: https://www.grand-vefour.com/
L'Ambroisie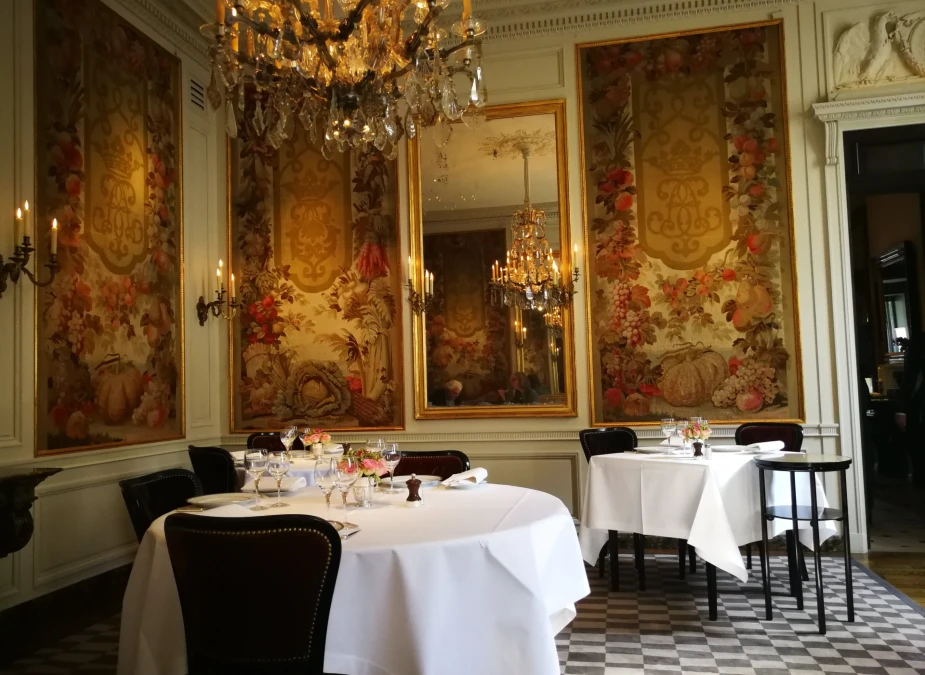 On the Île Saint-Louis, there is a three-Michelin-star restaurant called L'Ambroisie. Blue crab with truffles and pigeon with foie gras are just a few of Chef Bernard Pacaud's dishes noted for their finesse and attention to detail. The restaurant is popular for special events or a once-in-a-lifetime dining experience because of its exquisite dining room and exceptional service.
Address: 9 Place des Vosges, 75004 Paris
Price: 300-500 euros per person
Hours: Open Tuesday-Saturday, 12:00 pm-2:00 pm and 7:00 pm-10:00 pm
Website: https://www.ambroisie-paris.com/
Les Papilles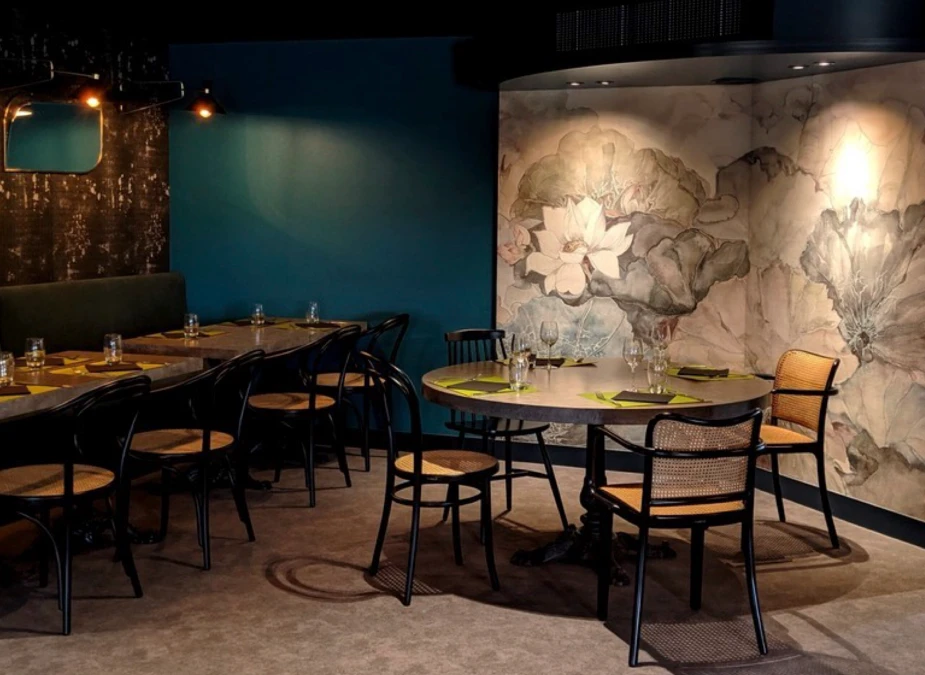 The Latin Quarter is home to the undiscovered gem known as Les Papilles. Simple three-course set menus that change daily based on the chef's ideas and the freshest ingredients available make up the restaurant's basic premise. The prix-fixe menu makes it an accessible choice for fine French food. The wine list at Les Papilles is equally remarkable and has selections from all around France.
Address: 30 Rue Gay-Lussac, 75005 Paris
Price: 30-50 euros per person
Hours: Open Monday-Saturday, 12:00 pm-2:30 pm and 7:00 pm-10:30 pm
Website: https://www.lespapillesparis.fr/
Le Chateaubriand
The hip Belleville district has the hip Belleville district, there is a contemporary cafe called Le Chateaubriand. Oysters with kiwi and beef tartare with anchovies are just two examples of the inventive and fun food that chef Inaki Aizpitarte creates. The eatery is well-liked by both residents and foodies due to its friendly atmosphere and reasonable costs.
Address: 129 Avenue Parmentier, 75011 Paris
Price: 60-100 euros per person
Hours: Open Wednesday-Sunday, 7:30 pm-10:30 pm
Website: https://lechateaubriand.net/
Conclusion
There are the varieties of the best dining alternatives in Paris to suit all preferences and price ranges. There is something for everyone in the City of Light, from classic bistros to cutting-edge Michelin-starred eateries. Only a small portion of Paris's incredible gastronomic experiences and incredible gastronomic experiences Paris has to offer are represented by these ten eateries. Bon appetit!
Recommended reading
#The Top 5 Foodie Destinations
#The Best Places to Eat in Rome
#The Best Places to Eat in New York City
Details to queries from tourists on effortless places to eat in Paris.
What time of day is ideal for dining in Paris?
Restaurants in Paris typically offer supper from 7 pm to 10 pm and lunch from noon to 2 pm. As certain restaurants may close at particular hours of the day, it is better to make a reservation for the time that best fits you.
Do Parisian eateries accommodate dietary needs?
Many restaurants in Paris may accommodate special dietary needs, such as vegetarianism or a gluten-free diet. When booking a reservation or before placing an order, it is advisable to inform the restaurant of any dietary restrictions.
What is the Parisian tipping custom like?
Although leaving a tip is not required in Paris, it is traditional to do so if you experience outstanding service. The percentage often ranges between 5% and 10% of the whole charge.
What is the typical price of lunch in a restaurant in Paris?
The location, cuisine, and formality of the restaurant may all have a significant impact on the average price of a dinner in a Parisian eatery. A three-course lunch with wine typically ranges in price from €30 to €200 per person.
Is Paris's breakfast pricey?
The breakfast at hotels might be expensive. Typically, a tartine (toast) and jam or croissant with coffee make up a Parisian breakfast. If you live in an apartment, you can simply get butter and jam in your neighborhood Monoprix for a few dollars along with a baguette for about one euro or one euro fifty.
Featured Image: Tripadvisor.com