"Europe's Best-Kept Secrets Revealed: Discover the Top 5 Hidden Gems You Must Visit Now!"
Europe is a treasure mine of gorgeous cities, historic landmarks, and natural wonders that draw millions of visitors every year. While major places such as Paris, Rome, and Barcelona are unquestionably worthwhile, Europe is full of hidden gems just waiting to be discovered. These lesser-known sites provide a distinct blend of culture, history, and natural beauty that can compete with any famous tourist attraction.
This article will take you on a journey to explore Europe's best-kept secrets and expose the top 5 best-hidden gems in Europe, which you must visit right now. These off-the-beaten-path destinations provide an insight into the local culture, traditions, and way of life that are typically overlooked in famous tourist sites.
Graz, Austria
Graz, Austria's second-largest city, is widely regarded as one of the unique places to visit in Europe.This lovely city in Austria's southeast provides visitors with an ideal blend of medieval heritage, modern art, and culture.One of the main reasons Graz is regarded as a European treasure is its well-preserved ancient town, which has been designated as a UNESCO World Heritage Site. The old city center is a tangle of narrow alleyways and colorful buildings in Gothic, Renaissance, and Baroque architectural styles. Visitors can explore the city's many historic landmarks, such as the Graz Clock Tower and the Graz Cathedral, both of which bear witness to the city's rich cultural past.
How to make a memorable trip to Garz, the best hidden gems in Europe?
Here are some tips to help you make your trip to Graz truly unforgettable:
1. Take a walking tour of Graz's Old Town: One of the city's primary attractions is Graz's Old Town, a cool place in Europe, which is a UNESCO World Heritage Site. Consider taking a walking tour to discover the tiny alleyways and historic structures like the Graz Clock Tower and the Graz Cathedral. Other walking tours concentrate on specific topics, such as the city's food scene or modern architecture.
2. Visit the Schlossberg: The Schlossberg is a hill in the city center that provides breathtaking panoramic views of Graz which is one of the unique places in europe. You may either climb the hill or take the Schlossbergbahn funicular, which is an exciting and one-of-a-kind method to get to the top. Explore the stronghold ruins and the clock tower, which serves as Graz's symbol.
3. Enjoy local cuisine: Graz is well-known for its culinary culture, and it is a foodie's heaven. Try typical Austrian meals like Wiener Schnitzel and Tafelspitz, as well as local wines and beers. Take a meal tour to discover more about the city's culinary options.
4. Visit the Kunsthaus Graz: A must-see sight in Graz is the Kunsthaus Graz, a modern art museum and hidden gems in europe. The structure itself is an architectural marvel, resembling a massive blue bubble. Inside, you'll find exhibitions and installations of modern art.
Recommending Readings
#The Top 5 Winter Destinations
#The Top 5 Foodie Destinations
Torrevieja Alicante – Spain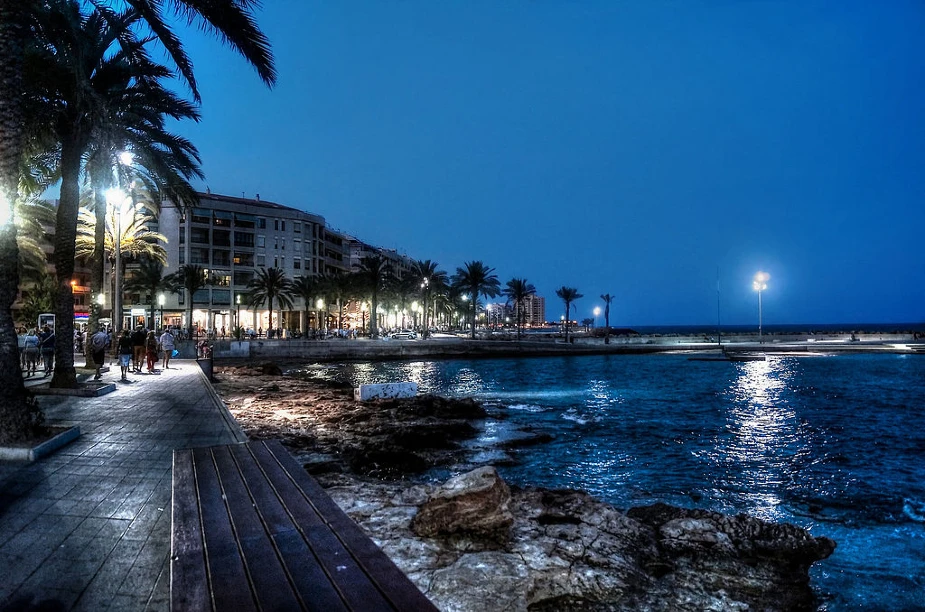 Torrevieja is a city in the province of Alicante, on Spain's southwestern coast, in the area of Valencia and has hidden gems to travel. It is located approximately 50 km south of Alicante and has a population of approximately 85,000 people.Torrevieja is well-known for its stunning beaches, salt lakes, and pleasant temperature. The city features a long coastline and numerous beaches, such as Playa del Cura, Playa de los Locos, and La Mata Beach. Torrevieja is notable for its salt lakes, which are located to the south of the city, in addition to its beaches. These salt lakes are located in a natural park and are home to numerous bird species.
Why is Torrevieja Alicante – Spain a hidden gem in Europe?
While Torrevieja Alicante is an underrated European destination, it is hardly what I would call a "hidden gem" in Europe. Many lovely and lesser-known sites in Europe are commonly referred to as "hidden gems."
The city features a lovely coastline with various beaches, as well as a natural park with salt lakes and a diverse bird population. The city also has a thriving cultural scene, with historic structures, museums, and art galleries.
Torrevieja is an excellent location for anyone looking for a more peaceful and laid-back environment than other of Europe's larger cities.
Faroe Islands
The Faroe Islands are a group of 18 islands located between Iceland and Norway in the North Atlantic Ocean and are considered cool places in Europe. The islands are a Danish autonomous area, yet they have their government and legislature.The Faroe Islands are famous for their breathtaking natural beauty,unique places, which includes rocky cliffs, mountains, and fjords, as well as an abundance of species such as seabirds, whales, and seals. The islands also have a dynamic and distinct culture, with a rich history and traditions that continue to be practiced today.
The village of Saksun, with its picturesque church and lagoon, the historic town of Kirkjubur, with its medieval ruins and ancient church, and the stunning scenery of places like Gjógv, Tórshavn, and the Faroe Islands' highest mountain, Slaettaratindur, are among the best hidden gems in the Faroe Islands.
Why are the Faroe Islands famous and called hidden gems in Europe?
The Faroe Islands are frequently referred to as a hidden gem in Europe since they are a very small,underrated place to visit in Europe and in distant locations that are not as well-known as some of Europe's more famous destinations such as Paris, London, or Rome. Despite their small size and remote position, the Faroe Islands are well-known for their breathtaking natural beauty, distinct culture, and outdoor activities.

The rugged and dramatic landscape of the islands, with their towering cliffs, fjords, and waterfalls, has earned them a reputation as one of Europe's most stunning,best hidden gems and magnificent places.

The islands also have a dynamic and distinct culture, with a rich history and traditions that continue to be practiced today.

Furthermore, the Faroe Islands are an excellent vacation for outdoor enthusiasts, as there are numerous options for hiking, fishing, birdwatching, and other outdoor sports.

The islands provide a tranquil and beautiful setting, with a tiny and hospitable community proud of its distinct history and culture.

The Faroe Islands provide an underrated and spectacular travel experience that is frequently neglected by travelers seeking more well-known and established places.
Setenil de las Bodegas, Spain
Setenil de las Bodegas is a tiny town in the province of Cádiz, in the southern portion of the Spanish province of Andalusia. Many of its houses and structures are constructed directly into the steep cliffs that surround the town, giving it a distinct architectural style and unique place to live. The name of the town is derived from the Arabic phrase "seitn al-wad," which means "castle in the river valley."The Plaza de Andalucia, located in the middle of Setenil de las Bodegas, is one of the town's most well-known attractions. The square is surrounded by lovely restaurants and pubs where guests may taste traditional Andalusian cuisine including tapas, gazpacho, and seafood specialties.The Cuevas del Sol, which are natural caves that have been converted into residences, businesses, and restaurants, is another popular site in Setenil de las Bodegas. These caves provide a unique look at the town's history and architecture, as well as breathtaking views of the surrounding countryside.
Why is Setenil de las Bodegas, Spain, called underrated European destinations?
Despite its distinct and charming characteristics, the town is not as well-known as other Spanish cities such as Madrid or Barcelona.

One reason why Setenil de las Bodegas is considered an underrated European destination is its location. It is situated in the province of Cádiz, which is a region that is not typically on the itinerary of many European travelers.

The setting is one of the reasons Setenil de las Bodegas is regarded as an undervalued European vacation. It is located in the province of Cádiz, which is not generally on the itinerary of many European visitors.

Setenil de las Bodegas is also regarded as an underappreciated European trip due to its wonderful architecture.

In addition, Setenil de las Bodegas is well-known for its great food and wine, which is a big lure for many visitors. Many classic Andalusian restaurants are located in town, serving regional specialties such as gazpacho, tapas, and fresh seafood.

Its magnificent architecture, delicious food and wine, and off-the-beaten-path charm make it a hidden gem worth visiting.
Vipava Valley, Slovenia
Vipava Valley is a scenic valley in western Slovenia's Primorska region. The valley is well-known for its breathtaking natural beauty, quaint communities, and outstanding wine and gastronomy.The Vipava River runs through the valley, and the surrounding hills and mountains create a beautiful backdrop for the area's lush vineyards and fruit farms. Vipava, Ajdovina, and Goe are just a few of the picturesque villages and towns in the valley.The Vipava Valley's exceptional wine and gastronomy are two of its key draws. The region is well-known for its high-quality wine production, particularly red wine made from native grape varietals such as merlot and cabernet sauvignon. Many vineyards and wineries in the valley provide tours and tastings, and tourists can enjoy some of the region's greatest wines while admiring the valley's breathtaking scenery.Aside from wine, the Vipava Valley is recognised for its superb food, which features fresh local ingredients such as prosciutto, cheese, and truffles. In the valley, there are several historic restaurants and pubs that serve great regional specialties as well as sophisticated gourmet experiences.
Vipava Valley, Slovenian why are they called hidden gems in Europe?
Because of its outstanding natural beauty, rich cultural legacy, and authentic local experiences that are still largely untouched by mainstream tourism, Vipava Valley is sometimes referred to as a best hidden gem in Europe.

The Vipava Valley, located in western Slovenia, is a gorgeous region distinguished by rolling hills, vineyards, orchards, and lovely tiny communities that have kept their traditional architecture and way of life.

The valley is also noted for its pleasant Mediterranean temperature, which makes outdoor activities like hiking, cycling, and paragliding excellent.

The Vipava Valley's wine culture is one of its key draws. Several award-winning wineries in the region make high-quality wines from indigenous grape varieties such as Zelen and Pinela.

The Vipava Valley is also rich in history and cultural legacy, with a plethora of castles, churches, and other historical sites providing an insight into the region's past.
Conclusion
Finally, Europe is brimming with hidden gems that provide unique and memorable experiences for travelers looking for something off the main road. From the historic cave dwellings of Matera to the gorgeous fjord of Kotor, each site has its charm and character. The majestic palaces of Sintra and the breathtaking natural splendor of Plitvice Lakes are likely to take visitors' breath away. And Bruges, with its lovely canals and antique architecture, is a long-overlooked hidden gem. These five hidden gems are just a fraction of the countless treasures awaiting discovery in Europe, making it an eternally intriguing destination for all types of travelers.
Questions Tourists Ask Top Hidden Gems in Europe
What are some of the best hidden gem cities or towns in Europe that are not well-known?
Europe is brimming with hidden gem cities and towns that aren't as well-known as some of the more popular tourist attractions. Ljubljana in Slovenia, a delightful capital city with a laid-back feel and colorful old town, Colmar in France, a picture-perfect town in the heart of the Alsace wine region, and Kotor in Montenegro, a seaside town with a rich history and stunning bay, are some of the greatest examples. Other lesser-known places that provide distinct cultural experiences and gorgeous landscapes are Cesky Krumlov in the Czech Republic, Matera in Italy, Rovinj in Croatia, and Ghent in Belgium.
What are some of the most underrated destinations in Europe that are worth considering for a trip?
There are numerous underestimated European destinations or unique places to visit in Europe  that are worth seeing. Porto, Portugal, for example, has breathtaking views, a rich history, and great port wine. Lviv, Ukraine, is a lovely city with stunning architecture and a thriving cultural life. The Maltese island of Gozo is famous for its crystal-clear waters and unspoilt landscape. Troms, Norway, offers a unique blend of culture and nature, as well as the chance to see the northern lights. Ghent in Belgium, Rila Monastery in Bulgaria, and the Azores Islands in Portugal are also underestimated.
What are some of the benefits of visiting hidden gem destinations in Europe?
Visiting Europe's hidden gems can provide various advantages. For starters, they provide a more realistic travel experience by allowing visitors to interact with local culture and traditions. Second, they are frequently less crowded and less expensive than popular tourist locations, resulting in a more tranquil and enjoyable trip. Third, hidden gem places frequently have one-of-a-kind natural beauty, historical landmarks, and native cuisines that cannot be found anywhere else. Travelers can obtain a deeper appreciation for the diversity and depth of European culture by visiting off-the-beaten-path sites.
Best hidden gems in Europe for families?
– Azores, Portugal: This archipelago is known for its breathtaking scenery, whale watching trips, and natural hot springs.
– Kotor, Montenegro: This charming town combines history, outdoor activities, and magnificent beaches.
– Aarhus, Denmark: From amusement parks to museums to outdoor excursions, this coastal city has something for everyone.
– Rila Monastery in Bulgaria: This lovely monastery provides an insight into Bulgarian history and culture, as well as beautiful
walks in the nearby mountains.
Which are the coolest places in Europe?
There are many great spots to visit in Europe, each with its own charm and ambiance. Here are a few recommendations:
– Reykjavik, Iceland: This city combines breathtaking natural beauty with unique architecture and a thriving cultural environment.
– Denmark, Copenhagen: Copenhagen is a fashionable and contemporary city with trendy cafes, inventive cuisine, and an eco-
friendly ethos.
– Lisbon, Portugal: This city combines ancient history and new trends, with traditional fado music and stylish street art.
Featured Image: Facebook.com